Cobb, Rays fall short in season finale vs. Tribe
Rodriguez homers, Longo has sac fly in loss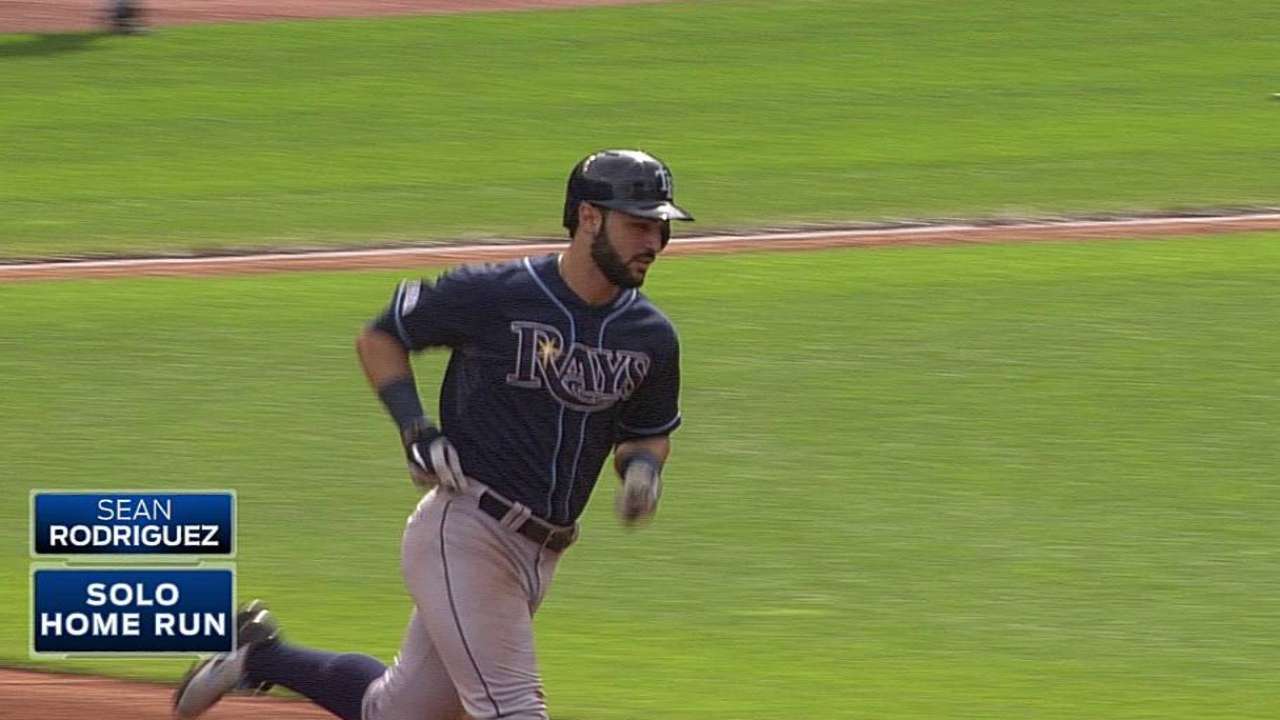 CLEVELAND -- A lot of history came into play leading into the Rays' final game of the 2014 season, a 7-2 loss to the Indians at Progressive Field.
Three years ago to the day the Rays won the famous "Game 162" at Tropicana Field against the Yankees, storming back from a 7-0 deficit to win, 8-7, in 12 innings and advance to win the American League Wild Card. In addition, Sunday's Rays starter, Alex Cobb, had not pitched at Progressive Field since he started against the Indians and picked up the win in last season's AL Wild Card Game. Unfortunately for the Rays, the good karma from season's past did not carry over into Sunday's game.
"They came out swinging it, man," Rays manager Joe Maddon said. "They've got some nice young players I've not seen before. We started hitting the ball hard, they did the same thing. They just kept it up and we didn't. And that was the difference in the game."
Sean Rodriguez staked the Rays to a 1-0 lead with a 400-foot home run off of T.J. House to start the second. The Indians answered off Cobb in the bottom half of the inning with solo homers by David Murphy and Zach Walters.
Prior to surrendering the home runs, Cobb had strung together a franchise record 82 1/3 consecutive homerless innings.
Jose Ramirez's sacrifice fly in the fifth pushed the lead to 3-1 before Evan Longoria followed suit with a sacrifice fly in the top of the sixth to cut the lead to two runs.
Walters, who was making his first start in almost two weeks, delivered again in the sixth with an RBI double to left over Brandon Guyer's head to give the Indians a 4-2 lead.
"Cobber's stuff from the side, you didn't see as much swing and miss, so obviously, there was something not quite right," Maddon said. "Two homers tells you something's not quite right, but, nevertheless, battled through that moment."
Contrary to what his manager saw, Cobb felt like he had pretty good stuff. The results were more about the group he faced Sunday.
"I'm facing a team that has a lot of young guys who want to go out there and prove themselves, and they're being extra aggressive," Cobb said. "Put some really good swings on some good pitches, found some holes. Also, when I did miss some pitches, they capitalized pretty heavily on some.
"It wasn't my A-plus stuff, but it was better than Boston stuff [Tuesday when he got the win against the Red Sox]. It was just one of those days where the guys were locked in, trying to really put some good swings on balls. ... It was just one of those days.
The Indians put the game away for good when they scored three in the seventh highlighted by Carlos Santana's two-run single off Jeff Beliveau.
Cobb allowed four earned runs on 10 hits while striking out five to take his ninth loss of the season. By pitching six innings, the right-hander did qualify for the ERA title, finishing the season with a 2.87 mark.
In team history, only David Price in 2012 (2.56 ERA), Price in 2010 (2.72) and James Shields in 2011 (2.82) have recorded better ERAs than Cobb's this season.
Cobb finished with the sixth-best ERA in the American League, but he noted he couldn't appreciate that fact at that particular moment.
"Maybe in the middle of the offseason I will be [able to do so]," Cobb said. "But it's frustrating to end on a note like that. Once I get on the plane I'll start looking back and I'll probably be a little more happy about it."
The Indians finished the season at 85-77. Cleveland manager Terry Francona put the finale in perspective.
"That's always the hardest one," Francona said. "You go 100 mph since Feb. 10 or whatever, and you're with this group all day every day and then, all of a sudden, it comes to a crashing halt and you go home. That's always the hardest one to kind of process. I thought they did a really good job of playing right up to the end, even today."
The Rays finished 77-85, a record representing a disappointing finish given the high expectations for this season's squad.
"It's not good," said Maddon of the 85 losses. "We don't like it at all. It's been an awkward year. We had a lot of really good things happen. The bad thing is we lost 85 games. There's been some wonderful individual performances. There's been a lot of growth with different players. But there are different things we need to iron out before next season."
Bill Chastain is a reporter for MLB.com. This story was not subject to the approval of Major League Baseball or its clubs.