Organization aligned in decision to start Cole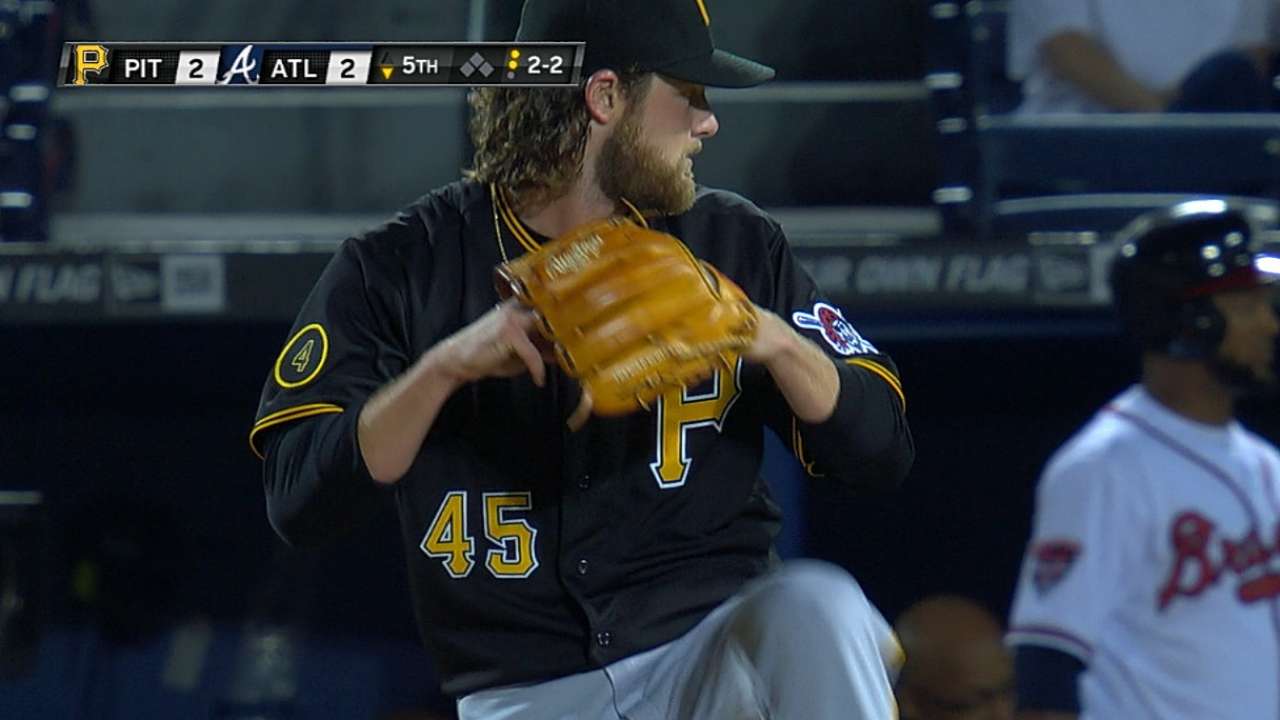 CINCINNATI -- Clint Hurdle did not even have to sleep on "the decision."
The Pirates manager had decided to pitch Gerrit Cole in Sunday's 162nd game -- if the Cardinals left a crack in the door to the National League Central title -- before he'd left Great American Ball Park on Saturday.
Hurdle reached that conclusion based on meetings with everyone involved, and based on his own convictions.
"Roberto Clemente, Willie Stargell ... we walk away from this game, where are we going?" Hurdle said Sunday morning, after matter-of-factly confirming that Cole would be taking his scheduled turn in the season finale against the Reds.
"Absolutely," Hurdle said in announcing his plans. "We tried to play the logical game. At the end of the day, after every conversation with every player, the coaching staff, Neal, Bob, Frank -- no way we walk away from an opportunity to win our division."
General manager Neal Huntington, club chairman Bob Nutting, club president Frank Coonelly and all the uniform personnel agreed a long shot at an NL Central tiebreaker game on Monday in St. Louis trumped planning for the sure-shot NL Wild Card Game on Wednesday.
"We need to focus on the only thing we can control," Nutting said upon arriving at the park Sunday morning. "We have to be ready to go to St. Louis tomorrow. I'm incredibly proud of what these guys have done, bringing postseason baseball back to Pittsburgh for the second year in a row."
"To pitch [Stolmy] Pimentel or [Casey] Sadler after 161 games of grit and fight and battle ..." Hurdle said, citing the two pitching substitutes who were standing by, "We're trying to make history here. There is no guarantee of how to cut this thing up. So you do what you believe in, and we'll attack it this way."
Even if the Pirates defeat the Reds and spoil Johnny Cueto's bid for a 20th victory, they will be left hoping that St. Louis ace Adam Wainwright doesn't have it in the Cards' game against the D-backs, which begins at 4:10 p.m. ET.
"I know the voice and heartbeat of those 35 men out there," Hurdle said. "They're all in, they're going out to win this ballgame, then whatever happens, happens.
"We've been second-guessed the whole season on how we do things, so you do what you believe in. Jeff Locke and Vance Worley can back [Cole] up [Monday, if there is a tiebreaker], then Edinson Volquez can have the Wild Card Game; we like our chances with him pitching."
Hurdle was very clearly pumped up for this game, this opportunity, this dream scenario. He spent his entire pregame media session in another gear of enthusiasm and gregariousness.
"I am excited," he said. "From where this organization was four years ago ... to walk away from this game ... I don't get that."
Worth noting
• Big game or not, Russell Martin (left hamstring) was not able to play and remained out of the starting lineup on Sunday for the second straight day.
• The division race wasn't the only thing coming down to the season's final day for the Bucs: Josh Harrison trailed Justin Morneau by one point for the NL batting title, and Andrew McCutchen was three bases shy of overtaking idle Giancarlo Stanton to become the first Pirates player to lead the league in total bases since Dave Parker in 1978.
Tom Singer is a reporter for MLB.com and writes an MLBlog Change for a Nickel. He can also be found on Twitter @Tom_Singer. This story was not subject to the approval of Major League Baseball or its clubs.