Gray's shutout puts A's in AL Wild Card Game
Six-hitter in Texas sends Oakland to third straight postseason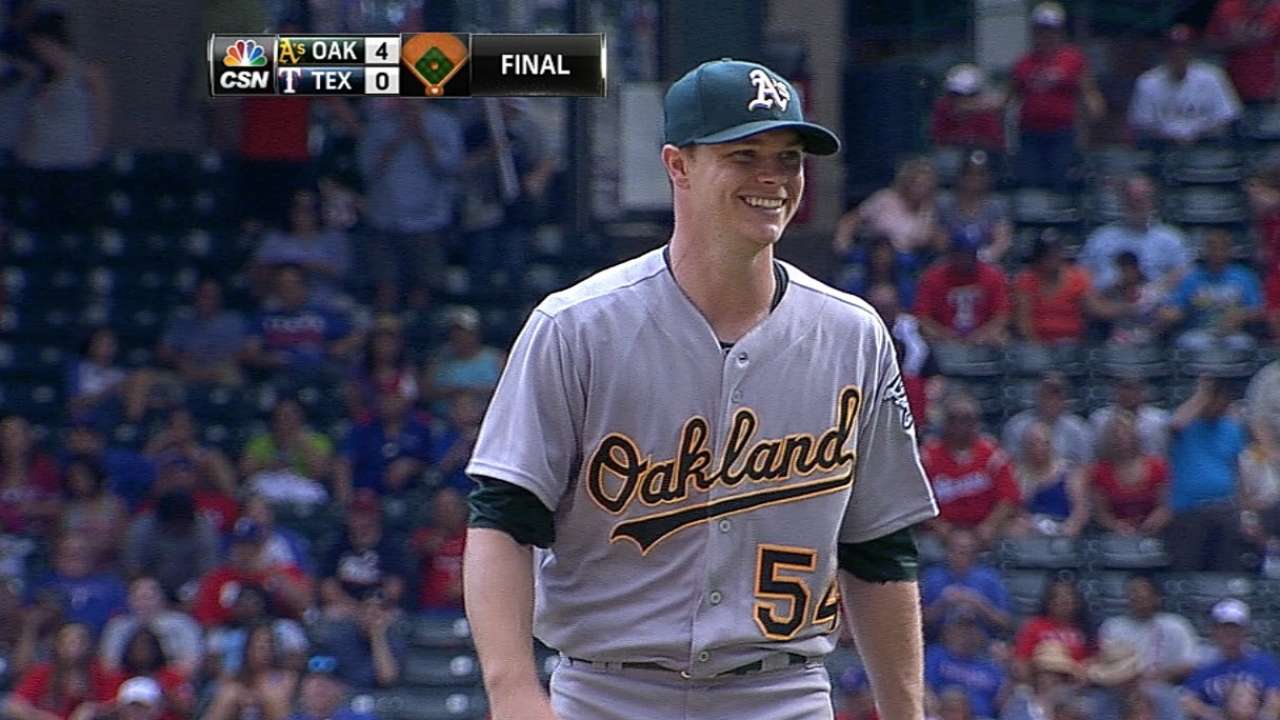 ARLINGTON -- A's manager Bob Melvin stood in the middle of a champagne-soaked clubhouse, his battle-tested men huddled around their tired, trusted leader. He raised a toast, the final game of the regular season a mere minutes behind them all, and offered a succinct but profound message that ended in two words: "We're in."
Yes, the A's are back in the postseason, despite an unexpectedly arduous and overly dramatic journey to get there -- "We've been through hell and back," said Sean Doolittle -- and, in celebrating an American League Wild Card berth following Sonny Gray's 4-0 shutout of the Rangers on Sunday afternoon at Globe Life Park, experienced an equally liberating emotional release, too.
"We went through some real challenges this year, but those things can make you tougher, too," Melvin said. "It's a relief off everyone's shoulders that we're here now, took the journey that we did. We're in, and I know I'm going to sleep better tonight."
"There have been a lot of ups and downs this year," added Jed Lowrie, "but we punched our ticket, and that's all that matters."
Gray's complete-game gem, just the second of his career, allowed the A's to cancel all pending reservations in Seattle, nullifying a potential Game 163 on Monday. Instead, they will head straight to Kansas City in advance of Tuesday's 5 p.m. PT contest, led by their ace, Jon Lester.
It will be the A's third consecutive postseason appearance -- the previous two ending in Game 5 losses to Justin Verlander and the Tigers in the AL Division Series -- and 26th in franchise history. Only the Yankees (51), Dodgers (28) and Cardinals (27) have more.
"I've been saying the last two weeks, if we get in, the last two months would be forgotten. And now I can say that with confidence," said Josh Reddick. "All the naysayers and the negative vibes, they're all gone now. We got in. I've been saying it for months -- two division titles, out Game 5, get in with the Wild Card, Win the whole thing."
"Now the pressure is off," said Gray, "and we can just go play."
Gray was superb on a day when he absolutely needed to be, allowing the Rangers just six hits without walking a batter and ringing up five strikeouts to remain efficient throughout, needing just 103 pitches to join Dave Stewart as the only pitchers in Oakland history to toss a complete game to clinch a playoff appearance.
It was the exclamation point to an utterly emotional season.
Oakland exited the All-Star break with baseball's best record (59-36) but a Yoenis Cespedes-less lineup stumbled for much of the second half, allowing the Angels to run away with the AL West crown in a matter of weeks. The A's, meanwhile, trudged to the finish line, and their post-break .433 winning percentage is lowest in MLB history by a playoff team.
"Once we could get that monkey off our back, we feel like we have a team that could do something special, and I think we're going to enjoy the heck out of this right now, after everything that this team has been through," said Doolittle. "This could be something that helps us move forward."
Doolittle warmed up twice Sunday afternoon, "and there was no way I was going in that game," he said, smiling. "Sonny was in a different kind of place today. Just an unbelievable outing for him."
"That was huge, one of the most impressive games I've gotten to watch in a while," said Lester, who was acquired in the deal that sent Cespedes to Boston. "Now it's my job to go out there and not screw it up and pitch the best game I can and give these guys a chance to win."
Gray's only other complete game also came against the Rangers, a three-hit shutout back in April, but against a healthier Texas lineup and under much different circumstances. He's already shown in little time, though, his love for a good challenge, evidenced by two gritty starts against the Tigers in last year's ALDS.
"It's pretty amazing," said Melvin. "For a 24-year-old kid who looks like he's 14 and pitches like he's 30, we've asked so much of him over the last couple of years, and for him to step up today, he kind of gave me an inkling that he might be the only guy we needed."
He surely shined on this day, particularly in the fifth inning when the Rangers threatened with runners at the corners and none out. Gray proceeded to strike out Luis Sardinas and force an inning-ending double play from former teammate Adam Rosales to escape his only jam.
He got all support he needed in the second inning when Reddick notched an RBI triple and Stephen Vogt rung up a run-scoring single. Lowrie's two-run base hit in the ninth padded a lead Gray wasn't about to hand over.
"Today was time to go out and win a game. It didn't matter how," said Gray. "It's my mom's birthday and she told me before the game, 'Son, there's only one thing that's going to make this a happy birthday.' And I'm sure she's having a great birthday now."
Jane Lee is a reporter for MLB.com. This story was not subject to the approval of Major League Baseball or its clubs.