Tigers' Davis hopeful pelvic strain not serious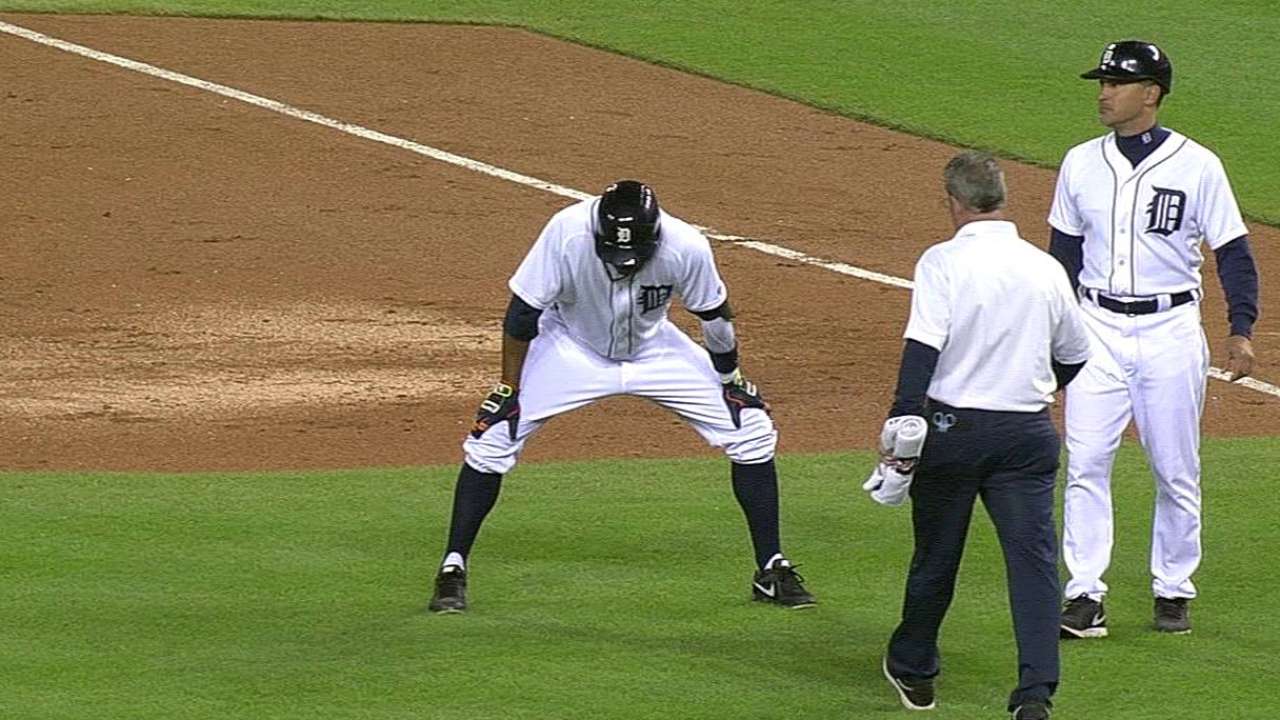 DETROIT -- Rajai Davis was out of the Tigers' lineup before he walked into the clubhouse Sunday morning. The fact that he walked into the clubhouse Sunday, hours after straining a ligament in his pelvic area, gave some encouragement that he might not miss many games after going forward.
"I feel a lot better than yesterday," Davis said Sunday morning, before his team faced the Twins and clinched the American League Central title. "I feel like it's not going to be long."
Tigers head athletic trainer Kevin Rand backed up that hope, but wanted to run Davis through some drills to see how much he can do before giving a timetable.
Asked if Davis could be considered day to day, Rand said, "I wouldn't make that statement right yet. But once I assess his activity level, I'll have a better feel for that."
Davis, the Tigers' primary center fielder since Detroit traded Austin Jackson to Seattle at the July 31 Trade Deadline, injured himself running out of the box on a second-inning groundout Saturday night. He was diagnosed with a Grade 1 sprain of the pubic symphysis ligament, which connects the pubic bone to the abdominal area.
It's a rare injury for any sport, let alone baseball, and there's very little history to try to judge how long he could miss. At first, Rand said, they suspected an abdominal strain, which would have been far worse.
"What he felt," Rand said, "was kind of a shift when he came out of the box, a shift in the pubic area. What we had to differentiate was whether it was that or whether it was a rectus abdominis, which attaches in the same area. …
"It's a very rare injury. Usually you see the injury when somebody hits a wall and you get a little shift."
X-rays were negative, and an MRI exam showed the mildest grade of sprain.
The fact that Davis' game is based on foot speed and explosive moments makes the injury even trickier. Though Davis feels fine standing around, the test will be how he feels when he tries to accelerate in a hurry.
"He was feeling much better when he came back from the MRI," Rand said, "but the only thing you would say is you're not getting into explosion. Explosion is his game."
With Davis out, Ezequiel Carrera started in center for just the second time since Sept. 1. Manager Brad Ausmus said he opted for Carrera over Don Kelly, who started three times in center earlier this month, based on Carrera's speed and defense.
Jason Beck is a reporter for MLB.com. Read Beck's Blog and follow him on Twitter @beckjason. This story was not subject to the approval of Major League Baseball or its clubs.