MLB.com Columnist
Bill Ladson
Rare Jordan: Zimm tosses first Nats no-hitter
Souza makes spectacular diving catch for final out to make history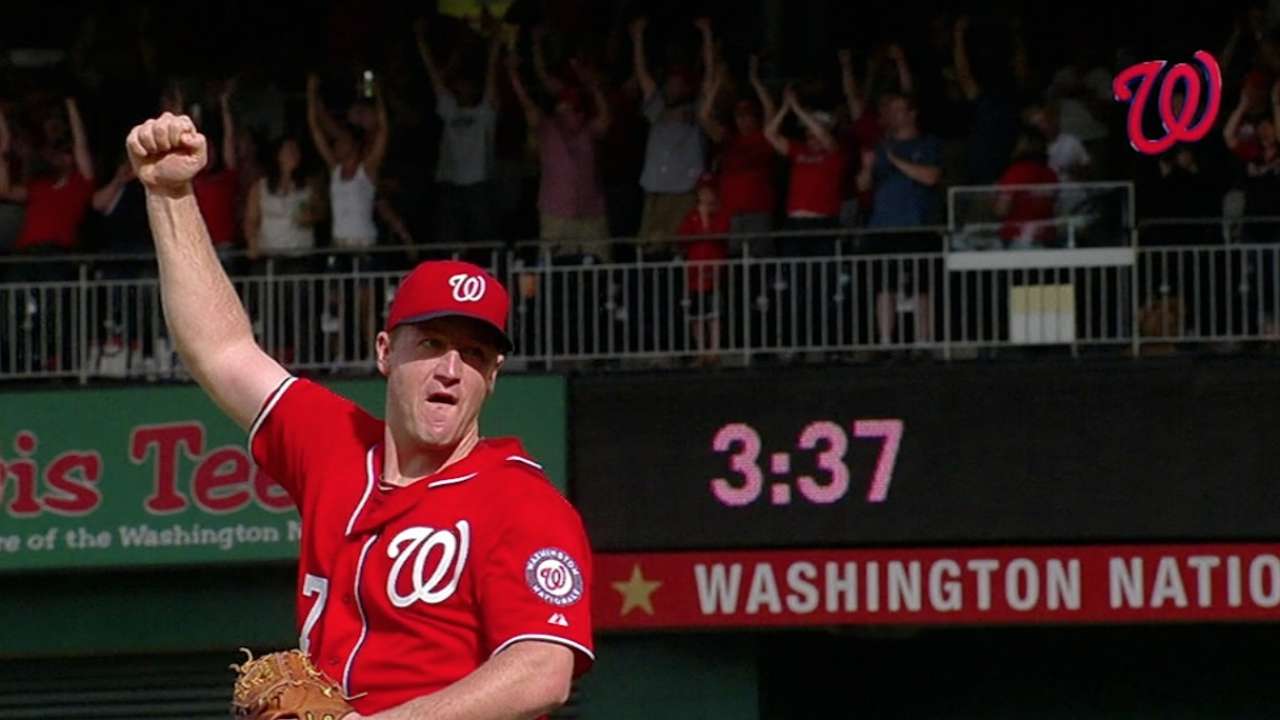 WASHINGTON -- It was the last day of the regular season at Nationals Park and right-hander Jordan Zimmermann gave the fans a thrill during a 1-0 victory over the Marlins on Sunday afternoon. He became the first pitcher in Nationals history to throw a no-hitter, and he did it with the help of a phenomenal diving catch by left fielder Steven Souza Jr. to end the game.
"I really didn't know what happened. He kind of rolled on the ball and I really didn't know what happened," Zimmermann said about the catch. "Then he lifted his glove up, so I knew that he had it."
With two outs in the ninth inning, Marlins outfielder Christian Yelich came to the plate. First-base coach Tony Tarasco was moving Souza toward the left-field line. On a 2-1 pitch, Yelich hit the ball to left-center field. Center fielder Michael Taylor knew he didn't have a chance to catch the ball, but there was Souza, who dove and caught the ball like a wide receiver to protect history.
"It came at a weird angle and my second hand came in there. I was holding it like a football," Souza said. "Sometimes when you come in the game, the ball finds you. I was just ready. I was going to put my body on the line for him."
After the Nationals mobbed Zimmermann for what he accomplished, they ran toward Souza in left field. There was Souza giving Zimmermann a big bear hug. What did Zimmermann say to Souza after the spectacular catch?
"He just said, 'I love you. Great catch,'" Souza said.
"Whatever he wants," Zimmermann said, when asked what he would buy Souza. "I don't even care. I thought that was a double for sure, and here he comes out of nowhere and makes the play. All the guys behind me today did a great job. We were switching guys in and out. This is a big win for us, and I've got to thank all these guys playing behind me."
Jayson Werth, who did not play in the game, thought Souza was out of position after Tarasco put him near the left-field line.
"[Souza] couldn't have been more out of position for that play. But it ended up being perfect, because it put him in the perfect spot," Werth said. "The only way you could make was that one. What a great day for Jordan and for the team, something we could build on as we head into October."
The catch reminded Werth of the one center fielder DeWayne Wise made when Mark Buehrle pitched his perfect game for the White Sox in 2009.
"I talked to [Wise] about that play the next season. It was one of those deals when you get out there, you know the ball is coming to you because you know you just came in the game for defense," Werth said. "When I saw Souza running out there, I had a feeling something crazy would happen, but not that crazy, that's for sure. That's was unbelievable."
Only two Marlins reached base. Justin Bour walked with two outs in the fifth inning, while Garrett Jones struck out in the seventh inning, but reached base on a wild pitch. Not known as a strikeout pitcher, Zimmermann fanned 10 Marlins in the game.
The last player to throw a no-hitter in franchise history was Expos right-hander Dennis Martinez, who pitched a perfect game against the Dodgers on July 28, 1991.
Zimmermann was dealing with shoulder soreness after getting hit by a line drive off the bat of Casey McGehee on Sept. 20, and he was pushed back a couple of days in order to pitch Sunday. At first, Zimmermann thought he was going to throw no more than 80 pitches. But manager Matt Williams was going to let Zimmermann stay in the game until he allowed a hit.
"We wanted to get him through five or six [innings],"Williams said. "But you can't deny him an opportunity to let something special like that happen in somebody's life. Once he got to the sixth inning, he was going until he gave one up."
The rest seemed to do Zimmermann some good. He retired the first 14 hitters he faced before Bour walked.
Zimmermann had a feeling something special was going to happen by the fifth inning.
"I looked up. There are still zeros on the board. I had really good control," Zimmermann said. "They were swinging early, being the last game, [and] that helped out a little bit. When you add those two things together, something good is going to happen."
The Marlins hit the ball hard, but it was seemingly always right at somebody. In the fifth inning, for example, Jones lined out to Tyler Moore at first base, while Reed Johnson lined out to third baseman Kevin Frandsen and J.T. Realmuto lined out to shortstop Danny Espinosa.
"We hit some balls hard today, but they just found some people," Yelich said. "That's what you need to have a no-hitter happen. He's a great pitcher with great stuff. You combine that with getting some balls hit at some people, and it has a chance to be a special day.
"Credit him for making those pitches at the end. That's tough to do, and he did it."
Marlins right-hander Henderson Alvarez also pitched well, tossing seven innings and allowing one run on 11 hits. The run was scored in the second inning on a home run by Ian Desmond, his 24th of the season.
Denard Span's third-inning double marked his 184th hit of the year, setting a single-season record for the Nationals.
The Nationals finished the season with a 96-66 record, 17 games ahead of the Braves and Mets. The division margin is the biggest gap between first and second to finish a season by any team since the 2008 Angels (21 games over the Rangers).
Bill Ladson is a reporter for MLB.com and writes an MLBlog, All Nats All the Time. He also can be found on Twitter @WashingNats. This story was not subject to the approval of Major League Baseball or its clubs.