Final act: Jeter collects RBI single, then exits
Yankees' captain completes career with hit No. 3,465, .310 batting average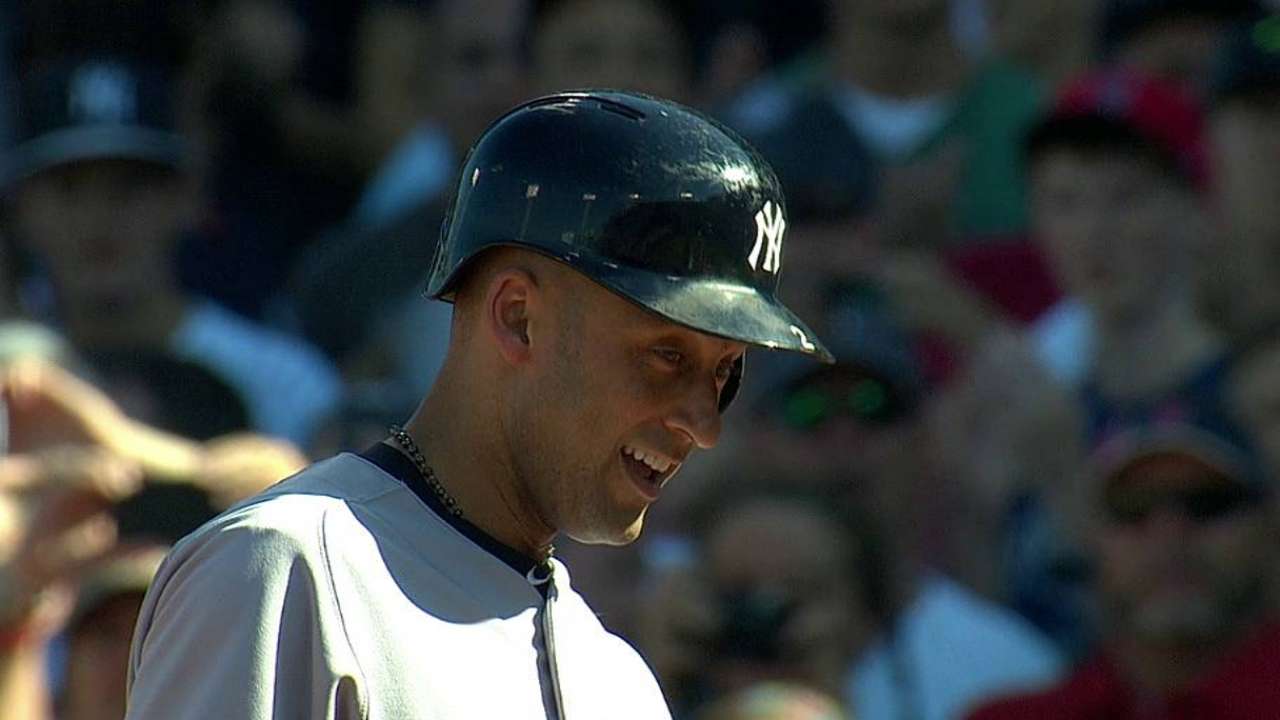 BOSTON -- Derek Jeter's final morning in a big league uniform started by fielding a housekeeping question and then absorbing an interesting factoid. The first part was obligatory: yes, of course he planned to be in the lineup for Sunday's game against the Red Sox.
That was the response Joe Girardi expected, and so the Yankees' manager nodded, then fired his follow-up. Jeter's plan was to have two at-bats -- no matter the results -- and then exit. Girardi noted that two more hits would give Jeter an 18th season of 150 or more hits, tying an all-time record. Did he care?
"It didn't mean a whole lot to him," Girardi said. "He's all about winning. Obviously, we're going home and he's very sad and we're all sad, but it's never been about him. It's been about the rings, and going out and playing winning baseball."
Or, as Jeter put it: "I never played this game for numbers, so why start now?"
So Jeter's career ended in the third inning as he slapped a 93-mph Clay Buchholz fastball off home plate to the left side of the infield, with the Yankees' captain running hard down the first-base line, just as he has done countless times before.
The ball hung "up in the stratosphere," according to third baseman Garin Cecchini, who tried but was unable to bare-hand the ball. Ichiro Suzuki scored as Jeter reached safely without a throw, then motioned to the dugout that it was time to go.
"I would have loved to hit a home run like everyone else, but getting hits is not easy to do," Jeter said after the Yankees' 9-5 victory. "I don't care how far it goes, where it goes. I have no ego when it comes to hits. It's either a hit or an out. I've gotten a lot of hits like that throughout my career, and they all count the same."
Jeter finished with 3,465 hits, sixth all time and the most ever by a Yankee, and that stat Girardi spoke about will continue to belong to Ty Cobb, Tris Speaker and Pete Rose. But Jeter has 17 seasons of at least 150 hits, and that keeps him in some good company.
"I'm tied with Hank Aaron. That's enough for me," Jeter said.
Jeter also walked out of Fenway Park as the Yankees' franchise leader in games played (2,747), at-bats (11,195), runs (1,923), doubles (544) and stolen bases (358), owning a lifetime batting average of .310.
"I've had a blast," Jeter said. "Listen, I got an opportunity to do what I wanted to do -- the only thing that I ever wanted to do. I know that not a lot of people can say that. I've been fortunate, but I've had fun. There isn't a thing that I would change."
After signaling to Girardi, Jeter waited until pinch-runner Brian McCann lumbered across the infield, then offered the slow-footed catcher a hug. McCann said that he told Jeter, "Congrats on everything, you're the best."
Jeter shook hands with Buchholz near the mound and trotted off to thunderous applause, exchanging greetings with third-base coach Rob Thomson, then a procession of teammates out of the dugout that started with Mark Teixeira and Brett Gardner.
Doffing his batting helmet near the third-base dugout, Jeter lingered for a few extra moments, soaking in the ovation before descending the dugout steps as the Red Sox and the fans applauded.
"There's been a lot of ugly times in this rivalry, things you wouldn't necessarily want everyone to see," Girardi said. "But for one day, everyone came together."
Jeter's final two hits were of the infield variety this weekend, going a combined 2-for-4 against the Red Sox after his memorable walk-off single to beat the Orioles on Thursday at Yankee Stadium. At Jeter's request, the Yankees had taken on-field batting practice on Sunday.
"I asked him if he wanted to hit today," Girardi said. "And he said, 'You know I always want to hit.' So I said, 'We'll hit then.'"
Jeter jogged onto the field at 11:13 a.m. ET for a team stretch in left field and began hitting in the cage eight minutes later, a session that was watched on the field by former manager Joe Torre as well as New York sports super-fan Spike Lee. He briefly halted his session to greet Rusney Castillo of the Red Sox; the 27-year-old Cuban outfielder had wanted to meet Jeter.
The Yanks, Jeter included, howled with laughter at the end of BP when Teixeira and McCann were pitted in a 40-yard dash across the left-field grass to determine the slowest Yankees player. Teixeira beat McCann in the race easily; humorous, considering McCann would run for Jeter a few hours later.
"Everyone's been wanting to see who was faster between me and him all year, so we made it happen," McCann said.
"Once we were out of it, we knew we were going to race at some point this weekend, and it was inevitable that I was going to win," Teixeira said. "Let's be honest here. We just had to make it official."
It was that kind of afternoon. As emotionally rattled as Jeter was on Thursday in New York -- losing his batting glove, forgetting an elbow guard and retreating to the bathroom often to hide his tears -- this was just a warm afternoon in the park, enjoying a last day with the boys before saying goodbye.
"I don't care if I came to Boston and I hit a home run every single at-bat," Jeter said. "If I hit four home runs while I was here, for me personally, it just couldn't have topped what happened.
"New York has been a special place for me. The way that game ended at home, you couldn't have written the script. When I got here, I was just ready. I'm ready for my career to be over with, so I tried to have as much fun as I could."
Bryan Hoch is a reporter for MLB.com. Follow him on Twitter @bryanhoch and read his MLBlog, Bombers Beat. This story was not subject to the approval of Major League Baseball or its clubs.