Twins fall short in final chance at playing spoiler
Gibson gives solid effort in matchup with Price as Tigers clinch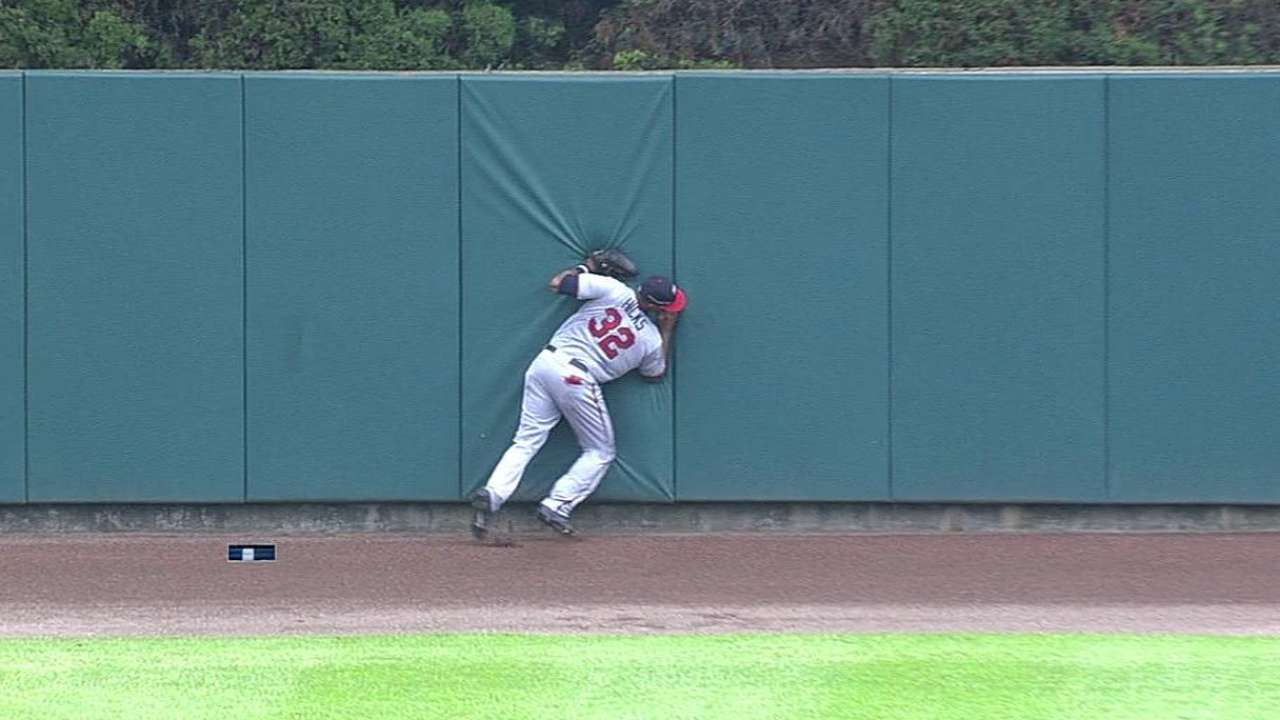 DETROIT -- Last year, the Twins had to watch three different teams celebrate clinching a postseason berth en route to losing 96 games for a second straight season.
This year, the Twins only had to witness one, and it came on the last day of the season. Minnesota couldn't keep the Tigers from celebrating their fourth straight American League Central crown despite a strong effort from Kyle Gibson, as he was outdueled by David Price in a 3-0 loss on Sunday afternoon at Comerica Park.
Twins manager Ron Gardenhire said it's a learning experience for the club's younger players and he hopes it's something that can make them hungrier moving forward after watching the Tigers celebrate on the field after the final out. The Twins went 10-9 against Detroit this season, including wins on Friday and Saturday, but couldn't come through in the season finale.
"They should [watch] and it's what we talked about afterward," Gardenhire said. "We competed against some of the best teams in baseball in pennant races. I thought we handled ourselves well. We irritated them like we said we were going to do. So I was really proud of those guys, the way they got after the game."
The Tigers entered the day leading the second-place Royals by just one game, but clinched the division with the victory. They'll play the Orioles in the AL Division Series. The Twins finished the year at 70-92, a four-win improvement on each of the last two seasons, when they went 66-96 in 2012 and '13.
"I mean, 70 wins is not good even if it's better than last year and the year before," said second baseman Brian Dozier. "It's not enough wins. But that being said, it's night and day the improvements we've made, speaking for the offense."
The offense did the job this season, finishing fifth in the AL in runs scored with 715, but it was Gibson who shined in his last start of the season, though he did give up two late runs in the eighth.
Gibson allowed three runs on four hits and three walks over 7 1/3 innings, but was stuck with the hard-luck loss. The right-hander finished his first full season in the Majors going 13-12 with a 4.47 ERA in 31 starts totaling 179 1/3 innings.
"I would've rather not have the eighth inning be my last one of the year, but [the start] was good," Gibson said. "My fastball command has been the biggest thing the last couple starts. It's definitely something to build off of for next year."
The first run Gibson allowed came on a solo blast from Ian Kinsler with two outs in the third inning. Gibson was helped out by an impressive running catch from Aaron Hicks in center field to rob Miguel Cabrera of an RBI extra-base hit to end the sixth.
After Gibson issued a pair of one-out walks in the eighth, Kinsler gave Detroit an insurance run with an RBI single to left field, chasing Gibson from the game. Torii Hunter's sac fly off Lester Oliveros closed the book on Gibson, but Gardenhire was still proud of the way he pitched.
"He was really good against a good lineup on a big day like that," Gardenhire said. "They were trying to win a division, but he was fantastic."
But while Gibson was good, Price was even better. The left-hander threw 7 1/3 scoreless frames, scattering just four hits and two walks while striking out eight over 112 pitches. It was the type of performance the Tigers were looking for when they acquired him from the Rays in a blockbuster trade on July 31.
"It was a tough game, but you can't say anything more about David Price," Kinsler said. "The guy's a horse, and that's who you want on the mound right there."
Tigers closer Joe Nathan tossed a scoreless ninth to get his 35th save and preserve the win and AL Central crown for Detroit. Dozier was one of several Twins who stuck around to watch the on-field celebration, and he predicted it won't be long before his teammates do their own celebrating.
"I watched three times last year and watched it again [Sunday], and hopefully I won't have to anymore," Dozier said. "I've never been in the playoffs up here. It's always stabbing to the heart to watch guys do that, but I think it's always good for the young guys to see that. It's the best playoff atmosphere you can come close to without actually being in one. But we'll clinch soon."
Rhett Bollinger is a reporter for MLB.com. Read his blog, Bollinger Beat, and follow him on Twitter @RhettBollinger. This story was not subject to the approval of Major League Baseball or its clubs.