This time, Marlins on wrong side of last-day history
Zimmermann hurls no-no; Alvarez on losing end a year after his feat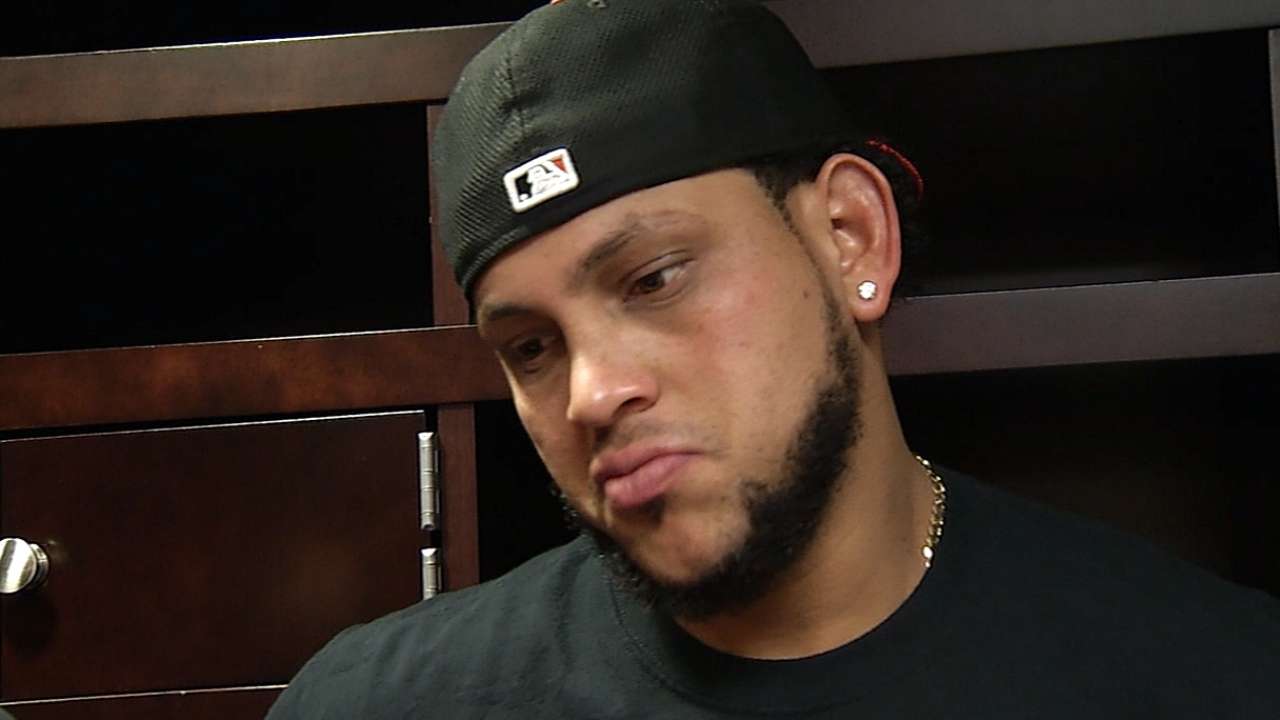 WASHINGTON -- Fate came full circle for Henderson Alvarez and the Marlins on Sunday afternoon. This time, Alvarez was on the losing end of a season-finale no-hitter.
Jordan Zimmermann etched his place in MLB history by tossing a final game no-hitter in Washington's 1-0 victory over the Marlins in front of 35,085 fans at Nationals Park.
The final out was not an easy one, as Zimmermann's 104th pitch was lined by Christian Yelich into the gap in left-center, but Steven Souza Jr., made a no-hit-saving, diving catch, prompting the Nationals to rejoice in their first no-hitter since moving to Washington in 2005.
"We lined out a bunch today," Yelich said. "Stuff like that happens. That was my fourth time facing him today, so I had a pretty good idea of what he was doing and what kind of stuff he had. I put a good swing on the ball, and the guy made a heckuva a play.
"In the heat of the moment, and that on the line, that might be one of the best plays I've ever seen, ever. Hats off for him for making that play. Hats off to Zimmermann for pitching a great game."
It's the third time the Marlins have been no-hit, with the last being Roy Halladay's perfect game for the Phillies on May 29, 2010. That game also was a 1-0 affair. Ramon Martinez of the Dodgers no-hit the Marlins on July 14, 1995.
Miami capped its season by dropping three of four at Washington and finishes at 77-85, in fourth place in the National League East. The Nationals, meanwhile, ride a high into the postseason.
"There isn't a whole lot to say -- the guy pitched great," Miami manager Mike Redmond said. "Then the guy makes a great play out there in left. That probably caps up the season they've had as they head to the playoffs."
Last year, on the last day of the season, Alvarez no-hit the Tigers. Miami won that game 1-0 in unconventional fashion. The winning run scored on a wild pitch in the ninth inning with Alvarez standing on deck.
"Things just happen from one year to the other," Alvarez said. "Basically, he was just pitching in the bottom of the zone. It was just Zimmermann's day -- excellent day for him."
On Sunday, Zimmermann struck out 10 and walked just one, Justin Bour with two outs in the fifth inning. Alvarez, meanwhile, scattered 11 hits and gave up one run in seven innings.
Alvarez retired the first four batters he faced before Ian Desmond connected on a one-out homer in the second inning. The blast to left center was his 24th of the season, and it was the only run Zimmermann would need.
Zimmermann's defense came up big early and late.
Yelich led the game off with a 10-pitch at-bat that ended with a screaming liner to right that was run down by Bryce Harper.
"We hit some balls hard today, but they just found some people," Yelich said. "That's what you need to have a no-hitter happen. He's a great pitcher, with great stuff. You combine that with getting some balls hit at some people, and it has a chance to be a special day. Credit him for making those pitches at the end. That's tough to do, and he did it."
Donovan Solano followed with a sharp grounder that was snared at short by Desmond for the second out.
In the fifth inning, the Marlins laced three line drives, all at Washington defenders. Garrett Jones opened the inning with a sharp liner that was right at Tyler Moore first. Reed Johnson ripped a liner to third that was gloved by Kevin Frandsen. J.T. Realmuto lined to left to end the inning.
Miami's second baserunner came in the seventh inning, when with two outs, Jones struck out. But the pitch got past catcher Wilson Ramos. A wild pitch was charged to Zimmermann, allowing Jones to take first.
Ramos, however, made a heads-up play behind the plate. On a ball to Johnson, the Washington catcher picked Jones off first base.
"[Zimmermann] was working quickly," Johnson said. "Defense is on their toes all the time. He was pounding the strike zone. He did everything he needed to do to throw a no-hitter."
Joe Frisaro is a reporter for MLB.com. He writes a blog, called The Fish Pond. Follow him on Twitter @JoeFrisaro. This story was not subject to the approval of Major League Baseball or its clubs.