V-Mart happy for fellow Venezuelan Altuve's batting title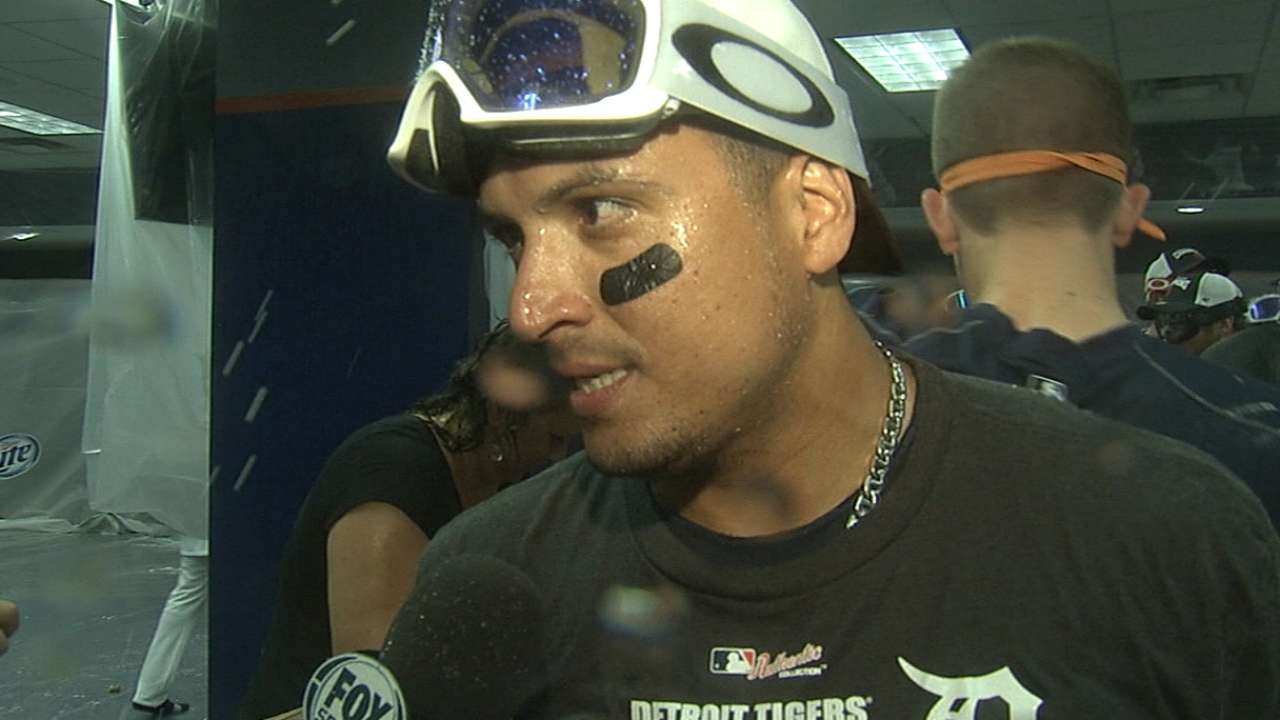 DETROIT -- Victor Martinez doesn't know fellow Venezuelan and new American League batting champion Jose Altuve very well.
"We call him the 'Little Giant,'" Martinez said.
In the end, Martinez didn't pass Altuve atop the AL batting race, finishing second. After winning a division title with Sunday's 3-0 Tigers victory over the Twins, Martinez wasn't downtrodden about the race for the batting title.
Even if Martinez wasn't headed to the playoffs, though, it might not matter. The respect he seemingly has for Altuve made him happy to see the diminutive Astros second baseman follow three-time batting champ Miguel Cabrera into the record books.
"I got to know him the last two, three years. Awesome, awesome, awesome kid," Martinez said. "I'm really proud, really proud, and I'm going to get the opportunity to congratulate him for winning the batting title and having a great year.
"It was a special year for him. That shows everybody in the world that talent doesn't mean anything if you don't put the work into it. A guy that [stands], I don't know, 5-6, 5-7, having an MVP kind of season, it shows everybody that it takes a lot to this game. You don't have to be 6-5, 6-6 to play this game."
Martinez entered the day three points behind Altuve, .340 to .337. Altuve was originally not in Houston's starting lineup. If that plan had held, Martinez would've had to go 3-for-3 or 4-for-5.
Shortly before game time, however, the Astros put Altuve in the lineup to face the Mets at Citi Field. After a first-inning double play, Altuve doubled and singled in his next two at-bats, leaving Martinez needing a perfect performance.
Martinez went 0-for-3, finishing the season batting .335.
"I'm not going to lie, yeah, I knew [the race was close]," Martinez said. "[Ian] Kinsler before the game told me, 'Hey, three more and you get to him.' And I told him, 'Kins, if I get to choose one or the other, I want to win the division.'
"I'll get the opportunity to congratulate him. Altuve is the Little Giant. I tip my hat to him like most of the league is going to do."
Jason Beck is a reporter for MLB.com. Read Beck's Blog and follow him on Twitter @beckjason. This story was not subject to the approval of Major League Baseball or its clubs.