Postseason Picture for Sunday, Sept. 28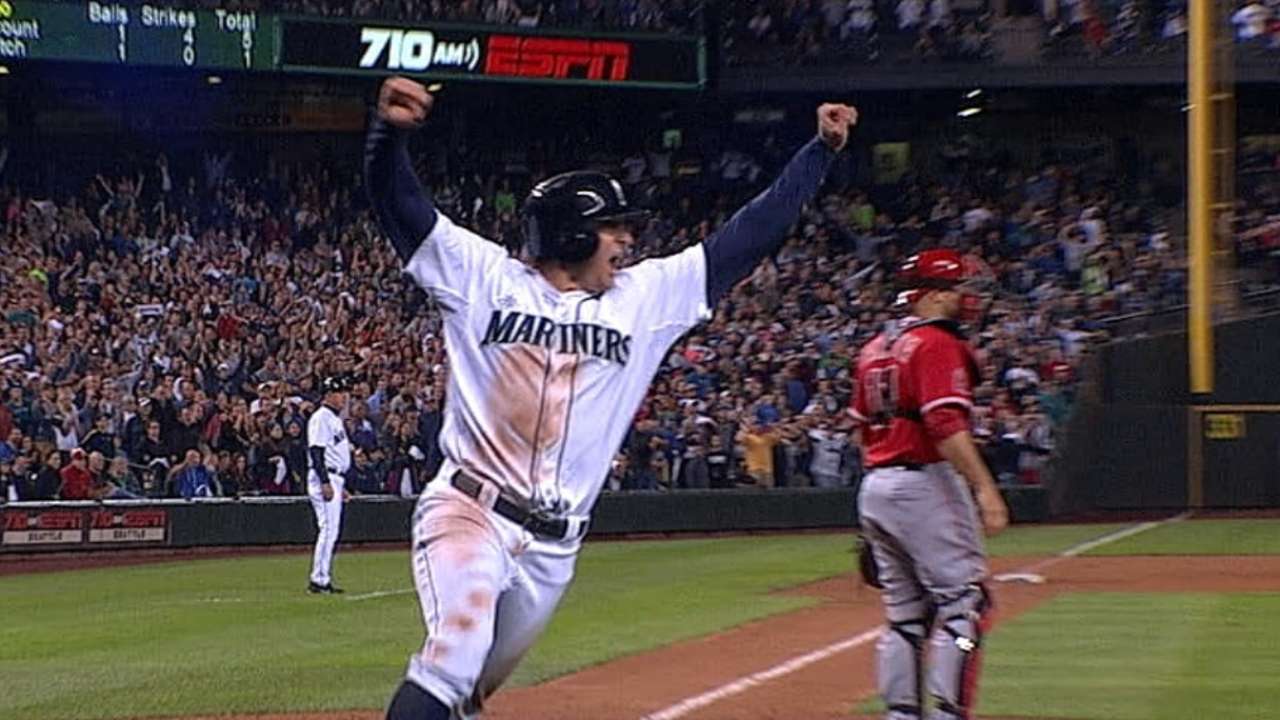 All season long, we've been provided with unpredictable, thrill-a-minute drama from the two Central races and the American League Wild Card. So it's only fitting that all three will be decided on the season's final day -- and even that might not be enough to settle it.
Entering play Sunday, the Tigers, Cardinals and A's hold one-game leads in their respective races. The formula is simple for those three clubs: win and you clinch, lose and you run the risk of a tiebreaker game on Monday.
In the National League Central -- where the Cards lead the Pirates -- and the AL Central -- where the Tigers hold an edge on the Royals -- the runner-up is at least guaranteed a spot in the playoffs as the first Wild Card team.
The same luxury won't be afforded to the A's, who led the Mariners by 10 1/2 games at the Trade Deadline. Seattle's walk-off win Saturday night cut Oakland's Wild Card lead to one game -- with one game to play.
IF THE POSTSEASON STARTED TODAY ...
American League
Wild Card: A's at Royals
Division Series: Wild Card at Angels | Tigers at Orioles
National League
Wild Card: Giants at Pirates
Division Series: Wild Card at Nationals | Cardinals at Dodgers
Saturday's action began in Cincinnati, where the Reds stunned the Pirates with a walk-off grand slam in the 10th inning. Ramon Santiago's second home run of the season put the Bucs on the brink of elimination from the NL Central race.
#BPShoutOut 2 my teammate @Elhappy39 4 hitting that #walkoff grandslam! No lie, knew he was gonna come thru but DEFINITELY not like that lol

- Brandon Phillips (@DatDudeBP) September 28, 2014
The AL Central then took center stage as the afternoon turned to evening. Once the Twins put up six runs in the fifth inning, the Tigers never threatened, leaving the door open for the Royals to potentially deadlock the division race.
They couldn't take advantage. The Royals plated one in the seventh, one in the eighth and one in the ninth, but ultimately fell one run short in a 5-4 loss to the White Sox. Mike Moustakas singled home Alex Gordon in the top of the ninth, but Moustakas was stranded at first when Alcides Escobar grounded out to end the game.
Kansas City will head into the final day of the regular season 1.0 game back of Detroit in the AL Central. #Royals

- Kansas City Royals (@Royals) September 28, 2014
Back in the NL Central, the Pirates got some help from D-backs slugger Mark Trumbo, who went yard twice, including a go-ahead three-run shot in the seventh inning. Arizona's win over St. Louis kept the Cardinals magic number at one entering the season's final day.
The A's magic number also remained at one after a disappointing 5-4 loss in Texas. A bad night got even worse for Oakland when Seattle's Austin Jackson beat out a would-be double play ball to give the Mariners a 2-1 win over the Angels in 10 innings.
.@Mariners #WALKOFF. And they head to Game 162 with #postseason dream alive: http://t.co/52OjBLcloe pic.twitter.com/4oAmaIdNYB

- MLB (@MLB) September 28, 2014
So what does this all mean? Well, it sets up a wild Sunday afternoon. And, of course, the possibility still exists for three tiebreaker games to be played Monday.
In the history of Major League Baseball, no season has ever needed more than one tiebreaker, and there's a chance we might see three this year. It really is going to be quite the final day... or two.
If the #Royals, #Pirates & #Mariners win Sunday AND the #Tigers #Cardinals & #Athletics lose, Monday will be insane.

- MLB Public Relations (@MLB_PR) September 28, 2014
TODAY'S KEY GAMES TO WATCH (all times ET)
Twins (Gibson 13-11, 4.50) at Tigers (Price 14-12, 3.36), 1:08 p.m. Preview
Want to know why the Tigers traded for David Price at the Deadline? For games like this. He gets the ball, knowing a win would give the Tigers their fourth-straight division title.
Pirates (Cole 11-5, 3.78) at Reds (Cueto 19-9, 2.29), 1:05 p.m. Preview
Pirates skipper Clint Hurdle opted to pitch Gerrit Cole on Sunday, rather that saving him for either a tiebreaker game Monday or the Wild Card Game on Wednesday. He will have a tall task going up against Reds ace Johnny Cueto, who has a legitimate claim to the best season by a pitcher not named Kershaw.
Royals (Ventura 14-10, 3.07) at White Sox (Bassitt 1-1, 3.65), 2:10 p.m. Preview
The Royals are going to need some help if they want to force a one-game playoff with Detroit, but "help" won't do them any good if they can't beat the White Sox. Yordano Ventura, who has pitched more innings than any other rookie this season, gets the ball.
A's (Gray 13-10, 3.21) at Rangers (Martinez 5-11, 4.61), 3:05 p.m. Preview
With a chance to clinch the second Wild Card spot, the A's turn to Sonny Gray, who is coming off a career-high 12-strikeout performance against the Angels on Tuesday. A loss Sunday, and Oakland will turn to scoreboard watching.
Cardinals (Wainwright 20-9, 2.38) at D-backs (Collmenter 11-8, 3.57), 4:10 p.m. Preview
Sure, the Cardinals would have loved to have wrapped up the division on Saturday night. But their consolation prize is a magic number of one with 20-game winner Adam Wainwright on the hill.
Angels (Rasmus 3-1, 2.38) at Mariners (Hernandez 14-6, 2.34), 9:10 p.m. Preview
Heading into Game 162, the Mariners are still alive, and they hand the ball to Felix Hernandez. Sure, they need some help from Texas, but there aren't many Mariners fans who would have turned that down earlier this week.
MAGIC NUMBERS
AL East: Orioles clinched
AL Central: Tigers 1 over Royals
AL West: Angels clinched
AL Wild Card 1: Royals clinched
AL Wild Card 2: A's 1 over Mariners
NL East: Nationals clinched
NL Central: Cardinals 1 over Pirates
NL West: Dodgers clinched
NL Wild Card 1: Pirates clinched
NL Wild Card 2: Giants clinched
TIEBREAKER SCENARIOS
A tiebreaker game will be played to determine a division winner, even if the tied clubs are assured of participating in the postseason. If a division championship tiebreaker is necessary, the head-to-head record between the clubs will determine home-field advantage. If the head-to-head record is tied, then division record will be the next tiebreaker.
If two clubs are tied for the two Wild Card berths, home-field advantage will be determined by the head-to-head record between the clubs. If the head-to-head record is tied, then division record will be the next tiebreaker.
AJ Cassavell is a reporter for MLB.com. Follow him on Twitter @ajcassavell. This story was not subject to the approval of Major League Baseball or its clubs.