Special night brings out all kinds of emotion
Organization, fans show Konerko how much he will be missed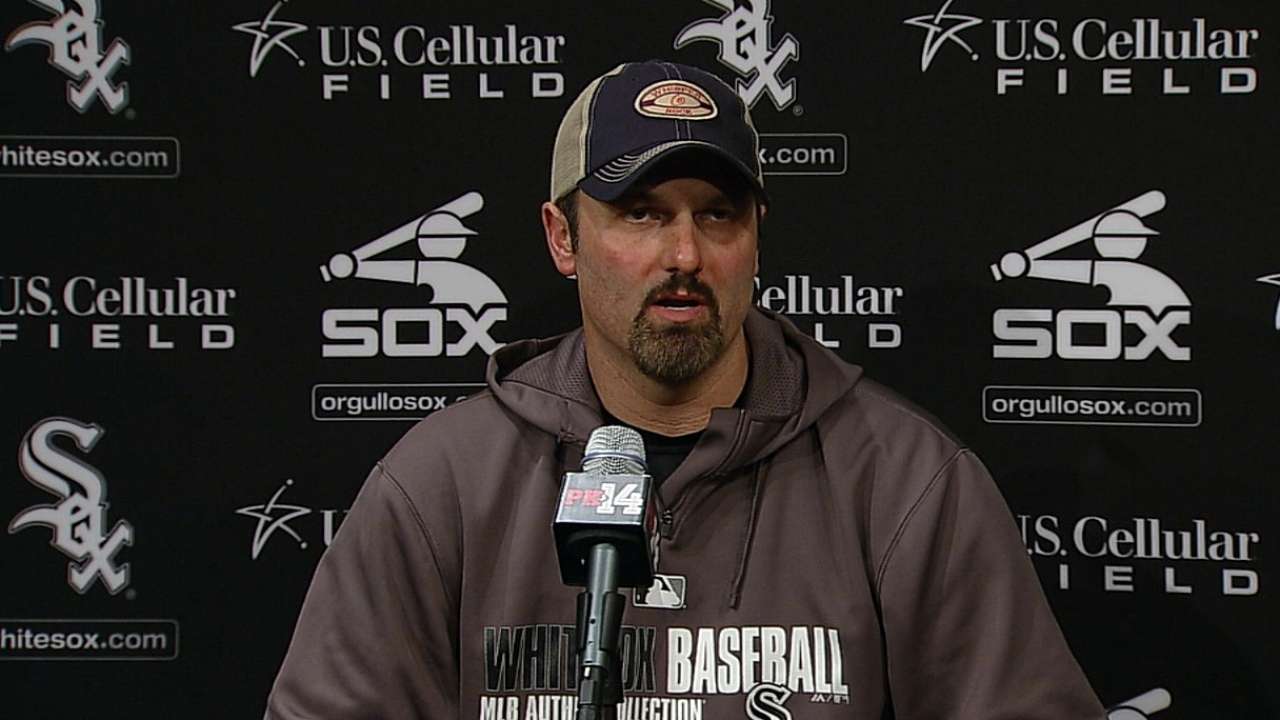 CHICAGO -- To present an idea as to how perfect the Paul Konerko Day celebration was pulled off by the White Sox on Saturday night at U.S. Cellular Field, an overwhelmed Konerko said after a 5-4 victory over the Royals that he couldn't have done a better job laying it out himself.
"If I would have planned it myself, I don't think I would have done anything different," said Konerko, speaking in the Conference and Learning Center at the ballpark after going hitless in three at-bats. "That's how good it was.
"Over the last couple of weeks, when I could see like this is going to be a thing, this is going to be an ordeal, I was nervous about it and was nervous right up until it. I felt comfortable once I started to talk and kind of knew I had it at that point as far as I can get through this now."
Hank and Elena Konerko, Paul's parents, and his brother, Peter, along with his family, were part of the three suites full of Konerko family and friends to celebrate Saturday. They were joined on the field by Paul's wife, Jennifer, and their three children, Nicholas, Owen and Amelia, for the 41-minute celebration of his 16 years with the White Sox, which included a statue presentation on the left-field concourse and the return of the baseball from his Game 2 grand slam in the '05 World Series.
Former teammates Sean Lowe, Chris Getz, Greg Norton, Jim Thome, Brian Anderson, Ross Gload and Cliff Politte also were in attendance and seated behind Konerko. Because of the flight cancellation issues hitting O'Hare and Midway Airports in Chicago on Friday, fellow teammates and friends Scott Podsednik, Joe Crede, Craig Wilson and Mark Kotsay were unable to attend the festivities.
"Paul's such a dear friend and I'm just happy I was able to make it here," said Anderson, who played with Konerko from '05-09. "I know Crede and Pods and those guys, they got tied up with their flights. I know they're extremely bummed.
"I've been getting texts from Crede right now. He's legitimately livid that he's not here. It's a bummer. It just goes to show you how much everyone cares about Paul and want to be here for him in his last couple of games."
That care certainly extended to Konerko's present teammates, who fed off the energy produced by a raucous sellout of 38,160. It includes manager Robin Ventura, whom Konerko praised in his pregame speech for the way he handled the captain's final season.
After the victory, Konerko apologized for the way he played on the evening. Not so much an apology, but the man who has made a career of being able to block out distractions and focus on the job at hand could not do so on this remarkable evening.
"Just very odd," Konerko said. "As many games as I've played, none of them ever felt like that going into it. It was awesome."
"It was a great turnout for what was a really nice tribute and ceremony and all that," Ventura said. "Paulie does a great job of explaining his emotions of what it was, but as calm and cool and collected as he is, he was pretty touched by it. The energy was great tonight. We're out of it, but he deserves that. All year long, the fans have done a nice job of recognizing his contribution to this organization. For them, coming out, it was touching."
John Danks, who earned the victory, listed Konerko as one of the greatest influences in his career, along with Mark Buehrle and Jon Garland. There are many other players who would share the same sentiment.
It was a great way for Konerko to depart, with tributes from opposing players, former teammates and even his family played on the scoreboard in between innings. But in the opinion of Hank Konerko, his son was destined to find this sort of baseball success on the South Side of Chicago, a successful run that ends on Sunday.
"He's half Italian, half Polish," said the proud father with a broad smile. "Where else would God want him to play but Chicago? I'm proud of what Paul does for the other guys behind the scenes, working with the younger guys and setting a good example."
"You see people who have those ceremonies. But you don't think you're that person who gets to have those," Konerko said. "So, maybe I still don't. It's all mindboggling to me, the whole thing. The statue and the whole thing, I don't know. It's pretty cool. I'm pretty humbled by it."
Scott Merkin is a reporter for MLB.com. Read his blog, Merk's Works, and follow him on Twitter @scottmerkin. This story was not subject to the approval of Major League Baseball or its clubs.