Dickey absorbs a hard-luck loss in season finale
Veteran knuckleballer allows only a solo shot over six innings of work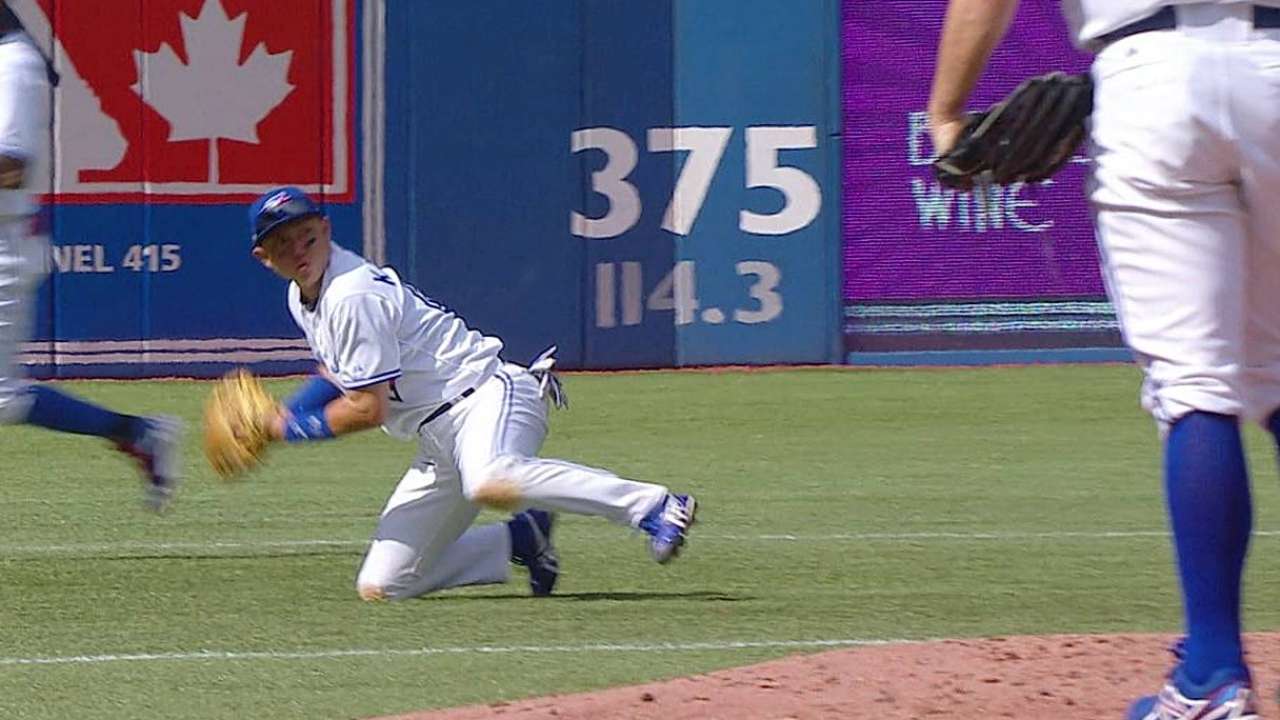 TORONTO -- One run was all it took to disrupt the Blue Jays' hopes of securing a series sweep of the Orioles on the last day of the regular season on Sunday at Rogers Centre.
R.A. Dickey pitched six strong innings and allowed only two hits before a packed house at Rogers Centre. But a solo homer by O's second baseman Jonathan Schoop proved to be enough to down the Blue Jays, 1-0.
"They won the division for a reason, and to have a performance like that, at the end of the year, when it's very easy to cash it in, I was happy that I was able to fight through it," said Dickey, who threw his seventh consecutive quality start and his 23rd of the season.
The 39-year-old knuckleballer gave up only a leadoff double to Nick Markakis in the first, and Schoop's homer in the fifth. Schoop battled Dickey to a full count before sending a fastball over the wall in left-center field for his 16th homer of the season.
Outside of that, Dickey was effective, as he delivered his third quality start against the O's this season. But despite that, he wasn't able to record a win against the American League East champions. The loss was Dickey's first in eight starts -- and just his fourth in 14 starts since the All-Star break.
"For me, giving up two hits to that lineup, I'm satisfied with that," said Dickey, who finished the season at 14-13 with a 3.71 ERA. "I made a mistake to Schoop, and it was the difference in the game. But, outside of that one pitch, I thought I did pretty good."
Ryan Goins had a two-out triple to left field in the fifth which was misplayed by Alejandro De Aza that gave the Blue Jays some life, putting the tying run 90 feet away. Jose Reyes nearly cashed him in, but his sinking liner was nabbed by Markakis in right field to end the inning.
Jose Bautista attempted to rally his squad and the 45,901 fans in attendance when he swiped second base after reaching first on a Ryan Flaherty throwing error to start the sixth. But O's reliever Ubaldo Jimenez fanned Edwin Encarnacion, Adam Lind and Dalton Pompey in order to escape the jam and preserve the O's lead.
The Blue Jays had one last chance to tie it in the ninth, when Edwin Encarnacion singled to lead off the inning. But pinch-hitter Danny Valencia lined into a double play at first base to eliminate that possibility, effectively sealing the victory for the O's.
"It was great game, overall," said O's starter Miguel Gonzalez, who earned his 10th win with five scoreless innings of five-hit ball. "The Blue Jays weren't giving up at all, and our offense and defense did a good job. I think that was the difference. Markakis made a great catch in the outfield in the fifth inning. Steve Pearce, that double play we got on the line drive in the ninth, I thought that was the difference in the game."
The loss meant the Blue Jays finished with an 83-79 mark for the 2014 campaign, and a 46-35 home record. After a retrospective pregame session with the media, manager John Gibbons said there wasn't much left to talk about during his regular postgame news conference.
"We're all disappointed in the way it ended up, but there's some guys out there that had good years," Gibbons said. "We played some good ball along the way, we just didn't play good enough."
After spending six weeks at the top of the division, spurred by a 21-9 record in May, there's been a lot of talk about the Blue Jays being close to where they need to be to make the playoffs.
Dickey said the team needs to be more consistent and less streaky if it wants to make a postseason appearance in the future.
"How can we have the May that we did," said Dickey. "... and how [do we] eliminate the August we had?"
Closer Casey Janssen came on to pitch the ninth, in what was likely his last appearance after eight seasons with the Blue Jays. Janssen said saying goodbye to teammates is always difficult at the end of a season.
"It's tough, I'm gonna miss some guys," said Janssen. "I [started] a lot of great friendships here, and [I'm] wishing everyone well. We've got a talented group in here -- and wherever people end up, I think they're gonna land on their feet."
Jamie Ross is an associate reporter for MLB.com. This story was not subject to the approval of Major League Baseball or its clubs.