Schoop, Gonzalez lift O's over Blue Jays
Tigers await American League East champs in the AL Division Series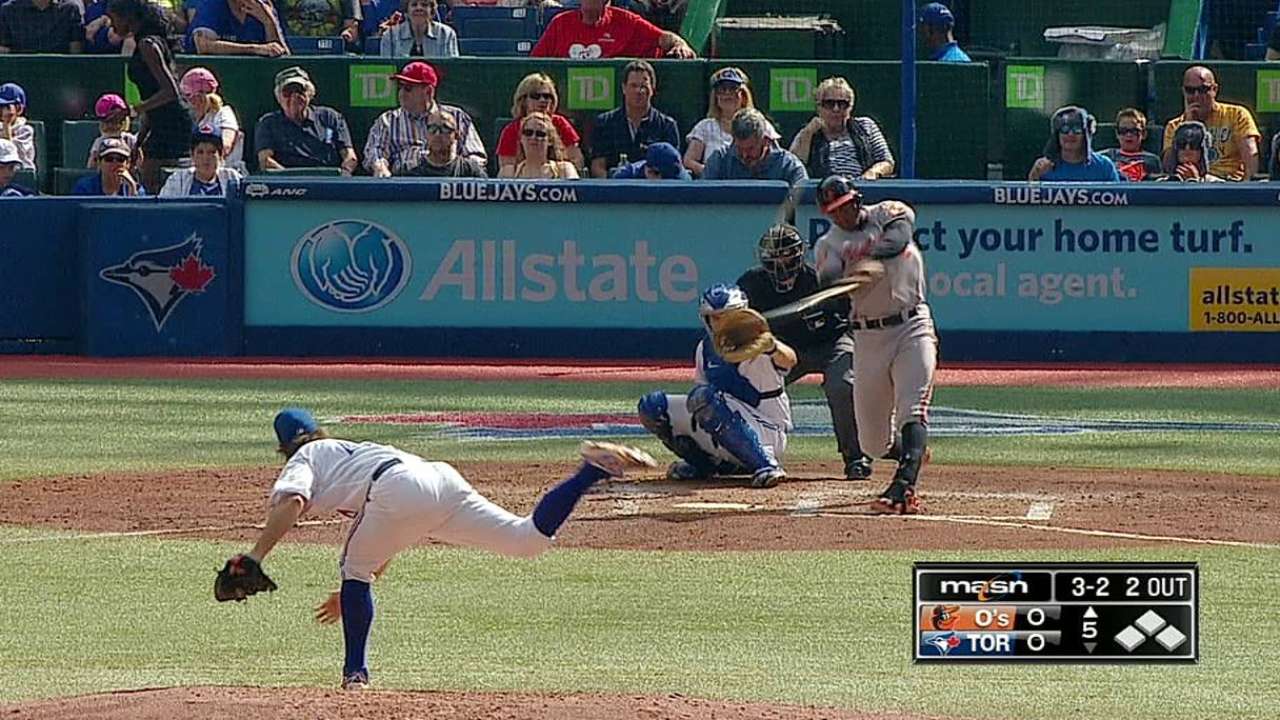 TORONTO -- The Orioles entered the final day of the regular season unsure of their opponent in the American League Division Series.
Minutes after Baltimore wrapped up its 2014 campaign with a 1-0 win, thanks to a solo homer by Jonathan Schoop, the club quickly shifted its focus to the postseason.
Baltimore will host the Tigers, who wrapped up the AL Central with a 3-0 win over the Twins, in Game 1 of the ALDS on Thursday on TBS.
"It's going to be fun," said Adam Jones, who went 1-for-4 in the victory. "Camden [Yards] is going to be sold out, obviously. Its going to be rocking in Baltimore."
Schoop provided the only offense of the day, when he hit a towering shot to left field in the fifth inning for his 16th homer. That was all Miguel Gonzalez and the Orioles needed to secure the victory in front of 45,901 -- the 13th sellout of the season at Rogers Centre.
The homer upped Baltimore's Major League-leading total to 211, tying the 1987 Orioles for the sixth-highest single-season mark in franchise history. Baltimore has hit at least 210 homers in three consecutive seasons -- the Yankees and White Sox (both in 2012) are the only other teams to reach that number over the same stretch.
"We had confidence since Day One," Schoop said. "We have a good team, we trust each other and we believe in each other. It's a different guy every day, a different guy stepping up every day."
Gonzalez became the fourth 10-game winner on the O's pitching staff and helped the club snap a three-game skid. Baltimore, which finished with the AL's second-best record, recorded its 13th shutout of the season and had the third-best team ERA in the AL at 3.43.
The O's, known for power and defense, received strong pitching all year en route to their first division title since 1997. Jones had a simple message for the critics he heard questioning Baltimore's rotation all season long.
"The people that said that," said Jones, "I'm pretty sure they can turn something sideways.
"Everybody said our starting staff couldn't sustain throughout a season, they said our starters basically wouldn't last the whole season."
The 30-year-old Gonzalez allowed five hits over five scoreless innings and struck out two before turning the ball over to Ubaldo Jimenez in the sixth. Jimenez and four other relievers blanked the Blue Jays from there -- allowing just one hit, while striking out six.
Gonzalez finished the season with a career-best 3.23 ERA, just narrowly edging out his mark of 3.25 in 2012. Accomplishing both those feats was the perfect way to cap off a first-place finish, according to Gonzalez.
"It's exciting," said Gonzalez. "I'm happy for my team and my teammates. Let's just keep going and not look back."
Blue Jays starter R.A. Dickey turned in a strong performance, but paid for the one mistake he made. He surrendered just two hits over six innings, while walking three and striking out two. The veteran knuckleballer finished his year with a 14-13 record, as he reached the 215-inning plateau for the third consecutive season.
Toronto finished the season with an 83-79 record, the first time the club has finished above .500 since 2010. But the team was expecting much more, after coming up short in 2013, as well.
"We're all disappointed with the way it ended up," manager John Gibbons said. "But there's some guys out there who had some real good years. We played some good ball, we just didn't play good enough."
Baltimore, meanwhile, won its 96th game of the season -- the fourth time since 1980 the club finished with more than 95 victories. Baltimore had a 47-29 record against the AL East, good for a .618 winning percentage, the club's best in-division mark since 1980.
The O's didn't play at that clip against their upcoming opponent, though -- going 1-5 against the Tigers, while being held to 20 runs over those six regular-season games.
There was little concern inside the clubhouse, however, about facing Detroit, despite the team's poor results.
"It doesn't really matter," said Nick Markakis. "To get to the top, you've got to go through the best.
"We know what kind of team they've got. They've got a strong starting staff and they've got some guys who can swing the bat. We've just got to execute and do our thing."
Markakis, the longest-tenured Orioles player, is set to play in his first career postseason game.
"It's go time now," the right fielder said. "It's exciting. But, then again, it's baseball. You've got to have fun doing it. We all realize that. We're just going to go out there and, as they say, play a kid's game and do what we can do to win."
Chris Toman is a contributor to MLB.com. This story was not subject to the approval of Major League Baseball or its clubs.