Brewers top Cubs to secure winning season
Peralta strikes out career-high 13; Lucroy delivers go-ahead double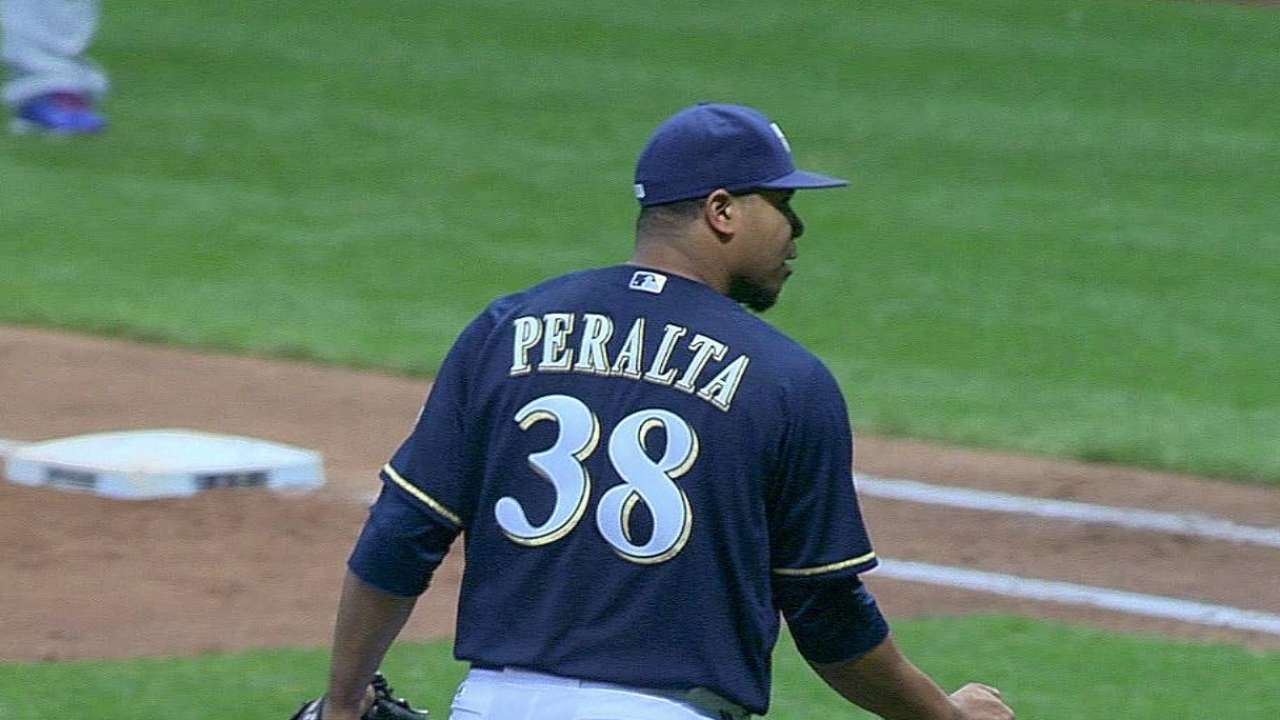 MILWAUKEE -- For all their stumbles down the stretch, at least the 2014 Brewers will finish with a winning record.
Victory No. 82 was a 2-1 triumph over the Cubs on a Saturday night at sold-out Miller Park that was packed with Milwaukee milestones. Carlos Gomez broke a three-way tie with his team-best 23rd home run and Wily Peralta set a career high with 13 strikeouts in a game decided by Jonathan Lucroy's record-setting RBI double, and sealed when Francisco Rodriguez took sole possession of 10th place on baseball's all-time saves list with save No. 348.
The Brewers, losers of 21 of their previous 29 games, needed the victory to secure their third winning season in four years under manager Ron Roenicke. The franchise had not played above .500 in three of four years since its heyday in the late 1970s and early 1980s, when George Bamberger, Buck Rodgers and Harvey Kuenn skippered the way to six straight winning seasons.
"I feel a lot better with that than not doing it," said Roenicke. "The big thing is just playing the way we did today. Seeing Wily go out there and pitch and then the two guys after him [Jonathan Broxton and Rodriguez]. Seeing Luc finally have a good day offensively. He's been grinding pretty hard. That's nice to see."
Gomez had tied the game in the third inning when he homered off Cubs left-hander Tsuyoshi Wada, and he scored from third when Lucroy banged his go-ahead double off the left-field wall. Lucroy's fifth-inning, tie-breaking hit was his 53rd double overall, matching Lyle Overbay's Brewers record, and Lucroy's 46th double this season as a catcher, breaking a Major League mark set by Ivan Rodriguez.
"I'm just happy to contribute to the win tonight," said Lucroy, who entered the night in an 0-for-18 funk. "I wish I could have done that more often during the season. It's one of those things that's kind of bittersweet, I guess."
The hit made a winner of Peralta, who had already matched his previous career high for strikeouts (nine) by the end of the fourth inning, and went on to allow only one run on five hits in seven innings, with one walk.
Peralta is only the eighth Brewers pitcher to strike out 13 or more batters in a game, a feat that has been accomplished 12 times, including twice in 2014. Mike Fiers whiffed 14 Cubs at Wrigley Field on Aug. 14.
"He threw some two-strike sliders today that were really unhittable," Roenicke said.
And with five quality starts to finish his second full season in the Major Leagues, Peralta went 17-11 with a 3.53 ERA for only the 11th season of 17-plus victories in Brewers history, and the third since 1992. Before Peralta, the last was Yovani Gallardo, who went 17-10 in 2011.
"I can see how he's chalked up all those victories," Cubs manager Rick Renteria said. "His fastball was explosive, his secondary pitches had some bite. He used them to get out of some innings. He had good stuff."
"Wily was awesome tonight," Lucroy said. "He was determined, he competed his butt off, and I tell you what, that guy, he's going to throw a couple of no-hitters before his career is over with, for sure, if not a perfect game. Because he's got the best nasty stuff around. If he continues to get better as he has, year to year, man, he's going to be really, really, really good."
Adam McCalvy is a reporter for MLB.com. Read his blog, Brew Beat, and follow him on Twitter at @AdamMcCalvy. This story was not subject to the approval of Major League Baseball or its clubs.