Worth the wait: Duda's walk-off HR in ninth lifts Mets
First baseman delievers two-out, two-run shot, ends Astros' shutout bid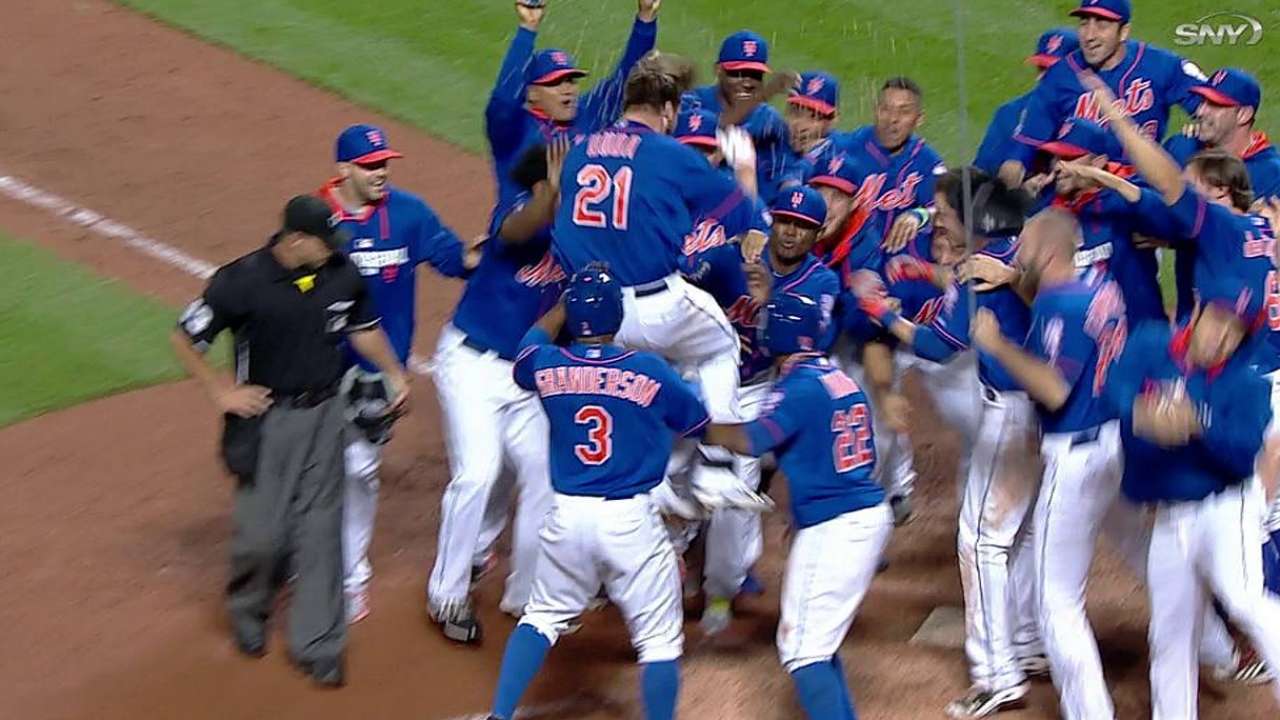 NEW YORK -- During the postgame hoopla Saturday night at Citi Field, amidst the celebratory scrum at home plate and Lucas Duda's ice-water bath and high-fives a tad more emphatic than normal following the Mets' 2-1, walk-off win over the Astros, David Wright ran into Mets manager Terry Collins.
The third baseman noted that this moment -- seeing Duda smile wide by the time he touched first base and toss his helmet between third and home -- was the most fun he's had in a while.
Duda's ninth-inning, walk-off home run served as an important reminder to the team. Baseball, for all the games and players the Mets have lost this season, not only can be fun, but it should be fun.
"[Duda] doesn't smile much. He doesn't have much to say. There's not a lot of emotion in that body, but tonight there was," Collins said. "That certainly shows that there's still fun here.
"The game is a lot of fun. We've worked very, very hard and on this club with my coaching staff and the players to enjoy ourselves each and every day. It's tough here. It's tough in the big leagues. The expectations are you're supposed to win, and we're certainly well aware of that. But the one thing you have to do is you have to enjoy coming out to the ballpark. I think our guys do that."
It was a reminder, too, that Duda, whose big bat has been mostly dormant this month, indeed has a big bat. The game-winning home run was his 29th of the season -- and just his second off a left-hander -- and came on a 92-mph fastball from Houston reliever Tony Sipp. Sipp left it belt high and on the inner half of the plate. Duda swatted it 330 feet off the right-field foul pole with his parents, David and Eleanor, in the stands for his first game-ending long ball.
"I don't hit many walk-off home runs, so I don't really know what to do," Duda said. "I've seen a lot of other guys throw their helmet up, so I thought I'd do it."
Added Sipp: "A guy with that much power, you've got to locate at least down and I left it up. He did what most power hitters do with fastballs that are elevated in the middle."
Duda's dramatics ended what was a mostly futile night at the plate in support of right-hander Rafael Montero. In Montero's final audition, of sorts, in 2014, he made his case to stick as a starter, and it was a pretty good one.
Although he exhibited signs typical of a rookie trying to find himself at the Major League level -- nibbling too much, working into and out of trouble -- Montero ultimately had a strong showing. In 5 1/3 innings, he allowed one run on six hits and two walks while striking out six.
Houston managed five hard-hit balls off Montero, but the rookie right-hander did a good job in that he scattered them, one each in five innings. The Astros didn't break through until the sixth, when Jason Castro's line-drive double to right plated Dexter Fowler.
That ended Montero's night and season. In addition to a strong showing with Triple-A Las Vegas, Montero finished with a 4.06 ERA and 1.51 WHIP in 10 Major League games (eight starts). Montero was especially effective in his final three starts, which were spread out over six weeks. He held opposing batters to a combined two runs in 18 innings (1.00 ERA).
"One of the biggest things early was I thought his command was much better," Collins said of Montero's effort Saturday. "I don't know if he got a little tired -- he hasn't pitched in 10 days, at that length -- but his changeup was good tonight. I thought this was the best slider I've seen him have.
"He certainly showed tonight he's capable of pitching at this level."
The Mets lineup did Montero no favors most of Saturday. Against a motley crew of Houston hurlers, New York had two hits and advanced two hitters as far as second base through eight innings.
Eric Young Jr. tripled in the ninth to set the stage for Duda.
Duda enters the season's final day a homer shy of 30 and two RBIs shy of 90 -- round numbers that would be nice to reach, but are ultimately arbitrary and don't really add to or take away from what has been a breakout season for the Mets' first baseman.
"That shows you exactly the kind of damage he can do," Collins said. "I think for him, he's going to go into the offseason very, very confident that he's a middle-of-the-order guy."
Tim Healey is an associate reporter for MLB.com. This story was not subject to the approval of Major League Baseball or its clubs.