Fan gives Konerko back WS ball, gets another
Turns over prized possession during ceremony, catches foul ball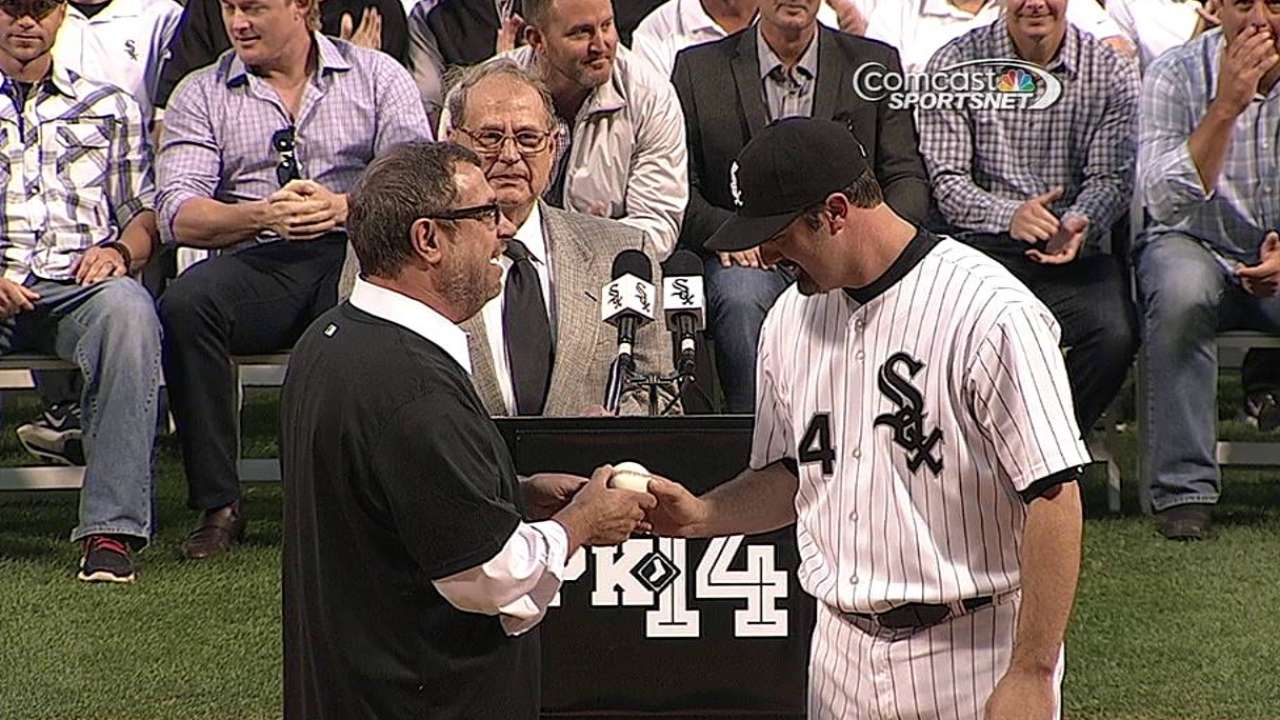 CHICAGO -- Chris Claeys surprised Paul Konerko with the baseball from his grand slam during Game 2 of the 2005 World Series as part of Paul Konerko Day ceremonies on Saturday night at U.S. Cellular Field. But in a strange twist, Claeys gave away one baseball and left with another one.
In the third inning of the game against the Royals, Claeys snagged a foul ball on the second pitch from Royals reliever Louis Coleman to of all people, Konerko. Claeys then talked about the catch and the gift of the grand slam baseball later on the White Sox television broadcast.
"This has been an awesome experience," Claeys said. "I'm having a really great day!"
In the months after the 2005 World Series, White Sox fan Chris Claeys figures he could have sold the baseball from Paul Konerko's Game 2 grand slam off Houston reliever Chad Qualls for somewhere around $50,000-$100,000.
But the Chicago native decided to keep the ball he retrieved on that cold, rainy October night. That decision ultimately brought him to Paul Konerko Day on Saturday night at U.S. Cellular Field and in front of the White Sox captain himself as part of the ceremony.
Claeys presented the baseball to Konerko, who leaned over and told him they were probably the two most nervous guys on the field. In exchange, Claeys received a suite for Saturday's contest and a signed picture from Konerko reading, 'Chris, thanks for my 2005 World Series grand slam ball. PK.'
"That's really all I wanted was that," said the film editor, who resides on Chicago's north side. "I certainly wondered about -- because it's really been a prized possession. But Paul Konerko is such a cool guy. And he's respectable and he's played here 16 years. And when they brought that idea to me, I thought, 'This is a great idea, this is cool, this is fun, I want to do it.' "
This baseball resided in Claeys' safety deposit until Grant DePorter from Harry Caray's contacted Claeys about putting it on display at the downtown Chicago restaurant. It was on display for the past nine years before the White Sox contacted Claeys to be part of the ceremony, having him deliver the baseball as a surprise.
"I said, 'Paul, this has been my prized possession for nine years and tonight it becomes yours. Thank you for 16 years of great memories,' " said Claeys, who got a hug from Konerko after the exchange. "He might've been surprised when [White Sox chairman] Jerry [Reinsdorf] said -- the Sox and I agreed to try to make it a surprise and I think maybe it worked. I don't know for sure, but I tried to keep it on the down low and I think they did, too. He was just super friendly, chatted briefly, took a bunch of pictures."
Scott Merkin is a reporter for MLB.com. Read his blog, Merk's Works, and follow him on Twitter @scottmerkin. This story was not subject to the approval of Major League Baseball or its clubs.