Lucroy sets season mark for doubles as catcher
Brewers backstop also ties franchise record for two-baggers in a season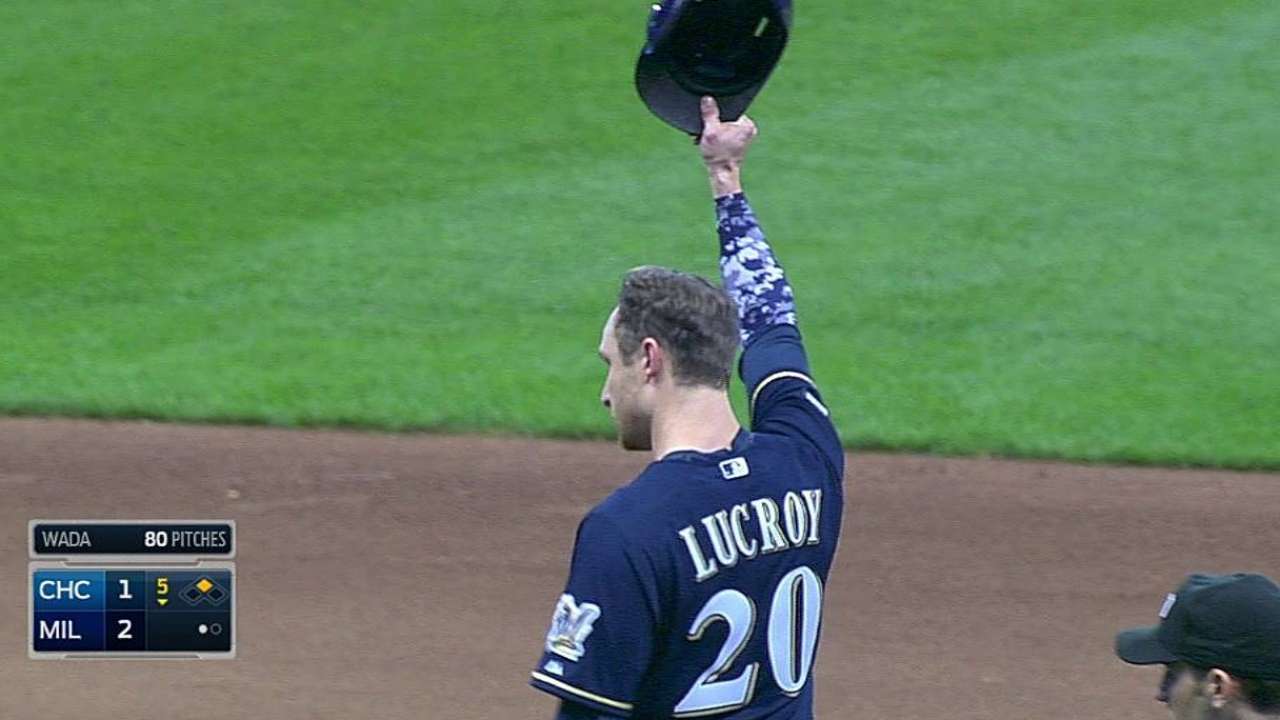 MILWAUKEE -- After tying a club record and setting a Major League record with one swing Saturday, Brewers catcher Jonathan Lucroy's only regret was that he didn't do more.
Lucroy's fifth-inning double sent the Brewers to a 2-1 win over the Cubs and gave Lucroy 53 doubles this season, matching Lyle Overbay's Brewers record, and 46 doubles while playing catcher, breaking the Major League mark Lucroy had shared with Ivan Rodriguez for the past 1 1/2 weeks. Lucroy suggested he'd trade them all for a chance to play into October.
"I've said it all year, individual stuff is great, but whenever it doesn't work out for the team, obviously it's bittersweet," Lucroy said. "It's something I wish could have been a little different. I wish I would have had a bad year and we went all the way to the World Series. That's the kind of guy I am. That's what I wish could have happened. Obviously, it didn't happen that way. You've got to move forward."
Manager Ron Roenicke plans to start Lucroy again Sunday for a chance to push his batting average back to .300 for the season. Only 48 times in 46 seasons of Brewers history has a player qualified for a batting title and hit at least .300.
With his three hits Saturday coming off an 0-for-18 slide, Lucroy is 174-for-581 this season. He must go 1-for-3 or better in Sunday's season finale.
"I kind of got out of my approach a little bit since that last game in Pittsburgh," Lucroy said, referring to the middle stop in the team's three-city trip. "I started trying to do a little too much, especially considering the situation, where we're trying to win at the same time. But got back in the cage today and got back to where I usually am, and it worked out. I was able to get some good pitches to hit."
His regular-season totals don't include the two RBI doubles Lucroy logged at the All-Star Game in July, part of a workmanlike season for the 28-year-old. He has started 149 games, including 133 behind the plate.
When the Milwaukee chapter of the Baseball Writers' Association of America announces its team awards during the offseason, Lucroy is all but a lock to be the first catcher to win club MVP honors since Dave Nilsson and B.J. Surhoff won in back-to-back seasons in 1994-95. Because the Brewers were in the American League then, both saw only limited time behind the plate.
That award would provide little solace for the Brewers' lost season.
"I take a lot of the blame on myself, because I think there's things I could have done different for the season," Lucroy said. "The other day when I told you we got complacent, I was talking about really myself, and taking things for granted that we were going to be good all year. That's what I was talking about.
"I took for granted that, hey, we're going to be there all year, we're going to compete and be good all year, and then all of a sudden we hit a rough spot. I remember the series, that Toronto series the first time. I took for granted we would turn it around quick, but we never did. I blame myself for not getting in here, getting it turned around, getting some guys going again. It's one of those things that you have to learn from, I guess."
Adam McCalvy is a reporter for MLB.com. Read his blog, Brew Beat, and follow him on Twitter at @AdamMcCalvy. This story was not subject to the approval of Major League Baseball or its clubs.