Pesky Twins keep Tigers' celebration on hold
Escobar collects career-high six RBIs, contributing to six-run fifth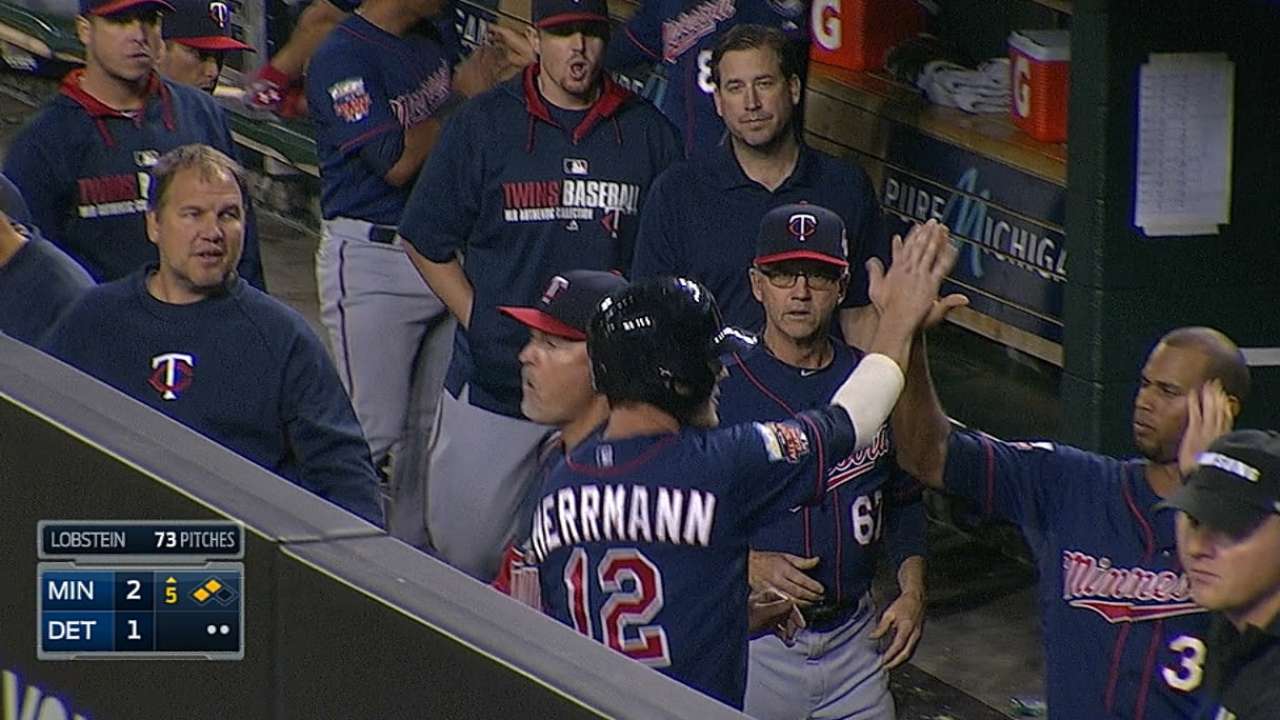 DETROIT -- The Twins can't seem to stop scoring against the Tigers this season.
The Twins were spoilers yet again on Saturday night, as Ricky Nolasco threw six strong innings and was backed by a six-run fifth inning and a career-high six RBIs from Eduardo Escobar to hand the first-place Tigers a 12-3 loss at Comerica Park in the penultimate game of the regular season.
The Twins' win prevented the Tigers from being able to clinch the American League Central on Saturday night, as their magic number is down to one after the Royals lost to the White Sox, 5-4, to remain a game behind Detroit with one to play.
"It's always cool to be the spoiler, but we play this game to be in their position," Nolasco said. "We just came out on top tonight. I know they have their backs against the wall, so we'll see what happens tomorrow."
The second win over the Tigers in as many nights helped the Twins reach 70 victories for the first time since 2010, when they won 94. Minnesota also improved to 10-8 against Detroit this year, scoring 6.6 runs per game in those contests. The Twins have scored 119 runs against the Tigers, which is just two short of the franchise record of 121 runs scored against Detroit, set in 2001.
"The balls just keep going in the right places," Twins manager Ron Gardenhire said. "We saw a lot of balls on the infield we outran. We chopped them. But it's about putting the ball in play and making things happen. I don't really have much of an explanation."
Nolasco was able to end his season on a high note, as he gave up just two runs on five hits and two walks, striking out six. Nolasco, who joined the Twins on a four-year, $49 million deal before the season, finishes the year 6-12 with a 5.38 ERA and said this win doesn't change his view on his season.
"I'm not going to go into the offseason feeling good about much," Nolasco said. "But it was good to help the team win today. I was just trying to do my job against a tough lineup and keep the ball down."
The Tigers struck in the second on a solo homer from Nick Castellanos, but they didn't score again until the sixth. After the Tigers loaded the bases with no outs, Castellanos brought home Detroit's second run with a groundout. But Nolasco got out of the jam thanks to a diving stop by second baseman Brian Dozier that robbed Alex Avila of a run-scoring hit, with Joe Mauer able to keep his toe on first base.
"It was a little scary from my view, but Joe was able to keep his foot on the bag," Nolasco said. "It was probably the turning point in the game."
The offense was quiet early against Tigers left-hander Kyle Lobstein before breaking out in the fifth. After the Twins loaded the bases with one out, Dozier brought home Minnesota's first run with a single to right field. Mauer gave the Twins their first lead with an RBI groundout to second.
After Kennys Vargas was intentionally walked, Eric Fryer singled to right to plate two runs before Oswaldo Arcia and Escobar connected on a pair of singles. Chris Herrmann singled to center, but Escobar was thrown out at third before Arcia could score, ending the frame. Still, the damage had been done.
"It's frustrating, for sure," Tigers manager Brad Ausmus said. "Today was almost a carbon copy of yesterday. A couple of defensive mistakes, we didn't pitch well and you're in such a deep hole that it's tough to climb out of."
The Twins tacked on two insurance runs in the seventh, with Escobar and Herrmann both picking up RBI singles. Minnesota added four more runs in the eighth, starting with a solo homer from Dozier, his team-leading 22nd of the year. Escobar got his fourth hit of the night and reached a new career best in RBIs for one game with a three-run drive later in the frame.
"He had a good ballgame swinging the bat," Gardenhire said. "He's happy to be on the baseball field. He has that life and that energy."
The Twins have improved on their win total by four games from last year with one game remaining, but Gardenhire said there's no use celebrating winning 70 games.
"If it was Aug. 1," Gardenhire said. "It would feel great."
Rhett Bollinger is a reporter for MLB.com. Read his blog, Bollinger Beat, and follow him on Twitter @RhettBollinger. This story was not subject to the approval of Major League Baseball or its clubs.