Attanasio vows to fix what's wrong with Brewers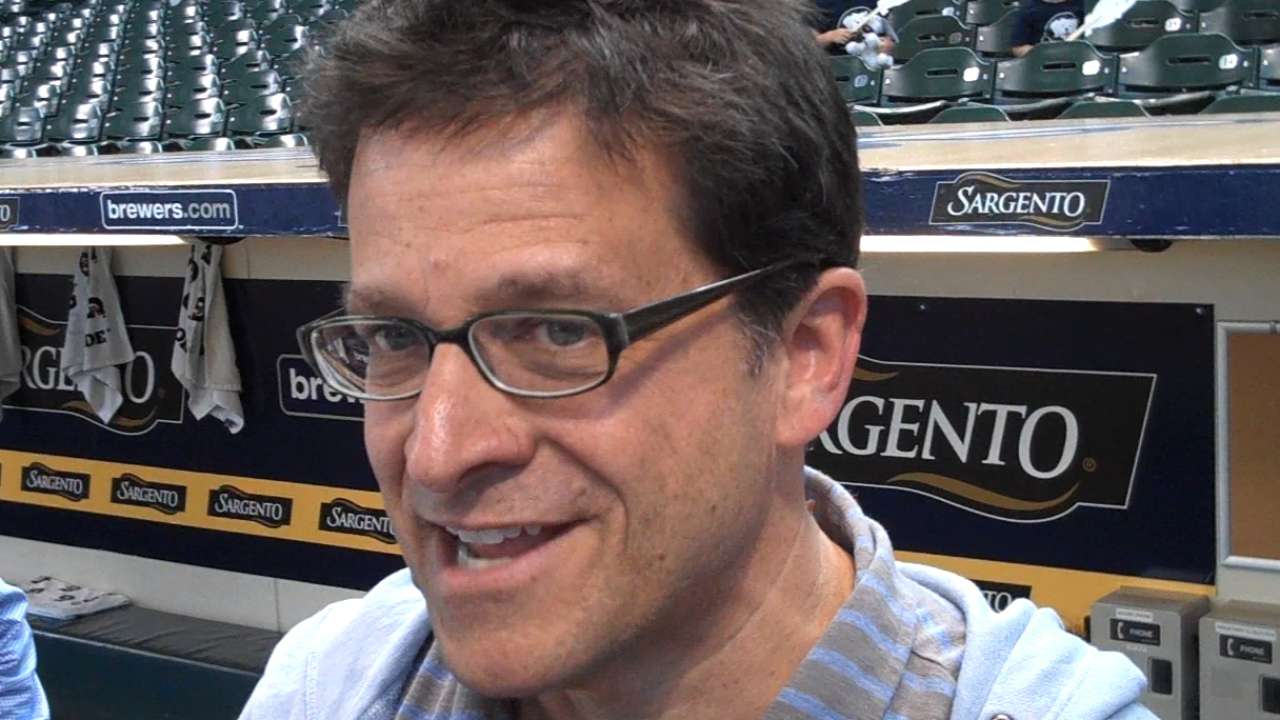 MILWAUKEE -- Vowing a top-down review of the entire organization, Brewers principal owner Mark Attanasio on Saturday expressed extreme displeasure about his team's collapse, and he vowed to find answers for it.
"I think we need to give the fans a reason to come back," Attanasio said. "That means we have to identify what went wrong, we have to have a good explanation for how we're fixing it, and if we're not making any changes, we'd better have a damn good reason for why. And I mean changes broadly speaking -- [if the team retains the] same roster, same manager and coaches, same everything, we'd better say, 'Well, it was this, and that's why we're not changing.' And that's an option.
"I wouldn't say we're quite at a crossroads, but we're at [the point] where you can take a path in the woods, and you take one direction or the other. We do have a lot of talent, we have experienced players. We need to identify what's missing. Is it more power hitters? Is it more players with an edge? Is it -- I don't know. Whatever it was, it worked like gangbusters the first half of the year, and didn't work in the second half."
The Brewers began the season 20-7, were 19 games over .500 through June 28, and were still 15 games over .500 and 1 1/2 games ahead of their closest National League Central competitor on Aug. 25 before falling apart. A nine-game losing streak amid a 3-16 stretch dropped the Brewers out of first place after 150 days there.
"On Aug. 25, I was in San Diego," Attanasio said. "We won the game, 10-1. The clubhouse was buoyant; the team had an unmistakable swagger on the field. So much so that the Padres owners were coming by and saying, 'You guys are so big, so strong. Everybody can hit the ball out of the park. How did you guys put this team together?' From that day, we've kind of gone backwards.
"The short answer is I haven't handled it well. Honestly, I haven't slept. Going into September, [general manager] Doug [Melvin] and I were still working on everything we could to get the team to the playoffs. We [traded for] Jonathan Broxton. That was upwards of an $11 million commitment at the time, if you look at increasing the buyout with his trade option with what he's owed this year and next year. We thought we were making the playoffs at that point in time. Frankly, even into mid-September I believed in this team and thought they were going to turn it around. They just didn't. And, so, you can pick the adjectives -- frustrated, disappointed, catatonic. Very disappointed.
"In fact, I'm disappointed in the team, disappointed in the guys. They're better than this and they didn't show it."
What would he say to the team?
"This is going to be the first year I don't address the team as a team at the end of the year," Attanasio said. "This will be the first time I don't because I'm just too unhappy, and what's the point of another meeting to dwell on things? I'm going to talk to some players individually. I've started that already and I'll finish that today."
The very nature of Saturday's question-and-answer session was a departure from tradition. The Brewers typically hold a pre-planned, well-publicized news conference a few days after the season, during which Melvin, sometimes Attanasio and sometimes the field manager spent an hour or more dissecting the season that was and the offseason ahead.
Before the collapse, it appeared the Brewers would be in for a relatively stable offseason. Closer Francisco Rodriguez is the team's most notable free agent, and that spot already appears set with Broxton. If the Brewers exercise Yovani Gallardo's club option, and both sides exercise third baseman Aramis Ramirez's mutual option, the only uncertain position would be first base.
But the tone of Saturday's session left room for a greater shake up.
"First off, I want to find out who cares about winning and losing in the clubhouse," Melvin said. "If there are guys in there that don't care about winning then they probably won't be there. As far as shakeup, it could be. We might turn the roster over a little bit. We might have to do that. It's too early to say that. We haven't even finished the season."
Melvin's organizational review is already underway. He had a series of meetings during the Brewers' final road trip with members of his baseball operations department and manager Ron Roenicke to begin brainstorming where things went wrong.
Attanasio appeared ready to give that process time.
"It's not that easy to really understand what happened here," Attanasio said. "If it were, we would have a quick response today. It's not like we're delaying the decision because it's uncomfortable. We are delaying the decision because we need to do the work to sort through what happened. … We are going to look at everything. We are going to look at players and their performance. We are going to look at players' motivations. We are going to look at field staff. Doug is going to examine what he's done.
"And frankly, there's nothing to do about it this season, but if you go back to the four things that I've always stressed since I bought the team, No. 1 is being perennially competitive. … I always said, 'We gotta win, we gotta win, we gotta win.' And we've got 2.8 million fans here supporting the team, we better damn well win. Maybe that wasn't the right approach. Maybe I should have directed that we take a step back here, which we never have. I am certainly not looking to do that now, by the way. But I do have to examine from the top, is it the right thing?
"Is the right thing to always try to compete? Again, I think the answer is always going to be yes, because we have 2.8 million reasons to say that. We have 2.8 million reasons to spend $110 million. But you see teams that occasionally retrench, and they seem to be doing a little better right now. We'll look at all of that."
Adam McCalvy is a reporter for MLB.com. Read his blog, Brew Beat, and follow him on Twitter at @AdamMcCalvy. This story was not subject to the approval of Major League Baseball or its clubs.