Facing Peavy an odd experience for Padres' Balsley
Former San Diego ace opposes Friars for first time since leaving in '09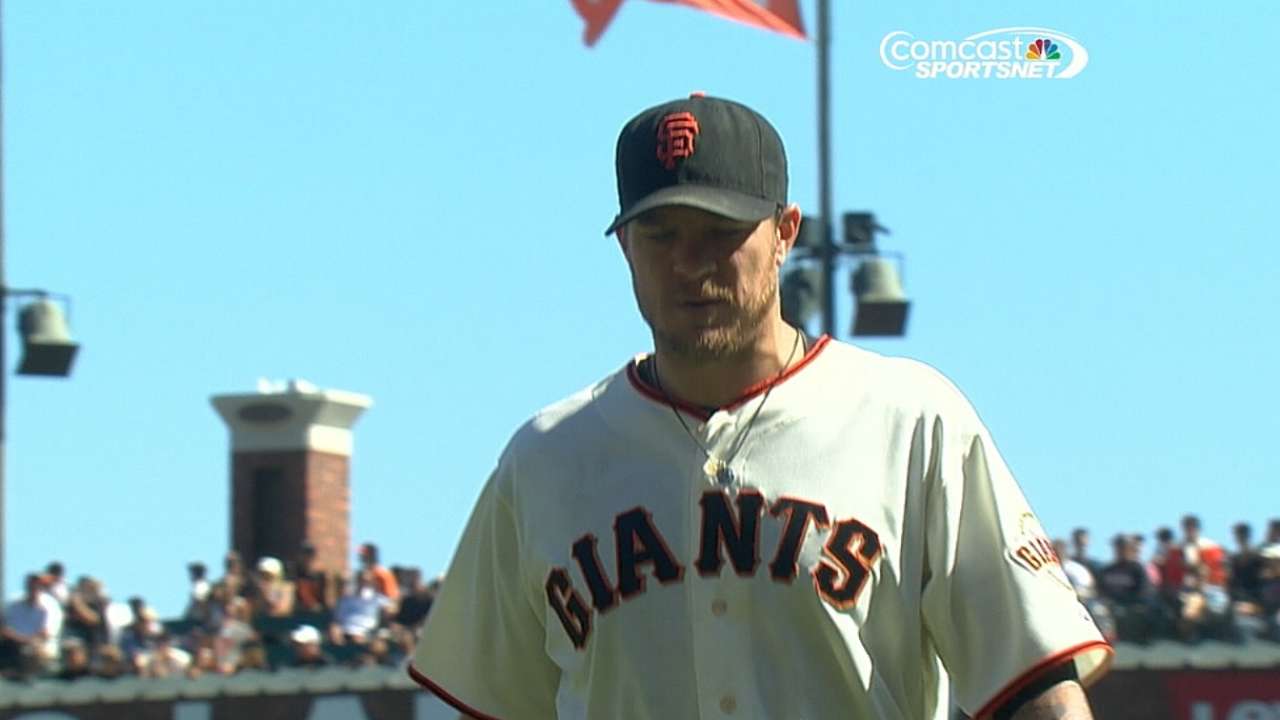 SAN FRANCISCO -- From the top step of the dugout Saturday, Padres pitching coach Darren Balsley stood and watched as Jake Peavy slowly walked from the Giants' dugout to the mound for the top of the first inning.
For a moment, Balsley had trouble digesting it all: right player, wrong dugout and certainly the wrong uniform, right?
"Absolutely. About the only thing I can compare it to was when Trevor [Hoffman] faced us for the first time when he was with the Brewers," Balsley said.
"I think the best way to put it is it's almost like competing against your kids. You want to win, but you also want them to have success, just not against you."
For the first time, Peavy, the former Padre, faced his former club. He allowed one run over five innings Saturday and didn't factor in the decision as the Giants defeated the Padres, 3-1, at AT&T Park.
Peavy, who won the National League Cy Young Award with the Padres in 2007, was 92-68 in parts of eight seasons in San Diego (2002-09) and had a 3.29 ERA in 212 starts. He pitched in the postseason twice (2005-06) before being dealt in the summer of 2009 to the White Sox.
The team he faced Saturday didn't resemble the one he left, as only outfielder Will Venable and pitcher Tim Stauffer are holdovers from when he was with the Padres. But the coaching staff, Balsley and Bud Black, manager of the team, remain.
"I have the utmost respect for that coaching staff, and I always do that when I know or respect the other manager. I always wish them well and good health," Peavy said.
Peavy developed a close relationship with Balsley going back to their days together in the Padres' Minor League system before Balsley was promoted to his current post in May 2003.
"He means a lot to the Padres," Balsley said of Peavy.
Peavy, who threw six shutout innings on Opening Day 2007 here against these Giants, Black's first win as manager, is a different pitcher now. He's 33, the delivery isn't as violent as it once was and his slider, that hard, nasty slider, has mostly been replaced by a cut fastball.
But he still knows how to pitch, how to get hitters out. Since joining the Giants on July 26 in a trade from the Red Sox, he's 6-4 with a 2.17 ERA in 12 starts.
"It was a little different," Black said of watching Peavy pitch in person for someone other than the Padres. "We've seen him on television and in Spring Training before. It's a little different mix of pitches now. Today, he mixed those pitches pretty well. We stressed him a few times. But Jake pitched well."
Corey Brock is a reporter for MLB.com. Keep track of @FollowThePadres on Twitter. This story was not subject to the approval of Major League Baseball or its clubs.