Colletti looks back and ahead to Dodgers' postseason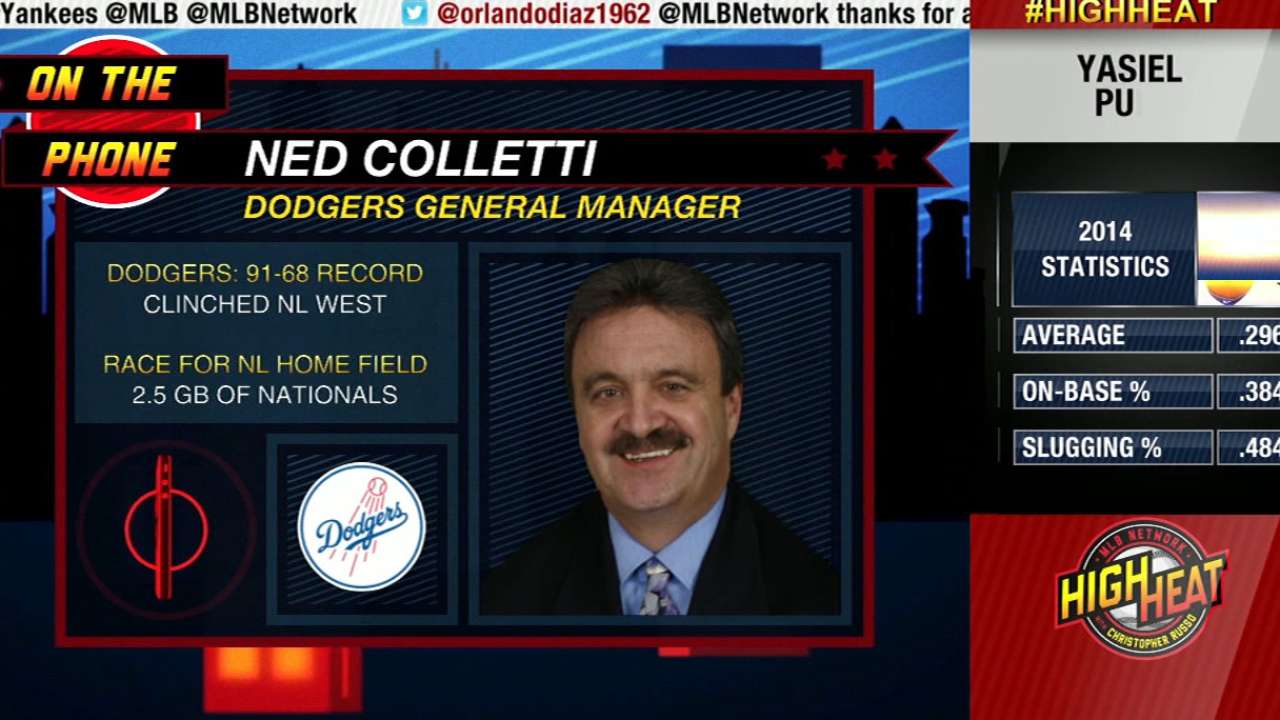 In the nine years Ned Colletti has been the general manager, the Dodgers have reached the postseason five times, four as National League West champions. In those nine seasons, the Dodgers have the third-best record in the league behind St. Louis and Philadelphia. An assistant GM in San Francisco before joining the Dodgers, his clubs have made the postseason nine of the past 18 years. During the final regular-season series against the Rockies, Colletti spoke with MLB.com about this year's club.
MLB.com: Back-to-back division titles. Not easy to do. Do you know the last time the Giants finished first in back-to-back years?
Colletti: The '30s?
MLB.com: Pretty good -- 1936 and '37. The Dodgers just did it for the second time in your nine years.
Colletti: They also won two World Series since I left. I'd trade the four for the two.
MLB.com: Why is winning back-to-back division titles so tough?
Colletti: It's not easy to do it one year. So many different things happen, and sometimes it can take a lot out of a team, out of its players, so that they start slow or they struggle with it or have injuries. It's just too hard to predict, too hard to do. Rosters are so fluid. We've been fortunate. We've had most of the same players here for a couple years, but we've had adjustments, too. We're proud of the nine years and five postseasons, one tie and four outright (division titles). And we had two years that were a little challenging for a few reasons.
MLB.com: To you, what is the biggest reason this club has repeated?
Colletti: Every team gets tested with their injuries, and corresponding to that is obviously their depth. We've been able to assemble teams that have depth, that can survive key players being out. I also think there's a drive here -- despite what people say about the payroll -- there is a drive here to be successful. I read today we were the first team in, I don't know how many years, to win two divisions after trailing by 9 1/2 games or more in consecutive years.
MLB.com: On assembling a team with depth, what move has worked out even better than you might have expected?
Colletti: The obvious case is Justin Turner. If you go back to last offseason, everybody thought the bullpen was almost going to be turnkey. We had four legitimate closers, plus J.P. Howell. Yet, that's been an area we've been a little bit up and down. In the same conversations, people said the bench would really suffer. You lose Nick Punto, Skip Schumaker, and Mark Ellis isn't there. Don't get me wrong, those three are really great guys and good baseball players, but we really felt we needed to get younger.
We've always looked for versatility. In the National League, you need guys that can play two or three spots. Justin plays all four infield positions, Scott Van Slyke plays three outfield spots and first base. Miguel Rojas comes up, he can play short, he can play second, he can play third. With our so-called fourth outfielder, suddenly our bench had really an All-Star-type player sitting there every day when we're completely healthy. So I think our bench was completely revamped. Scotty was on the bench part of last year, but didn't have the role he has this year. Darwin Barney hasn't played as much as I thought when we first acquired he would, but when he's played, he's helped.
So, it really is a team sport; it's all cliché, but it's true. Certainly we've got some star power here, a lot of All-Stars, a lot of award winners. But that doesn't comprise an entire club. There's a lot of players that help you win games on a daily basis. We've always looked for the grinders, guys you would say, "There's a baseball player." They don't get the big headlines or a lot of the acclaim, but on any given day, they can help you win a game in a variety of ways, and our group has been good at finding those guys.
MLB.com: On the topic of depth, you added starting pitchers Dan Haren and Paul Maholm before the season, then traded for Roberto Hernandez and Kevin Correia during the season. And last weekend you went with a bullpen game. Never enough, huh?
Colletti: Every year, it seems we hear, "Well, what are you going to do with all of the excess?" Like there's so much excess always, and by and large, there isn't excess, and the season takes its toll on every organization. While Roberto and Kevin have had their struggles from time to time, they've also pitched when somebody else didn't have to pitch, and at the same time giving somebody like a Zach Lee time to mature and grow and not rush. Everybody we acquire serves a purpose.
MLB.com: How do you feel your club sets up for this October compared to last October?
Colletti: I think we're healthier. We've got one of the best players in game right there that wasn't healthy last year in Matt Kemp. Dee Gordon was added to the roster as a pinch-runner back then, now he's a starting second baseman and played in an All-Star Game and stolen 60-something bases. Carl Crawford's role is more defined. I think our bench is better.
As of today, we've got guys banged up, but as we sit here today, we're in a good spot. Look at the LCS last year -- five pitches in, Hanley Ramirez breaks a rib. Matt's already on the DL, Andre Ethier is playing with a bad leg. We've had our trials throughout the year, too. I was really hopeful between Josh Beckett and Chad Billingsley we'd get 33 starts between the two, and Josh did really well when he could but we really missed him in the second half of the season. You're always going to have your long list of challenges. So, you've got to prepare the best you can without knowing specifically what's going to happen, but you better have enough to deal with it.
Going back to being different than a year ago, there's Yasiel Puig. He really continues to get better. I know we expect perfection from the great players, and that's not how it goes. But I also tell you, what he went through from around the All-Star break to two weeks ago, I think is a huge benefit, because he struggled. Last year, when you think about it, he struggled a little bit, but really didn't have a struggle like this year. He's starting to come out of it. When he goes to right-center offensively, he's finding his way back into a good place. I think when you struggle and figure a way to get better because of it, that's a positive. Last year, there was really no struggle, he just kind of took the game by storm and just found himself in the postseason. This year was a full season for him, there wasn't a couple months of Minor League baseball and then four months of regular season. There was six months of a regular season. I think he's coming out of this a better player.
Ken Gurnick is a reporter for MLB.com. This story was not subject to the approval of Major League Baseball or its clubs.