Familia prime candidate for Rookie of Year votes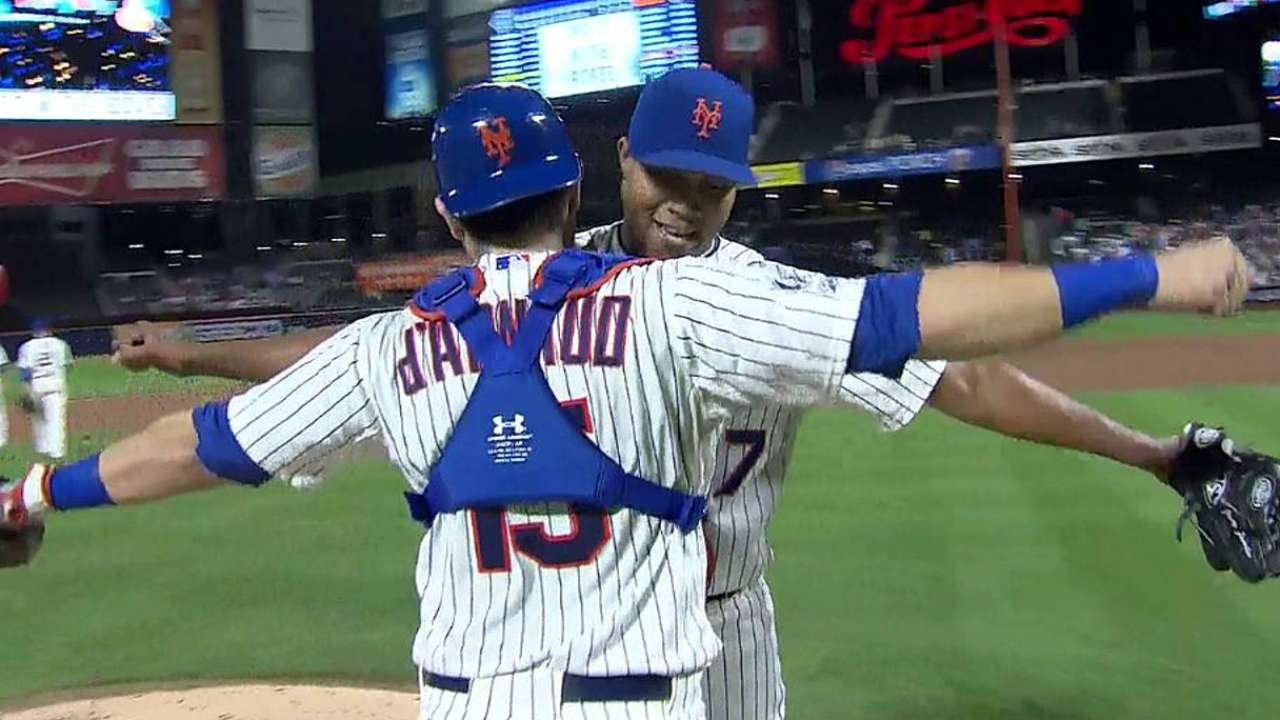 NEW YORK -- Jacob deGrom may not be the only Mets player to garner National League Rookie of the Year votes.
Though reliever Jeurys Familia earned his first taste of the big leagues in 2012, he did not pitch enough innings in '12 or '13 to expend his rookie eligibility. That means his 2.27 ERA in 75 1/3 innings entering Saturday's play -- plus five saves -- makes him a prime candidate at least to receive some mention on the ballot.
"Look at how many times he went out there," manager Terry Collins said. "That's pretty impressive for a kid in his first full season in the Major Leagues. One of the things you can look at as a reliever is they're almost everyday guys. You play in 80 games, you're out there a lot. So I think he's got a very, very strong case to get some votes."
The Baseball Writers' Association of America votes on the awards for both leagues, unveiling them in November. As the heavy NL favorites, deGrom and Reds outfielder Billy Hamilton should receive the vast majority of first- and second-place votes. But there are three spots on the ballot, meaning Familia or even Mets catcher Travis d'Arnaud could snag a few mentions.
That in and of itself would be notable for the Mets, who have not had a single player garner Rookie of the Year votes since Ike Davis received two third-place ballot punches in 2010. Dwight Gooden was the franchise's last Rookie of the Year winner in 1984.
• Outfielder Kirk Nieuwenhuis has been hospitalized with an infection. His season ends with a .259 average, .828 OPS and three home runs in 61 games, shuttling back and forth from Triple-A Las Vegas on four separate occasions.
• Starting pitcher Jon Niese, who left Friday's game with an elevated heartbeat, will undergo testing on Monday. Niese had left games due to the condition twice prior in his career, undergoing a battery of tests each time. He does not, however, consider it a serious issue.
• DeGrom's Rookie of the Year case took the smallest of dings on Saturday, when Major League Baseball changed Lucas Duda's fielding error on Sept. 3 to a hit. That made one of deGrom's unearned runs earned, increasing his ERA from 2.63 to 2.69.
Anthony DiComo is a reporter for MLB.com. Follow him on Twitter @AnthonyDicomo. This story was not subject to the approval of Major League Baseball or its clubs.