Angels denied chance to finish '14 with 100 wins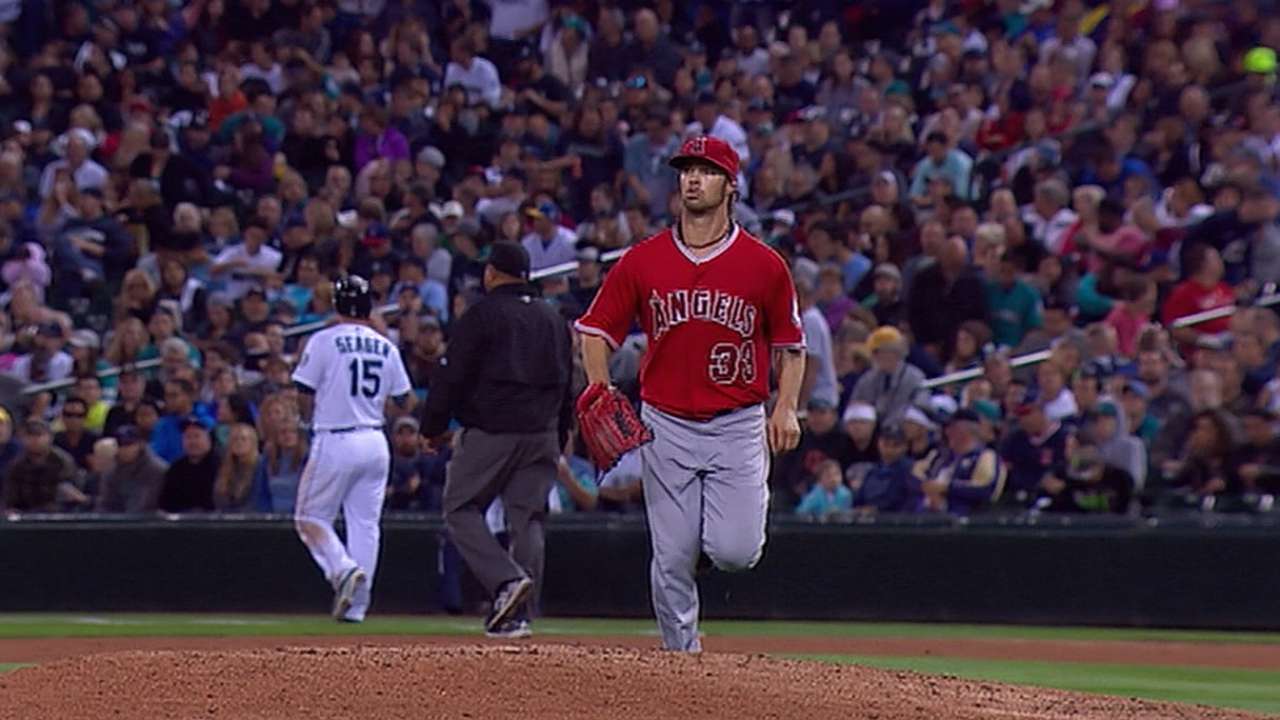 SEATTLE -- It wasn't that Grant Green made the wrong decision; it's that he didn't make his decision with enough conviction.
The score was tied at 1 in the bottom of the 11th, with runners on the corners, one out and a five-man infield drawn in at Safeco Field on Saturday night. Austin Jackson's grounder went right to Green, but instead of throwing home, the 27-year-old second baseman flipped to second for a potential inning-ending double play. But because the flip was wide, Jackson was able to beat shortstop Gordon Beckham's throw to first, giving the Mariners a 2-1 victory that kept their postseason hopes alive.
"You have to be decisive," manager Mike Scioscia said. "He was a little indecisive. He kind of set his feet for home and then decided to go for two. That's what we talked about out there, on the understanding of trusting and committing to a play. Even though it might not be exactly the perfect play, commit to it, because you don't really have the time."
Now the first-place Angels don't have time to win 100 games.
Their second straight loss, and sixth in the last nine games, put them at 98-63, guaranteeing that they won't be the first team to notch triple-digit victories since the 2011 Phillies. The Mariners, meanwhile, gained a game on the A's and now need a win and an Oakland loss on Sunday to force a tiebreaker for the second American League Wild Card spot.
"We'll see what happens," said Mariners manager Lloyd McClendon, who will start ace Felix Hernandez against reliever Cory Rasmus in the regular-season finale. "All I know is we're still in the ring, still throwing punches."
The Angels mustered only a run on seven hits, and Scioscia rested six of his position players by the middle of the eighth inning. But C.J. Wilson ended his sluggish 2014 season on a high note, five days after giving up six runs and six walks in two-thirds of an inning against the A's.
The veteran left-hander -- and probable No. 2 starter in the AL Division Series -- gave up just one run in six-plus innings, scattering four hits, walking three and striking out two to finish the season 13-10 with a 4.51 ERA in 175 2/3 innings.
"I'm always trying to go out and pitch well; it's just a matter of making the right adjustment when things went wrong," Wilson said. "I had a couple of counts tonight when I got behind, and I made the right adjustments to get back in the count, get back in the strike zone. I was just trying to be efficient and challenge them to hit the ball tonight. I walked a couple of guys, but I wasn't erratic like I was the last start."
Wilson shut out the Mariners through the first six frames, then Logan Morrison lined a game-tying RBI double with none out in the seventh, minutes after the A's lost in Arlington, 5-4, to send 32,716 towel-waving fans at Safeco Field into a frenzy.
The Mariners (86-75) squandered several opportunities throughout the night, most notably against Jason Grilli with the bases loaded and none out in the ninth, but they finally broke through in the 11th.
"Any time you have an opportunity to win the ballgame and you don't, you're itching for another chance," said Jackson, whose lineout to right in the ninth ended the Mariners' threat. "We had a few opportunities there, and luckily, I was able to make contact and run as hard as I could. I kind of wanted to dive at the bag and grab it. Whatever it takes to get a win."
Alden Gonzalez is a reporter for MLB.com. Read his blog, Gonzo and "The Show", and follow him on Twitter @Alden_Gonzalez. This story was not subject to the approval of Major League Baseball or its clubs.