Hurdle may scratch Cole, save him for Wednesday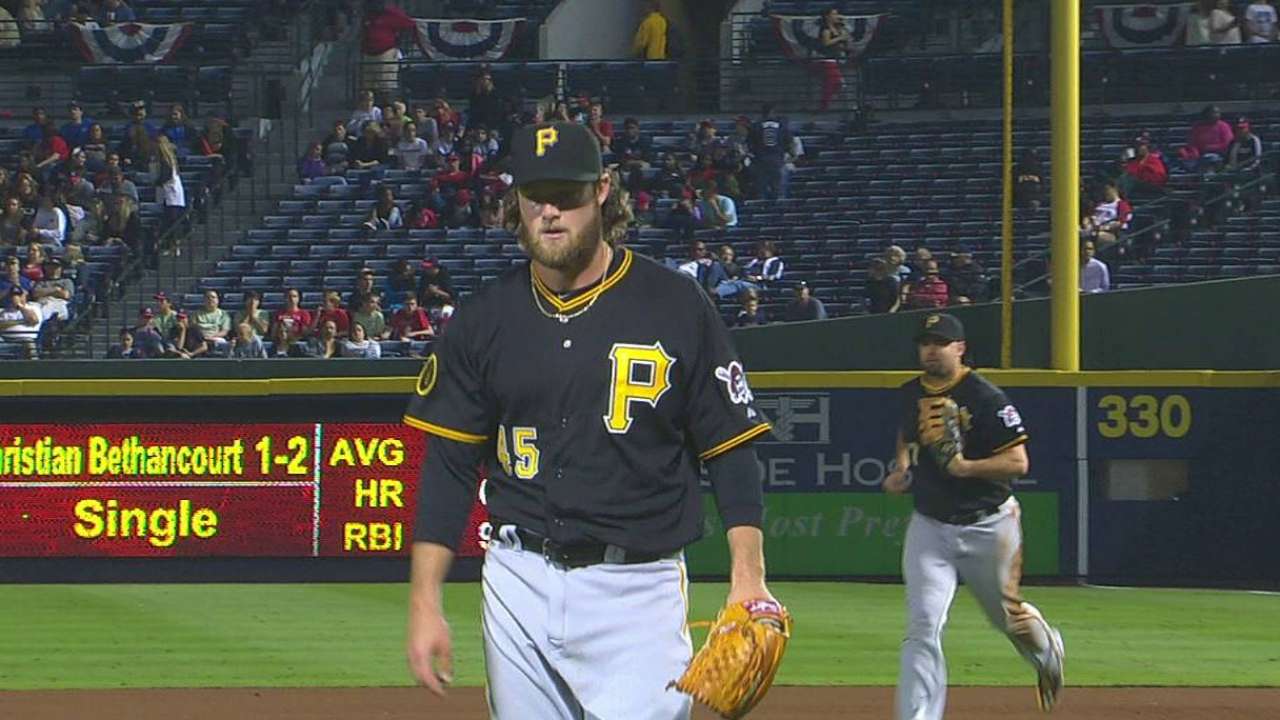 CINCINNATI -- A monumental decision will face Pirates manager Clint Hurdle on Sunday morning, as the final day of the regular season dawns with the Pirates' hopes for a division championship still alive.
The Arizona Diamondbacks arranged for that by beating the Cardinals on Saturday night, 5-2, on a seventh-inning three-run homer by Mark Trumbo, Pittsburgh's favorite adopted son. That followed by several hours the Bucs' 10-6 defeat to the Reds on Ramon Santiago's 10th-inning grand slam.
Hurdle's quandary: With the remaining chance for a share of the National League Central title, does he have Gerrit Cole take his scheduled turn, hoping to get to a Monday tiebreaker in St. Louis, where a loss sends his club into the NL Wild Card Game anyway?
Or does he prioritize that Wednesday opportunity by saving your best arm to face Giants left-hander Madison Bumgarner at PNC Park?
"I can't imagine why we wouldn't wait until the [later] Cardinals game [to make that decision]," Hurdle had said following Saturday's action. "We'll let you know what we're going to do tomorrow after tonight plays out."
By losing, the Cardinals did not make that decision for Hurdle, so he has to give serious thought to the option of keeping Cole holstered.
While the situation was still purely hypothetical, the manager was going all-in on his coy card.
"Speculate. Go for it, have fun," he had egged on reporters -- with a smile -- who pressed him on the issue. "Tell [your readers] what you would do."
Also necessary to consider is the pitching opponent on whom the Bucs could burn Cole just for a crack at that 163rd game.
Johnny Cueto has all the incentives imaginable to want to derail the Pirates. He will try to become the Reds' first 20-game winner since lefty Danny Jackson in 1988 (and the first right-hander in 49 years). Cueto will try to add to a 17-4 lifetime record against the Bucs.
And, oh, there is the matter of the "Cue-to! Cue-to!" Wild Card Game a year ago at PNC Park. The fans' chants at one point prompted Cueto to drop the ball.
With a chance to spoil the Pirates' plans, Cueto will do his utmost to not drop the ball again. Hurdle will now have to decide whether to risk his own top gun to find out.
Tom Singer is a reporter for MLB.com and writes an MLBlog Change for a Nickel. He can also be found on Twitter @Tom_Singer. This story was not subject to the approval of Major League Baseball or its clubs.