Rangers do their part to delay A's clinch party
Offense tallies five runs off Samardzija to back Baker, bullpen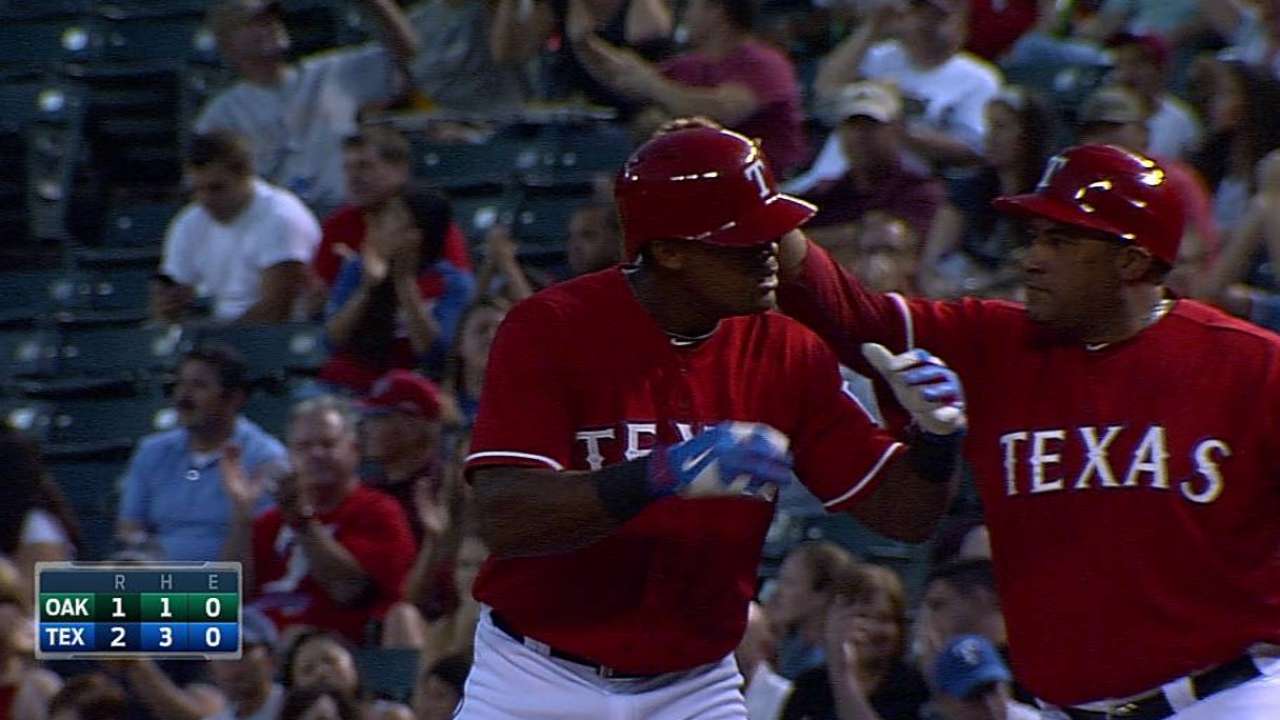 ARLINGTON -- Scott Baker did another terrific job after being a last-minute replacement for Derek Holland. Reliever Spencer Patton earned his first Major League win, Neftali Feliz earned his 13th save of the season and Roman Mendez probably got the biggest outs of the night in the eighth.
The Rangers used eight pitchers on Saturday night, and needed all of them to forestall the Athletics postseason-spot-clinching celebration with a 5-4 victory. Catcher Robinson Chirinos also played a big part by hitting a two-run home run in the seventh and throwing out pinch-runner Billy Burns trying to steal second as the tying run in the ninth.
The Rangers have now won 13 of their last 15 and are 14-7 with Tim Bogar as their manager.
"We're just finishing strong," shortstop Elvis Andrus said. "We're playing good baseball. We have to keep it up. Everybody is playing good, everybody is feeling great."
Baker, who has been dealing with triceps tendinitis, was called upon to pitch when Derek Holland had to be scratched because of a migraine headache. Starting for the first time since Sept. 5, Baker allowed two runs on four hits, did not walk a batter and struck out five. He was out there for four-plus innings and came out having thrown 54 pitches.
"We've put him in some tough situations before and he has always done well," Bogar said. "He is kind of like a chameleon, he pitches well in any situation."
Athletics starter Jeff Samardzija allowed five runs in seven innings, as his club -- in need of either a win or a Mariners loss -- couldn't get its part of the deal done. The Rangers have won five of six against the Athletics in the last two weeks.
"Other teams can't complain about how we're going about it," Bogar said.
The Athletics took a 1-0 lead in the first inning on Josh Donaldson's 29th home run. But the Rangers struck back in the bottom of the first. Andrus singled with one out, stole second and scored on Rougned Odor's single. Odor went to second on the throw to the plate and then scored on a single by Adrian Beltre. Jake Smolinski's fourth-inning home run made it 3-1.
Baker's night came to an end in the fifth, when he allowed leadoff singles to Josh Reddick and Jed Lowrie that put runners on the corners. Left-hander Alex Claudio took over and got pinch-hitter Nate Freiman to ground into a double play. A run scored but the threat fizzled. Geovany Soto singled but Shawn Tolleson took over and struck out pinch-hitter Nick Punto to end the threat.
That kept the Rangers in front, and Chirinos added to the lead with a two-run home run in the seventh inning. That proved big because of what happened in the top of the eighth.
Left-hander Neal Cotts came in to pitch for the Rangers and allowed one-out singles to Jonny Gomes and Donaldson that put runners on the corners.
The Athletics had left-handed hitter Brandon Moss up next and another lefty in Reddick behind him. Mendez, a right-hander, was warming up in the Rangers' bullpen. Athletics manager Bob Melvin was about to send up Derek Norris, a right-handed hitter, to bat for Moss against Cotts.
But, before Norris was announced, Bogar brought in Mendez. That allowed Melvin to keep Moss in the game. Mendez struck him out. Mendez had held left-handed hitters to a .151 average prior to Saturday so Bogar had reason to let him pitch to Moss.
"He has been good against left-handers all year, so I didn't have any problem with him facing Moss, and I felt comfortable with him against Reddick," Bogar said.
But Reddick and Lowrie delivered run-scoring singles that made it 5-4. With two on and two out, Alberto Callaspo worked the count full and then hit a ball to deep right. But Smolinski caught it up against the wall to end the inning.
"I knew he had it," Mendez said. "That's why I was walking to the dugout after he hit it."
Feliz closed out the win with a scoreless ninth, earning a win for Patton, who tossed a scoreless seventh and was credited with his first big league victory.
"It means a lot," Patton said. "I always dreamed of getting a win in the big leagues. It's exciting. Nobody can take it away from me."
T.R. Sullivan is a reporter for MLB.com. Read his blog, Postcards from Elysian Fields, and follow him on Twitter @Sullivan_Ranger. This story was not subject to the approval of Major League Baseball or its clubs.