Prospect Bethancourt shows signs of fatigue
Passed balls increase for strong-armed catcher as season winds down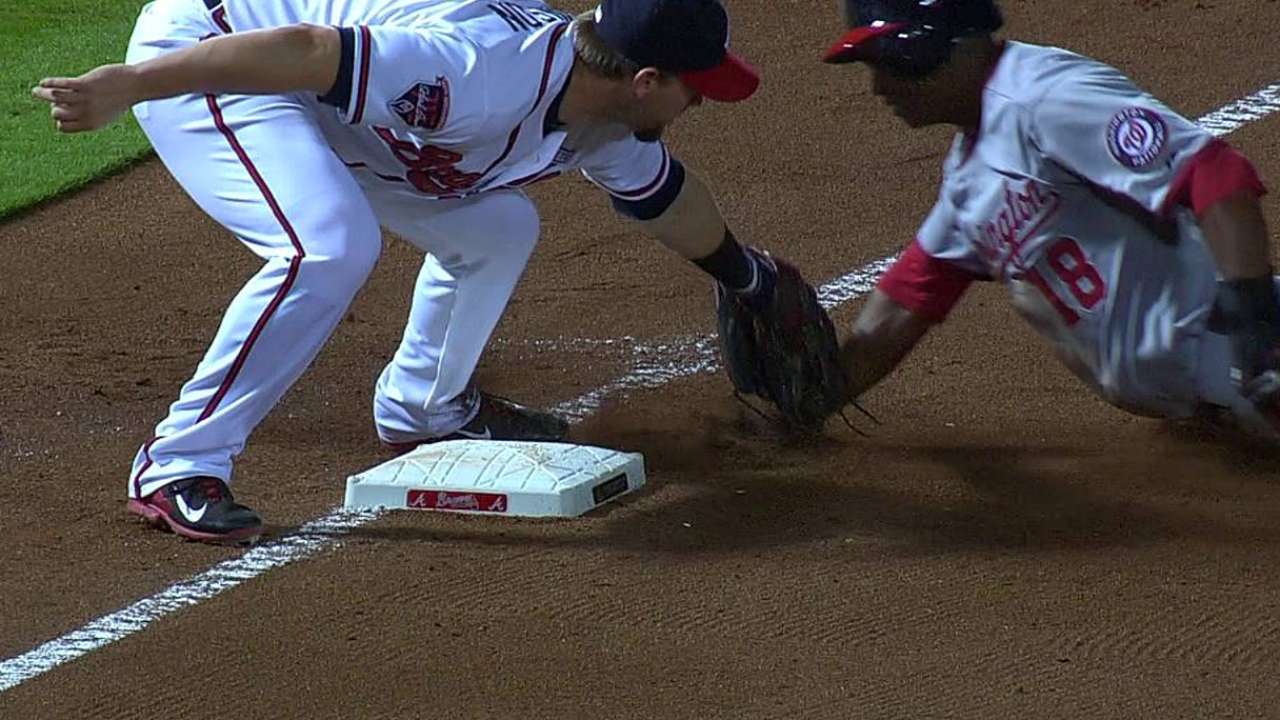 PHILADELPHIA -- When Christian Bethancourt spent three weeks filling in for an injured Evan Gattis earlier this season, it looked like he was ready to be an everyday catcher at the Major League level. But as Bethancourt has filled that role over the past couple of weeks, he has shown why some scouts believe the hype surrounding him is simply a product of his rocket arm.
Though Braves bullpen coach and former catcher Eddie Perez has said that Bethancourt has finally started to show some passion this year, the young catcher has recently drawn scrutiny for being unable to block a number of pitches. He has been charged with six passed balls, which is one more than Gattis has been charged with while catching 538 2/3 more innings than the team's No. 3 prospect.
"He's a young kid," Braves manager Fredi Gonzalez said. "He's not a finished product by any means or imagination. We knew that coming in here.
"It's almost two different guys. When he came up here earlier this year, we saw him make all of those plays. This time around, he might not be used to playing into September. All of the sudden, he has to play an extra month that he's not used to."
Fatigue and unfamiliarity with some pitchers might have influenced some of the sloppy plays Bethancourt has made this month. But the 23-year-old catcher says there is no excuse for those recent occasions when he has made unsuccessful attempts to backhand pitches in the dirt.
"When they throw the ball, I have to catch it," Bethancourt said. "If I'm not doing it, I'm doing something wrong, losing my concentration or getting too comfortable. I've just got to stick with the plan. Just because I miss one ball or get one passed ball doesn't mean I'm going to shut it down. I've still got other pitches to catch."
Bethancourt has shown off his strong arm while throwing out three of the seven baserunners who have attempted to steal against him in September. But the three passed balls he has been charged with while making 15 starts are a reminder that he is far from a finished product. Bethancourt was charged with 10 passed balls in the 80 games he played for Triple-A Gwinnett this year.
Still, because he possesses great tools and has shown significant improvement offensively, Bethancourt has at least given the Braves the option to shop Gattis this offseason. If Gattis is traded, Bethancourt would then likely be targeted to fill the everyday role.
"I think he's just trying to be too fine back there," backup catcher Gerald Laird said. "You can tell guys like throwing to him. I just think he's a little tired. I told him he's just got to get ready because next year, he's going to be back there 125 games if he's up there. He understands that. But you can tell, he's a little tired."
Mark Bowman is a reporter for MLB.com. This story was not subject to the approval of Major League Baseball or its clubs.