Konerko statue unveiled during pregame ceremony
White Sox captain feted by organization, fans for 16 seasons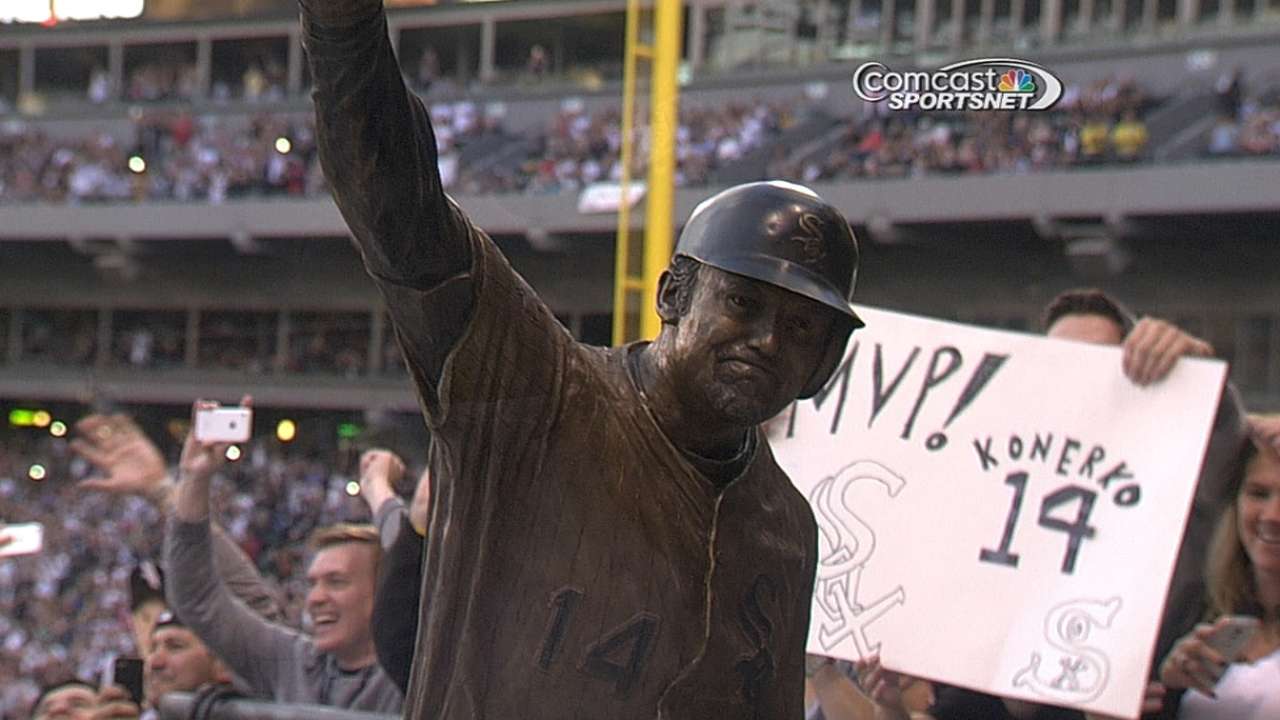 CHICAGO - All Paul Konerko wanted to do was play baseball.
That fact rang true during the 16 years the captain was a fixture with the White Sox on the South Side of Chicago. It certainly was the case Saturday night at U.S Cellular Field, just two games from the end of the 2014 regular season.
But on Paul Konerko Day, the six-time All-Star who never sought out the individual attention had to sit through an exceptional 41-minute program to honor his remarkable career coming to a close with Sunday's last pitch.
Ken "Hawk" Harrelson, the White Sox television play-by-play voice, emceed the ceremony and opened by talking about celebrating one of the most productive and popular players to ever put on a White Sox uniform. By the time the program was done, Konerko watched video tributes ranging from Mark Buehrle to Derrick Rose to Jonathan Toews and closed out with an eight-minute speech that was true to form for the class and character he has exemplified as the leader of this team.
"This is way more than you ever dream could happen when you pick up a bat," said Konerko, during the opening remarks of his speech. "You're 6 years old and you find yourself here 32 years later with all this going on.
"It's not something that you think is going to happen. I'm guessing it's too late to ask for a day off, Robin, because I don't know if I'm going to be able to get out there tonight. I'll do my best. I'll get out there."
The highlight of the program came when White Sox chairman Jerry Reinsdorf stepped to the dais. He spoke of the great moment the two shared after the '05 World Series championship and then showed a video of Konerko presenting him the baseball from the final out of the title during the ensuing victory parade.
Reinsdorf joked that Konerko should have never given him the ball because Konerko was the one who did the work to get the team to the ultimate plateau.
"Having said that, I'm not giving it back," said Reinsdorf.
Instead the White Sox tracked down the fan who caught Konerko's Game 2 grand slam from the '05 World Series. Chris Claeys presented the baseball to Konerko at home plate.
"As it was going on, I was thinking, 'OK, is Jerry going to give me the ball back, the one I gave him? Where is this going?'" said Konerko after the 5-4 victory over the Royals. "And then he actually said no, it's not that, so then I'm like, 'Where is he going with this?'
"Up until the moment he said what was happening I had no idea that that was happening. And it's cool because now that puts that to come back home to me and have it, that was a big moment for me, a big moment for the team."
That emotional moment was followed by Reinsdorf pointing to a bunch of balloons anchored on the left -field concourse. The balloons were released upon Reinsdorf's order, showing a statue of Konerko with his fist raised in the air commemorating that World Series grand slam. Konerko's No. 14 will be retired during a ceremony in 2015.
Former teammates Sean Lowe, Chris Getz, Greg Norton, Jim Thome, Brian Anderson, Ross Gload and Cliff Politte were in attendance, with video tributes from Ozzie Guillen, Scott Podsednik, Joe Crede, Gordon Beckham, A.J. Pierzynski, Juan Uribe, Joe Crede, Jermaine Dye and Derek Jeter. The tributes opened with James Hetfield, the lead singer from Metallica, thanking Konerko for previously using their music as his walk-up anthem.
"James Hetfield from Metallica said my name. It's crazy," Konerko said. "Just because you can hit a ball with a bat. It's pretty cool. I'm blown away by it."
There was an oil painting presented to Konerko depicting his swing and white and black baseballs forming the No. 14, all signed by his teammates from '05. There also was a bench made of baseball bats and balls saluting the captain. Konerko, a music enthusiast, received a 1976 Gibson guitar and a mint condition 1963 Fender Stratocaster.
At the time Konerko spoke, he congratulated the Royals first for reaching the playoffs and taking the time to watch the ceremony with the American League Central title still on the line. He thanked friends, family members, teammates, coaches and other important people from the organization, and the fans, whom he referred to as "friends."
"When you look at that statue out there, or you look at that number that's going to go right there, just realize that when you look at that when I'm not there and you're at these games, your fingerprints are all over it," said Konerko. "It wouldn't be there without you guys, so thank you."
By the time the third or fourth standing ovation erupted, Konerko stepped to the microphone and said. "Let's play some baseball here." It was a fitting end for the person and player.
Scott Merkin is a reporter for MLB.com. Read his blog, Merk's Works, and follow him on Twitter @scottmerkin. This story was not subject to the approval of Major League Baseball or its clubs.