Cards derailed by HRs in bid to clinch NL Central
Magic number stays at one as D-backs' three jacks produce five runs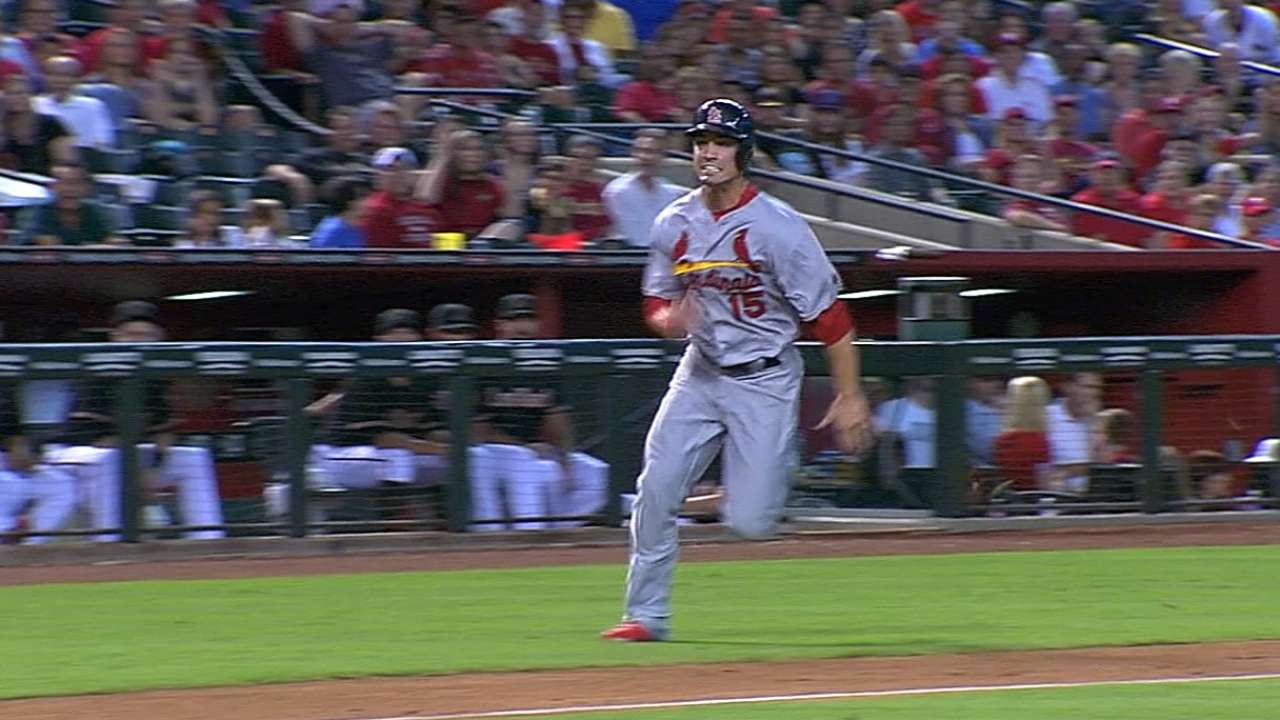 PHOENIX -- Hours before taking the field for Saturday night's game against the D-backs, more than two dozen Cardinals players and personnel gathered to watch the end of the Pirates' game against the Reds. When Cincinnati pulled out the walk-off victory, the clubhouse briefly erupted. Then it was back to work, knowing that they had an opportunity to end the evening with a champagne celebration if they could take care of their own business.
But instead, 161 games into the season, the Cardinals find themselves forced to play a meaningful No. 162. Mark Trumbo's three-run blast off Seth Maness in the seventh broke a tie and sent the D-backs to a 5-2 win that allowed Pittsburgh to pull back to within one game behind St. Louis in the National League Central race.
"We have to win a game tomorrow. That's it. It's that simple," manager Mike Matheny said. "We have Game 162. I think that's how the schedule makers draw it up. It's supposed to mean something, and it does for us."
The Cardinals still have the upper hand -- needing a win against the D-backs on Sunday or a Pirates loss to claim a second straight division title. Worst case scenario would be a tiebreaker game at Busch Stadium on Monday to determine which club bypasses the Wild Card Game for an NL Division Series meeting with the Dodgers.
Essentially, the Cardinals will have as many as two more chances to play their way into the NLDS. The first will be behind ace Adam Wainwright.
"We just have to go out there and play the game we're capable of playing, and things will be alright," Matt Adams said. "We can't rely on anybody else to help us out. We just have to go out and take care of business ourselves."
The Cardinals, who had a healthy contingent of fans among the crowd of 39,843 at Chase Field, fell into an early 2-0 hole when Lance Lynn served up back-to-back homers to David Peralta and Trumbo within a three-pitch span in the first. Lynn, who said he did not pay attention to the earlier Pirates game, entered the start with a 0.5 home run-per-nine innings rate this season, but he had given up three in his last two starts.
Lynn labored all night (he never had a 1-2-3 inning), but he did not let up another run in the six-inning start.
"Once he got his offspeed pitches working, then it was a different game," Matheny said. "He did a nice job giving us a chance and eating up some innings, and keeping us in the game."
In going as deep as he did, Lynn also established a career high in innings pitched with 203 2/3, marking his second straight year of 200-plus. While Lynn went winless for the fourth straight start, he still finishes the best of his three full seasons in the Majors with 15 victories and a 2.74 ERA.
"Last year, I pitched in the [division] clincher, so yeah, you want to be the guy that has the ball to win the game," Lynn said. "You want to go into any postseason feeling good. Tonight, I didn't have my best stuff. I only gave up two in the first, but they were two bad pitches and they made me pay."
Lynn is expected to anchor the Cardinals' postseason rotation, alongside Wainwright, though that will require advancing to the NLDS. Lynn will not be rested enough to start a potential Wild Card Game on Wednesday.
Randy Choate entered behind Lynn, retiring his one batter before turning a 2-2 game over to Maness, who quickly allowed two singles. Trumbo then blasted his 14th homer of the season, giving him a second multi-homer game in the last week.
"He beat my best pitch," said Maness, who had a 13-appearance scoreless streak snapped. "You have to tip your cap."
The Cardinals had evened the game with a pair of runs in the third, the second of which scored from second on a strikeout. After two singles and a walk loaded the bases, Jhonny Peralta pushed one run home with a sacrifice fly. D-backs starter Wade Miley then got Adams to swing through a curveball for strike three, but Adams reached and Randal Grichuk sprinted home from second as the ball scooted away.
The struggles to run up the score against the NL's second-worst pitching staff underscored what has been a season-long issue. The Cardinals, who entered the day ranked 23rd in the Majors with 616 runs scored, went down meekly after tying the game. They had just two singles after the third inning.
The Cardinals will have to do a bit better on Sunday, unless of course, they get additional assistance from the Reds. With that game starting three hours before the Cardinals' finale, the club has another pregame viewing party in store.
"You can't tell these guys to turn it off and not worry about it," said Matheny, who, as an outlier, won't be watching. "We've invested too much into this season to not pay close attention. We'll be watching. But we have to play the game."
Jenifer Langosch is a reporter for MLB.com. Read her blog, By Gosh, It's Langosch, and follow her on Twitter @LangoschMLB. This story was not subject to the approval of Major League Baseball or its clubs.