Injury makes for frustrating end to Castro's season
Cubs shortstop tried to get back for at least one game, but ankle didn't cooperate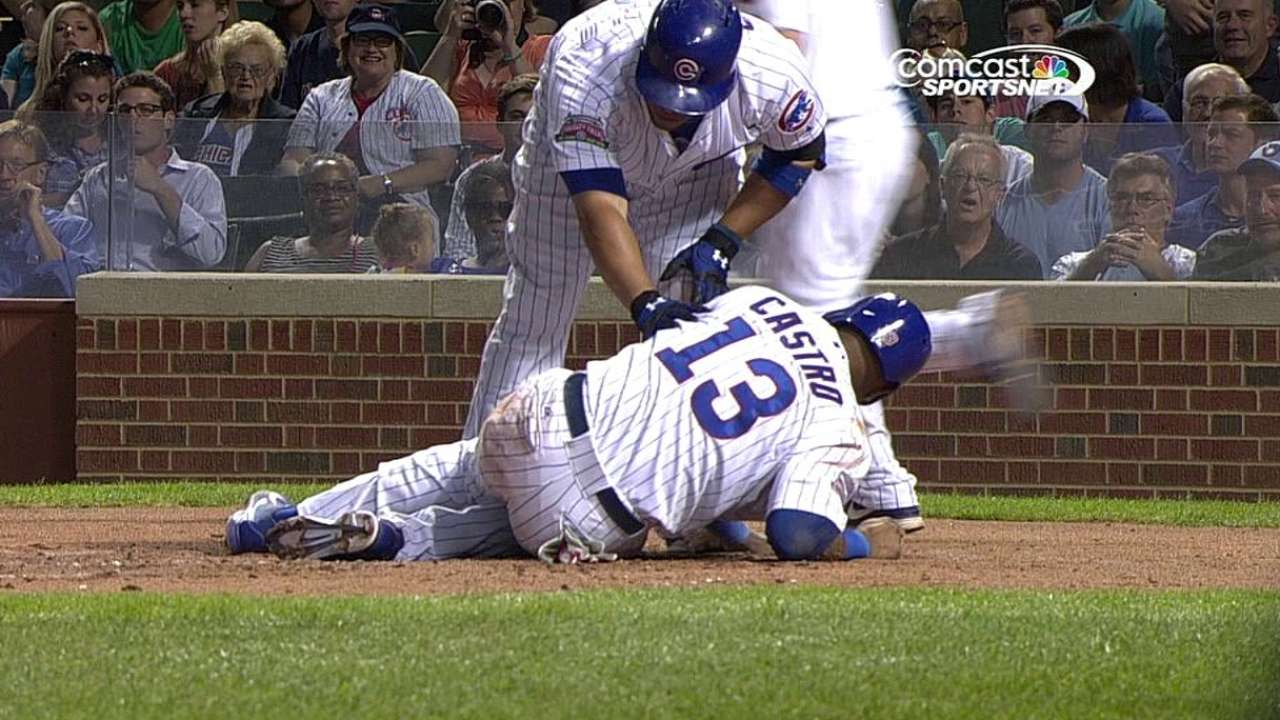 MILWAUKEE -- It's been a frustrating final month of the season for Cubs shortstop Starlin Castro, who will head home to the Dominican Republic after Sunday but plans to continue his rehab at the team's facility in Mesa, Ariz.
Castro, who injured his left ankle on Sept. 2 when he slid awkwardly into home plate, was examined Saturday by team orthopedic specialist Dr. Stephen Gryzlo at Miller Park. All the shortstop has been able to do is rehab and watch from the bench.
"It's big-time frustrating," Castro said Saturday. "It's tough for me because I worked really hard to come back for one game or two. It's not going to happen, but I'm not going to get frustrated. It's a really important season next year and I'm going to be healthy."
If there was some way he could get on the field for one more play, he would, but Castro is still wearing a supportive boot on his left foot.
The 2014 season was Castro's fifth in the big leagues, and he finished as the top hitting shortstop in the National League (.290) ahead of the Dodgers' Hanley Ramirez. This is the first time in the last four seasons that Castro will not lead the NL in errors. He made 15 in 133 games for a .973 fielding percentage, the highest in his young career.
"I think he's grown up," Cubs manager Rick Renteria said. "I think he took a lot upon himself. As the season progressed, he was more accountable to himself and to his teammates. I think he worked very, very hard to overcome a lot of real and/or perceived deficits in this game. He also became, as far as I could tell, a much better teammate. I think everybody started to gravitate to him. I think it's been a positive season for him."
Castro will spend time this offseason with Cubs strength coach Tim Buss to prepare for the season.
"I'll just try to be healthy," Castro said. "That's a really important goal for me. I'll try to do my full Spring Training without injuries. I'm prepared for that. When that happens, it'll be better season."
He sees a bright future for the Cubs. Castro has had plenty of time to watch young players like Javier Baez, Jorge Soler and Arismendy Alcantara.
"We see a lot of good things here," Castro said. "Those kids, those young guys, we have good communication. We'll show next year that we can fight, we can fight with whatever. We can play baseball to win. I think we're pretty close."
Carrie Muskat is a reporter for MLB.com. She writes a blog, Muskat Ramblings, and you can follow her on Twitter @CarrieMuskat. This story was not subject to the approval of Major League Baseball or its clubs.