Wood scratched for Braves' season finale
Left elbow discomfort ends southpaw's year as precaution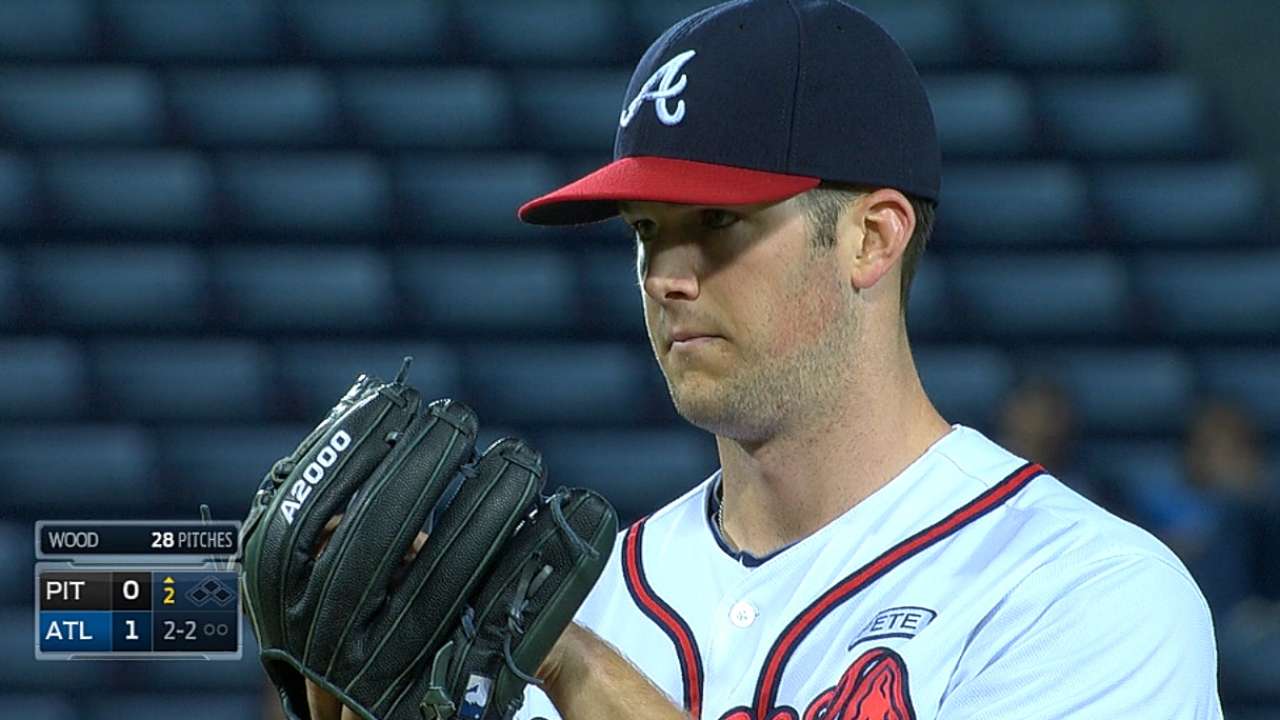 PHILADELPHIA -- Instead of making his scheduled start in Sunday's regular season finale, Alex Wood will head into the offseason hopeful that there is no reason for him to be concerned about the left elbow discomfort he experienced after Tuesday night's start against the Pirates.
Obviously not wanting to take any chances, the Braves have scratched Wood and decided to use multiple relief pitchers to get through Sunday afternoon's game against the Phillies. Both the team and pitcher said they believe the discomfort is a product of normal soreness at the end of what has been the longest season of Wood's young career.
"[Head athletic trainer Jeff Porter] says if we weren't done, then I'd make my next start," Wood said, indicating that this ailment might have just caused him to miss one rotation turn during the midst of the season.
Wood gained some peace of mind when he was evaluated by Dr. Marvin Royster in Atlanta on Thursday. After testing the arm strength, Royster determined that an MRI exam was not necessary.
"He said everything looks fine and everything looks stable," Wood said. "He just thought I had some forearm irritation or a strain. He said not to worry about it. I wasn't worried about it. But I don't think anybody wants to make it any worse to where I have a real injury."
Royster did not definitively say Wood could not pitch on Sunday. That decision was officially made after Wood still felt some tenderness when he played catch at Citizens Bank Park on Saturday afternoon.
Manager Fredi Gonzalez said he likely would have gone this cautious route even if the Braves still had something to play for on Sunday.
"You hate to start messing around with forearm tenderness and forearm tightness," Gonzalez said. "He would have really had to convince me. But at this stage of his career, we're not going to [mess around]."
Wood, who led all Atlanta starters with a 2.78 ERA this season, felt the discomfort when he went to bed after Tuesday's start. He received treatment the following day and then felt some soreness when he started to increase his effort level while playing catch on Thursday.
Because Wood underwent Tommy John surgery just before his freshman year at the University of Georgia, the Braves were targeting him to throw between 170-180 innings this season, just the second full one he's experienced at the professional level. The 23-year-old southpaw ended up completing 180 1/3 innings, including the two starts he made for Triple-A Gwinnett after being used as a reliever during most of May and June.
"I think it's about 30 more innings than I've ever thrown in a consistent stretch without having a break," Wood said.
Gonzalez will announce a starter for Sunday's game after determining which of the relievers he utilizes during Saturday night's contest.
Mark Bowman is a reporter for MLB.com. This story was not subject to the approval of Major League Baseball or its clubs.