Utley reflects on season's downturn, discusses future
Star 'not really satisfied' with year, but happy he stayed with Phillies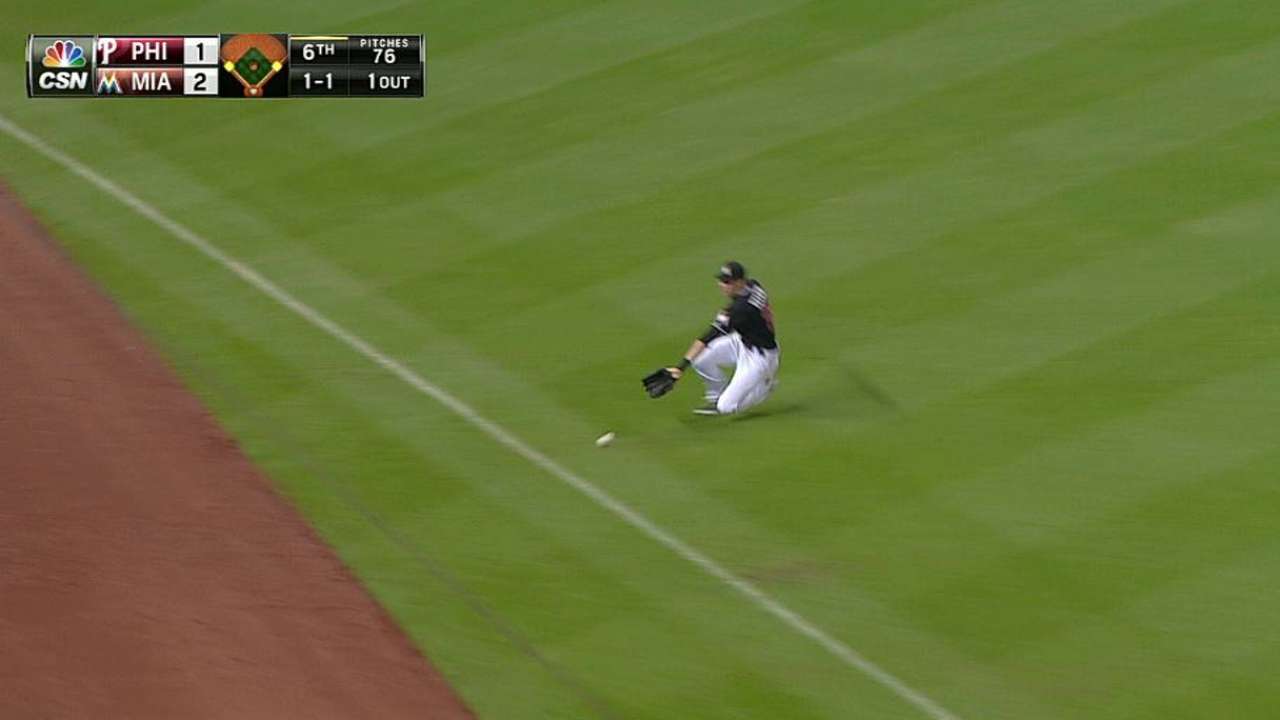 PHILADELPHIA -- Chase Utley finds sanctuary in the batting cages at Citizens Bank Park, and he used that spot Saturday afternoon to reflect upon a 2014 season that left him frustrated on many fronts.
The Phillies on Sunday will finish their third consecutive season without a winning record, and they will finish in last place in the National League East for the first time since 2000. A once-promising season for Utley turned south, too.
"I'm not really satisfied with it," Utley said. "I didn't play as well as I could have. I've never really been satisfied with my seasons. The last few months, I haven't really swung the bat so well."
Utley hit .335 with 22 doubles, three triples, four home runs, 26 RBIs and a .937 OPS in 47 games through May 28. He ranked 10th in Major League Baseball in OPS, which propelled him to the NL All-Star team as the starting second baseman.
But in 106 games since that date entering Saturday, Utley hit just .239 with 12 doubles, three triples, seven home runs, 52 RBIs and a .652 OPS, which ranked 126th out of 148 qualifying hitters. He has not homered in 40 consecutive games, which is the longest drought of his career.
"I can't put my finger on it," Utley said.
Utley, 35, has battled knee issues for several years, but he said his knees feel fine.
"Listen, three or four years ago, I had to answer questions if I was going to retire or not because of my knees," Utley said. "I'm proud of the fact that I was able to bounce back from that and play as many games as I have. Obviously, I didn't play as well as I thought I should have, but there is something to be said for going out there on a daily basis and grinding."
Simple fatigue could be a factor.
"Throughout the course of the year, you slowly wear down a little bit, especially when you're playing every day," said Utley, who has played 154 games and started 147. "I don't feel like I did when I was 25. You don't bounce back quite as quickly. But even on days I didn't feel so great, I still felt I had the opportunity to help us win."
Phillies manager Ryne Sandberg has indicated he would like to find more spots next season to rest veterans such as Utley, Jimmy Rollins and Ryan Howard. More rest could bring fresher bodies, which could bring more consistent and improved production from April through September.
"Honestly, I don't know," said Utley, when asked if that might help. "Obviously feeling fresh is important. This late in the season, it's hard to feel fresh -- the atmosphere makes a difference."
The Phillies played in front of a sparsely filled ballpark for much of the season, which is the product of losing and no postseason appearances since 2011. Utley understands that and he said it is up to the team to fill the seats again.
It will be difficult.
"I'm not saying we should have won the World Series, but I think we should have finished with a better record," Utley said. "The way I look at it, there were probably, over the course of this year, 12, 14, 15 games that I thought we should have won that we didn't, and there's probably about four or five we shouldn't have won that we did win. So a .500 record is, in my opinion, kind of where we were headed."
That still leaves them about seven or eight victories short of a NL Wild Card berth. How do they make up that gap?
"Having Cole [Hamels] and Cliff [Lee] healthy, those are two guys that are really good," Utley said. "Having the back end of our bullpen pitch the way it has, if that continues, we're going to be in a lot of games. I feel like we lost a lot of close games this year where if we had an extra run or two, we would be victorious."
Offense is a problem. The Phillies entered Saturday ranked 13th in the NL with a .666 OPS. They were ranked 12th with a .364 slugging percentage. The Phils need more power in the lineup, which is why they are going to take a run at Cuban outfielder Yasmany Tomas.
"I'm all for getting better, whatever that means," said Utley, who is open to hitting elsewhere in the lineup, if asked. "Adding some power wouldn't hurt. I know they want to continue to try to mix young guys in. I get it. It creates a little energy. I still feel like I bring some energy to the table."
Energy is great, but the Phillies need more talent. They are expected to listen to offers for Hamels, because he could bring back a sizeable haul. Utley said he is biased, but he hopes that does not happen.
"I would be disappointed if they moved him," Utley said. "Listen, we want to win. [The front office wants] to win. I think guys are hungry. I mean, we're not 25, 26, 27 years old, where you roll out of bed and you're ready to play. It takes a little bit more preparation, a little bit more work to perform nightly. So hopefully guys take this offseason seriously and prepare for the grind."
Utley said he still believes he made the right decision last summer in signing a contract extension to remain in Philadelphia.
"I love Philadelphia," Utley said. "There's no place I would rather be. But winning is important. We have to try to get back to that. Maybe it's going to be baby steps. I'm not quite sure, but there's no better place to win."
Todd Zolecki is a reporter for MLB.com. This story was not subject to the approval of Major League Baseball or its clubs.