Giants top Padres on Crawford's clutch hit
Brown gets first Major League start; Strickland earns win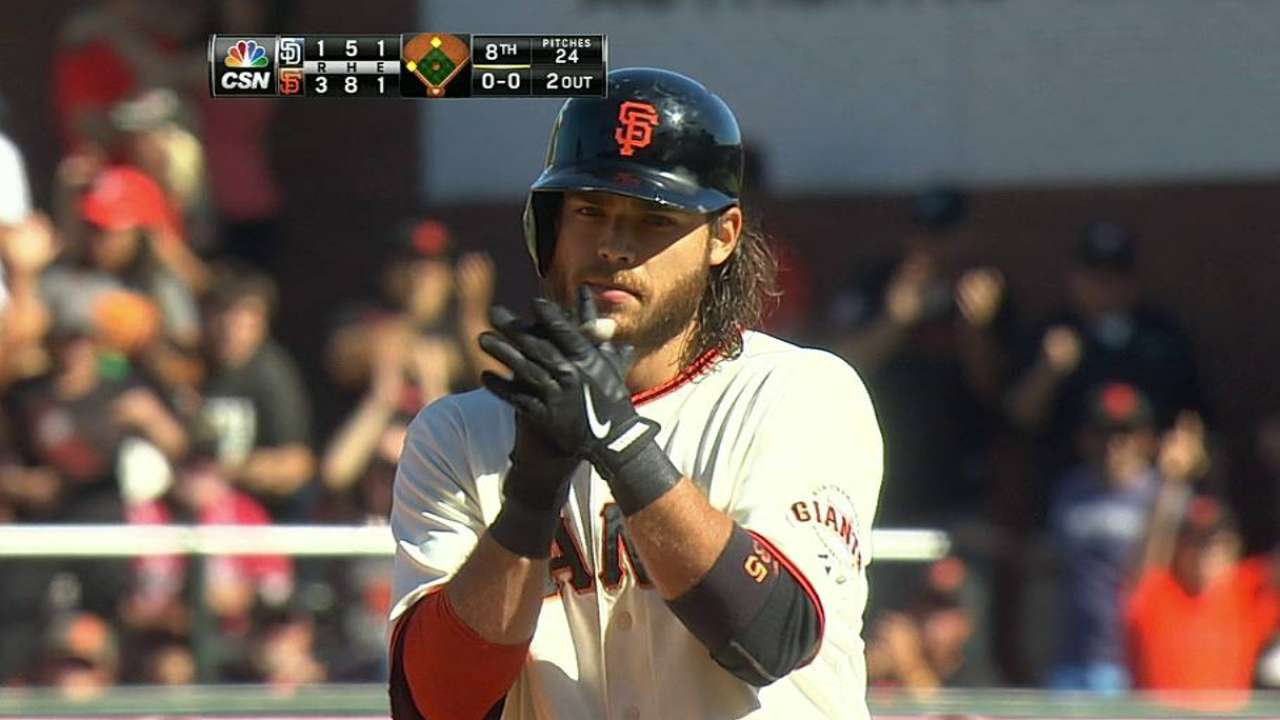 SAN FRANCISCO -- No Gregor Blanco, no Joe Panik, no Hunter Pence, no Buster Posey, no Pablo Sandoval ... no problem?
The Giants' starting lineup Saturday had a distinct Spring Training feel to it, with Joaquin Arias, Gary Brown, Chris Dominguez, Matt Duffy and Juan Perez all starting, to spare the regulars some wear and tear. The reserve-laden lineup loaded the bases in the eighth for Brandon Crawford, whose two-run single was enough to back stellar pitching as the Giants defeated the Padres, 3-1, inside AT&T Park.
With the two-out, two-run single, Crawford improved his average with two outs and runners in scoring position to .356 (21-for-59). In his last 15 games, he's hitting .365 (19-for-52), which has prompted manager Bruce Bochy to consider moving him up in the order from the eight-spot.
"We needed it today; he's been swinging the bat as well as anybody," Bochy said. "He's shortened things up and is throwing out quality ABs, one after another.
"With two outs, he's the guy we want out there. He came through for us; last thing we wanted was for this thing to go to extra innings. He saved us today."
The game was meaningless standings-wise for the Giants, who are locked into being the away team in Wednesday's Wild Card Game. If the Cardinals defeat the D-backs Saturday night, the Giants will head to Pittsburgh to face the Pirates. It carried special significance for a couple of players, though.
Hunter Strickland recorded a strikeout in a 1-2-3 eighth inning to record his first Major League victory. Saturday was also the first Major League start for Brown, the Giants' 2010 first-round pick.
Since getting a September callup, Strickland has struck out nine and allowed just five hits in seven shutout innings.
"This kid has great stuff, but he has a great makeup about him, the command to go with the stuff, and the poise," Bochy said. "He has really filled a need for us here in the sixth, seventh and eighth inning."
Saturday also marked the first time Jake Peavy started against the Padres, the team with which he broke into the Majors and won 92 games and a Cy Young Award. Peavy said hello to the Padres' coaching staff before the game, but he said it was just another game, since he didn't recall being teammates with any current Padres while in San Diego (though Will Venable and Tim Stauffer were on the team during Peavy's years there).
The Giants began the scoring early. Duffy scored from first in the first inning on a double into the right-field corner by Brandon Belt.
With third baseman Yangervis Solarte playing back, Brown recorded his first Major League hit in the third when he hustled to first base for a bunt single.
"I said, 'Screw it, I'll give it a chance,'" said Brown, who went 2-for-4 and successfully managed the sun to snag fly balls in center field. "It worked out.
"It's something I've dreamt of for a long time. Just to have the opportunity to do it was all I could ask for. The fact that it happened ... I've got a lot of friends back home who didn't have that opportunity, so I'm very thankful."
The Padres tied the game in the fifth when a Yasmani Grandal sacrifice fly to center field scored Will Venable.
That was the lone run Peavy allowed on four hits in five innings. In 12 starts with the Giants since being acquired at the Trade Deadline, he proved to be quite the coup by general manager Brian Sabean; he went 6-4 with a 2.17 ERA. His success helped cushion the blow of steep declines by Tim Hudson and Tim Lincecum.
"The way he's throwing the ball, it wouldn't matter which league he's pitching in," Bochy said when asked if a return to the National League was behind Peavy's turnaround. "He was hungry to get back to the postseason. A guy with his experience, he knows these moments don't come around very often, so he was excited about coming here and helping us out.
"I hate to think where we'd be without him. We're getting a shot [in the postseason] here because of what he's done for us."
He's just as happy to be a Giant as the team is to have him. Peavy attributed part of his improvements to mechanical adjustments that were made possible by the familiarity with the coaching staff from his first few years in the Majors in San Diego.
"I've loved it here," Peavy said. "It has been a breath of fresh air to come into the middle of a pennant race with familiar faces. I couldn't have asked for anything more, and I'm grateful for the opportunity."
Jeremy Affeldt, Strickland and Santiago Casilla combined for four shutout innings out of the bullpen.
With a pinch-hit appearance in the seventh, Pence extended his consecutive-games-played streak to 382.
Ryan Hood is an associate reporter for MLB.com. Follow him on Twitter @ryanhood19. This story was not subject to the approval of Major League Baseball or its clubs.