Stults finishes strong as Padres lose late
Starter allows one run in seven innings; Thayer gives up pair in eighth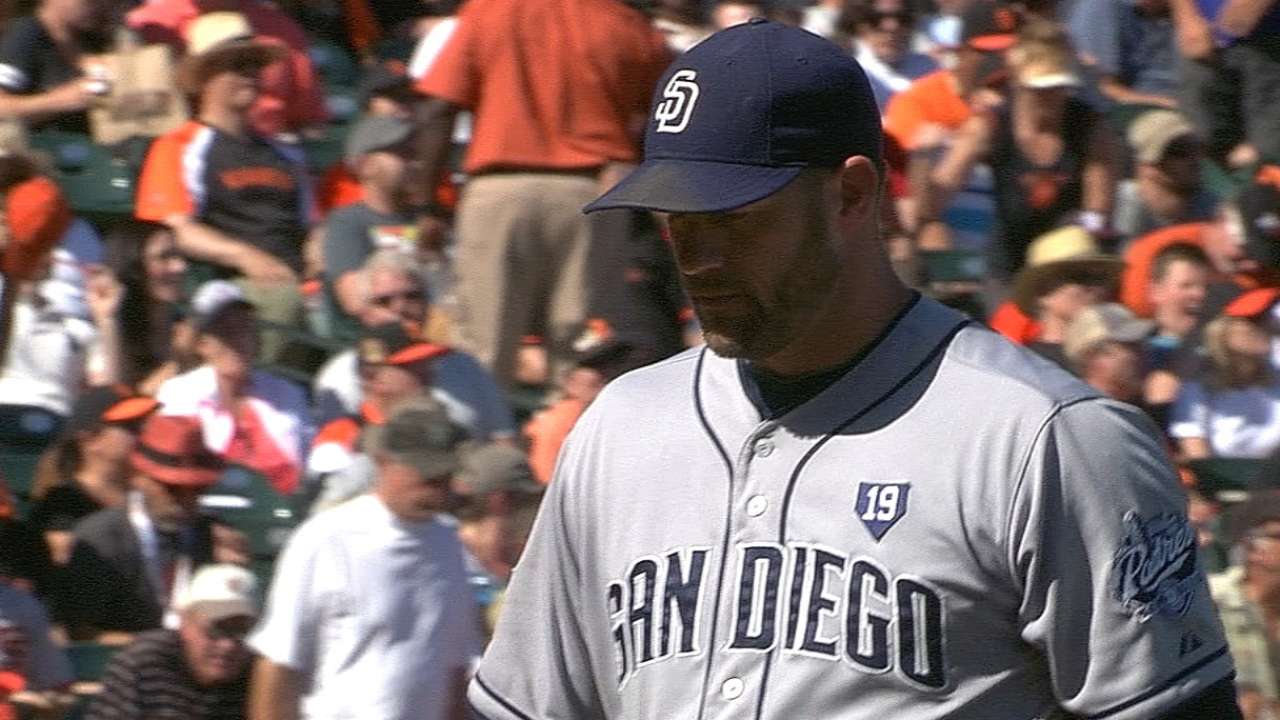 SAN FRANCISCO -- In danger of losing his spot in the rotation and with his ERA seemingly headed toward infinity, Padres starting pitcher Eric Stults looked for help in July, asking pitching coach Darren Balsley for ideas on how to remedy all that was troubling him.
There was a mechanical fix and the addition of an upbeat tempo in delivery that paid dividends during the second half, as Stults looked like a completely different pitcher, a pattern that continued Saturday even as the Padres fell to the Giants, 3-1, at AT&T Park.
Stults didn't factor in the final decision -- the Giants scored twice in the bottom of the eighth inning off reliever Dale Thayer -- but he did what he's mostly done since the start of August: kept his team close, allowing one run on six hits with no walks and five strikeouts.
Whereas Stults' first three months weren't much to look at -- he was 3-13 with a 5.22 ERA in 21 starts -- his final 11 starts were more than just competitive.
The left-hander went 5-4 with a 2.74 ERA, and that record might have been even better had he not been saddled with the fourth-worst run support in baseball.
"The biggest thing was wanting to find some consistency," Stults said. "I picked up my tempo and made a mechanical fix [a higher leg kick]. I tried to keep the mindset that I wanted to finish strong."
Stults was gone by the time this one turned in favor of the Giants.
In the eighth inning, Gary Brown reached on an infield single and was forced at second base on a ground ball by Matt Duffy that second baseman Cory Spangenberg threw away attempting to finish a double play at first base. That allowed Duffy to advance to second base.
Thayer (4-5) intentionally walked Brandon Belt and walked Andrew Susac to load the bases for pinch-hitter Pablo Sandoval. He struck out Sandoval but allowed the single to Crawford on the first pitch.
Former Padres pitcher Jake Peavy made his first start against his former team, allowing one run on four hits in five innings. He walked three and struck out three, needing 92 pitches to get 15 outs.
Peavy pitched parts of eight seasons for the Padres from 2002 until 2009, when he was traded to the White Sox at the Trade Deadline.
Trailing, 1-0, the Padres (77-84) tied the game in the fifth inning as Will Venable -- who with pitcher Tim Stauffer are the only Padres players who previously played with Peavy -- singled and went to third base on Spangenberg's double. He scored on Yasmani Grandal's sacrifice fly.
"It was a little different," Padres manager Bud Black said of watching Peavy pitch in person for someone other than the Padres. "We've seen him on television and in Spring Training before. It's a little different mix of pitches now. Today, he mixed those pitches pretty well. We stressed him a few times. But Jake pitched well."
The Giants (87-74) got a run off Stults in the first inning as Duffy -- who had two hits -- singled and scored on a double to right field by Belt.
Rookie Hunter Strickland got the victory in relief for the Giants, his first big league win.
Spangenberg had two hits and two stolen bases. He's hitting .276 in his first 19 games since he was called up from Double-A San Antonio earlier this month.
"It's a learning curve for him," Black said. "He has above-average speed and plays with an aggressive style. His speed is a weapon."
The two teams will play the regular-season finale Sunday.
Corey Brock is a reporter for MLB.com. Keep track of @FollowThePadres on Twitter. This story was not subject to the approval of Major League Baseball or its clubs.