Eovaldi closes year with seven strong in loss
Righty strikes out five, gives up two runs, but Stras quiets Miami bats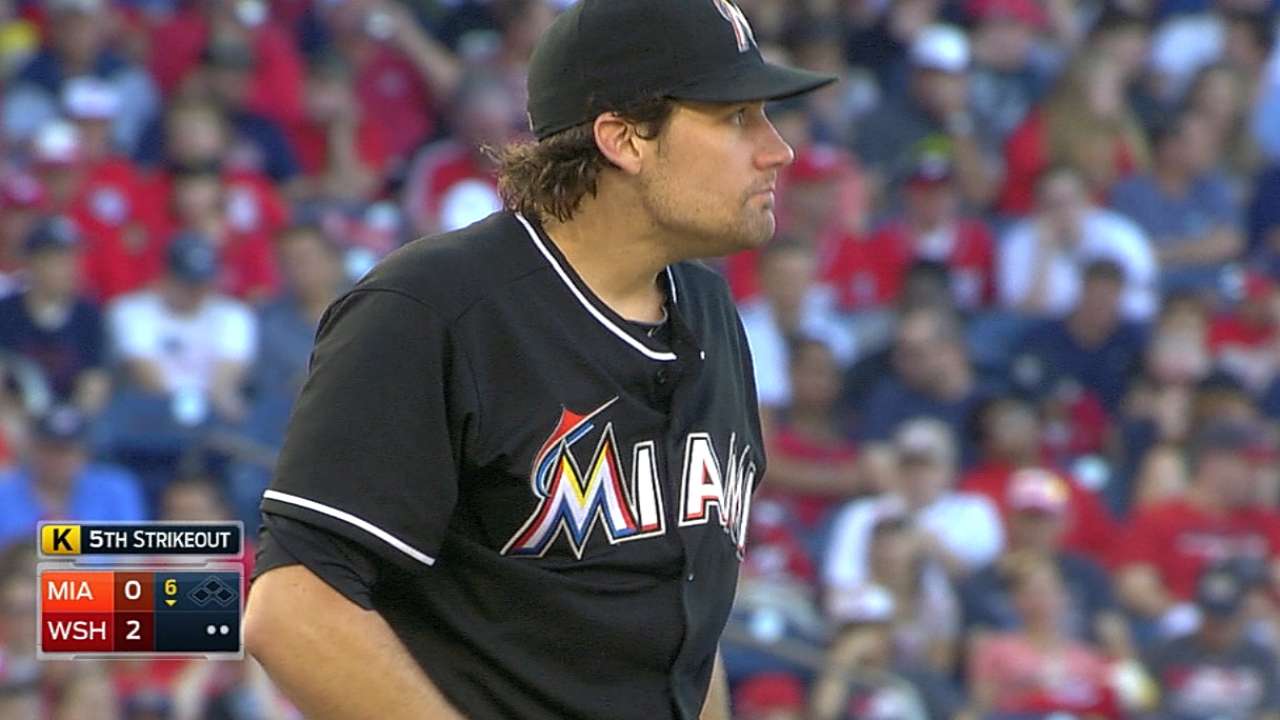 WASHINGTON -- It was the same pitching matchup as six days ago, and unfortunately for the Marlins and right-hander Nathan Eovaldi on Saturday, the results were agonizingly similar.
Eovaldi was impressive, giving up two runs in seven innings, but paired against Stephen Strasburg, it wasn't enough. Strasburg scattered two hits and struck out seven in six innings, as Washington beat Miami, 5-1, at Nationals Park.
"I thought Eovaldi pitched great," Miami manager Mike Redmond said. "It was nice to see him finish up on a good note. Once again, we didn't score him any runs. He pitched well enough to win that ballgame. We just couldn't get anything going against Strasburg. He was tough today."
Making the outing even more frustrating is the fact Eovaldi completed his season one-third of an inning shy of a personal goal. The seven innings in his 33rd start gives the 24-year-old 199 2/3 innings on the season.
"It's frustrating," Eovaldi said. "[Reaching 200 innings] was one of my goals at the beginning of the season. To come up one out away makes me look back at those outings I had before where I struggled to get through the fifth. It is encouraging for next year to continue to work hard and come in ready to go."
Mark Buehrle is the last Marlin to reach 200 innings, logging 202 1/3 in 2012.
The Nationals have now taken two of three in the four-game set to close out the regular season. In the first game of Friday's doubleheader, Doug Fister threw a three-hit shutout in a 4-0 Washington win.
Although Miami slapped out a season-high in runs (15) and hits (22) in Game 2 on Friday, on Saturday, the offense was quieted again.
"Today is as good as he has been all month," Washington manager Matt Williams said about Strasburg. "Really good fastball -- 96, 97 [mph]. Changeup and curveball to go with it. He threw it where he wanted it to. Just the same as he has been that last four or five starts."
The Marlins were limited to two hits entering the ninth inning, when they slapped out two more singles and scored an unearned run off Drew Storen.
Washington broke the game open in the eighth inning when Asdrubal Cabrera lined a three-run double off Carter Capps.
The upside was a second straight encouraging start by Eovaldi, who mixed up his breaking pitches to offset his 97-mph fastball. The adjustments he's been working on paid off in the fifth inning, when he doubled-up curveballs on the outside corner to strike out Bryce Harper with the bases loaded.
The 24-year-old finishes up at 6-14, including dropping eight straight decisions since beating the Reds on Aug. 8. But against the team with the best record in the National League, Eovaldi ended up with two quality starts. He allowed two runs in six innings in the 2-1 loss on Sunday at Marlins Park.
"My curveball felt good today," Eovaldi said. "These last two starts, we made some mechanical adjustments, mixing up the pitches, throwing to both sides of the plate."
Strasburg also victimized Miami in that game six days ago. At Miami, the right-hander threw seven shutout innings, allowing three hits while striking out five.
It was more of the same on Saturday. Off Strasburg, Miami managed a third-inning double by Jeff Mathis and a fourth-inning single to right center by Casey McGehee.
The Marlins got a generous call on McGehee's hit, because his drive to the gap was run down by right fielder Jayson Werth. Battling the sun, the ball popped out of Werth's glove. Initially, it was ruled an error. But after the inning, it was changed to a single.
"It was a tough day for us," Redmond said. "Offensively, we didn't get anything going, really. Just a couple of hits. Probably one hit was a little bit of a gift out there -- that play on Werth. They scored it an error, and then changed it when the guy didn't score."
Strasburg also factored into his team's first run. In the second inning, Strasburg was credited with an RBI as he dropped a sacrifice bunt that scored Harper, who had singled, from third.
The Nationals tacked on another run in the fifth inning on Adam LaRoche's RBI groundout to short. Denard Span, who singled with one out, scored from third.
"It was a playoff atmosphere, really," Eovaldi said. "They had a packed house. They had Strasburg out there on the mound. It was a lot of fun competing against him. It's definitely what we're competing for next year."
Joe Frisaro is a reporter for MLB.com. He writes a blog, called The Fish Pond. Follow him on Twitter @JoeFrisaro. This story was not subject to the approval of Major League Baseball or its clubs.