Girardi proud of players, but disappointed in club's results
Before Jeter's home finale, Yankees manager holds closed-door meeting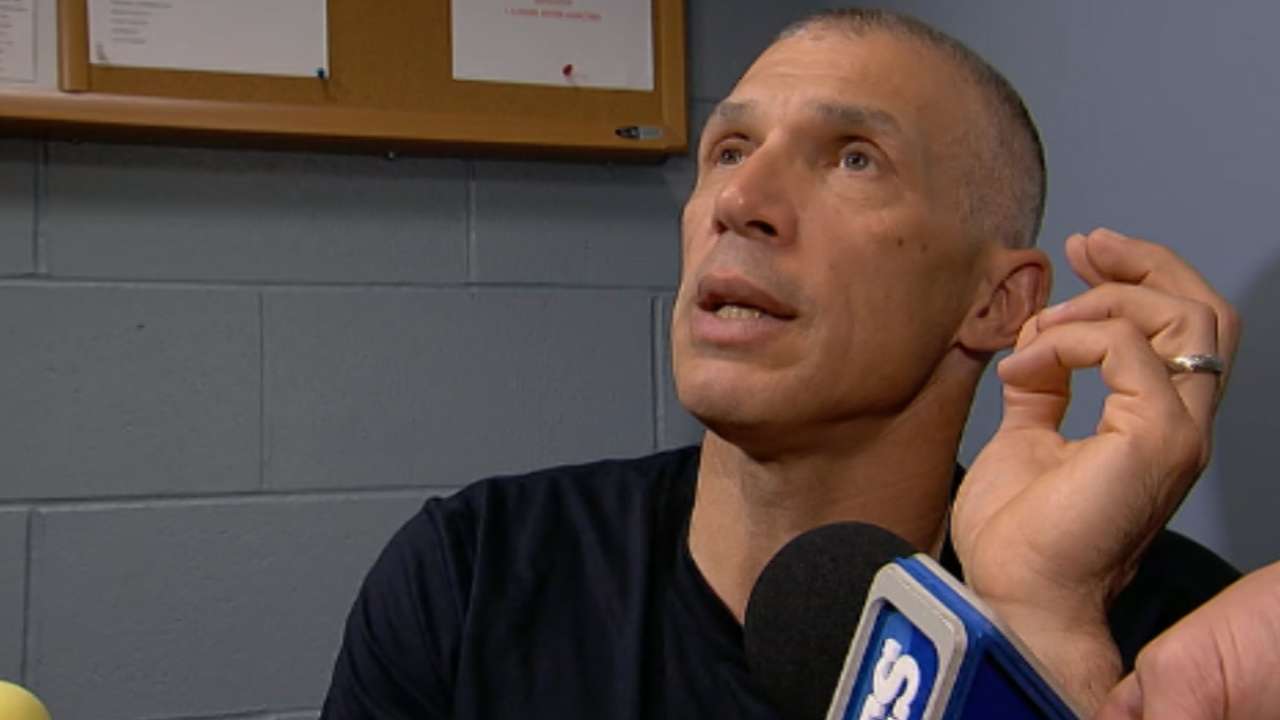 BOSTON -- Yankees manager Joe Girardi confirmed that he addressed the team in a closed-door meeting before Derek Jeter's final Yankee Stadium game Thursday, expressing disappointment that the team has missed the playoffs for a second consecutive season.
ESPN New York first reported details of the meeting, citing clubhouse sources, some of whom spoke on the condition of anonymity. The report stated that Girardi chided players for being overweight, but Girardi denied that he has a problem with his team's conditioning.
"I told you all along I was proud of them, but I just wanted to let them know what we expect next year," Girardi said after Saturday's 10-4 loss to the Red Sox at Fenway Park. "None of us are happy that we're not playing next week.
"These guys played hard. It is unfortunate. You go through an offseason and they work hard in training and when you don't get there, if you don't have disappointment, something is wrong."
The report also said that Girardi wanted to see a hungrier attitude from his team, which went 11-12 in games that were deemed to be "must win" leading up to their mathematical elimination Wednesday.
"The bottom line is that we didn't execute well enough in certain situations, and we have to do better," Girardi said. "That's the thing, whether it's getting a runner over and in, making a pitch when you need to make a pitch. We were in a lot of close games.
"If we could have won five or six more, you might be playing next week. We were in so many, you definitely have some you can remember."
The meeting shifted in tone when the players, led by CC Sabathia, were permitted to present Jeter with several gifts marking his final game in the Bronx. The players offered Jeter a painting of The New Yorker's Sept. 8 cover, depicting Jeter waving goodbye, and a watch.
Jeter has spoken about that gift, saying that it tweaked his emotions: "I almost lost it and I had to turn around," he said after Thursday's walk-off hit to beat the Orioles.
Girardi was irked that details of what was supposed to be an in-house meeting had been leaked to the media, and said that he chose Thursday's game to hold the meeting because he wanted to have it at Yankee Stadium, rather than in the cramped visiting clubhouse at Fenway Park.
It is not out of character for Girardi to hold such a meeting near the end of the season.
"I address the team after every year," Girardi said. "Sometimes I do it the night we either make it or are eliminated. I've done it different ways. I chose to do it [Thursday] to let them know what we expect and get ready. I was direct in the message I wanted to get across. As you well know, that is my personality."
Bryan Hoch has been covering the Yankees for MLB.com since 2007.
This story was not subject to the approval of Major League Baseball or its clubs.