Royals enjoy celebration, return focus to work
Division title in the balance with two games left in season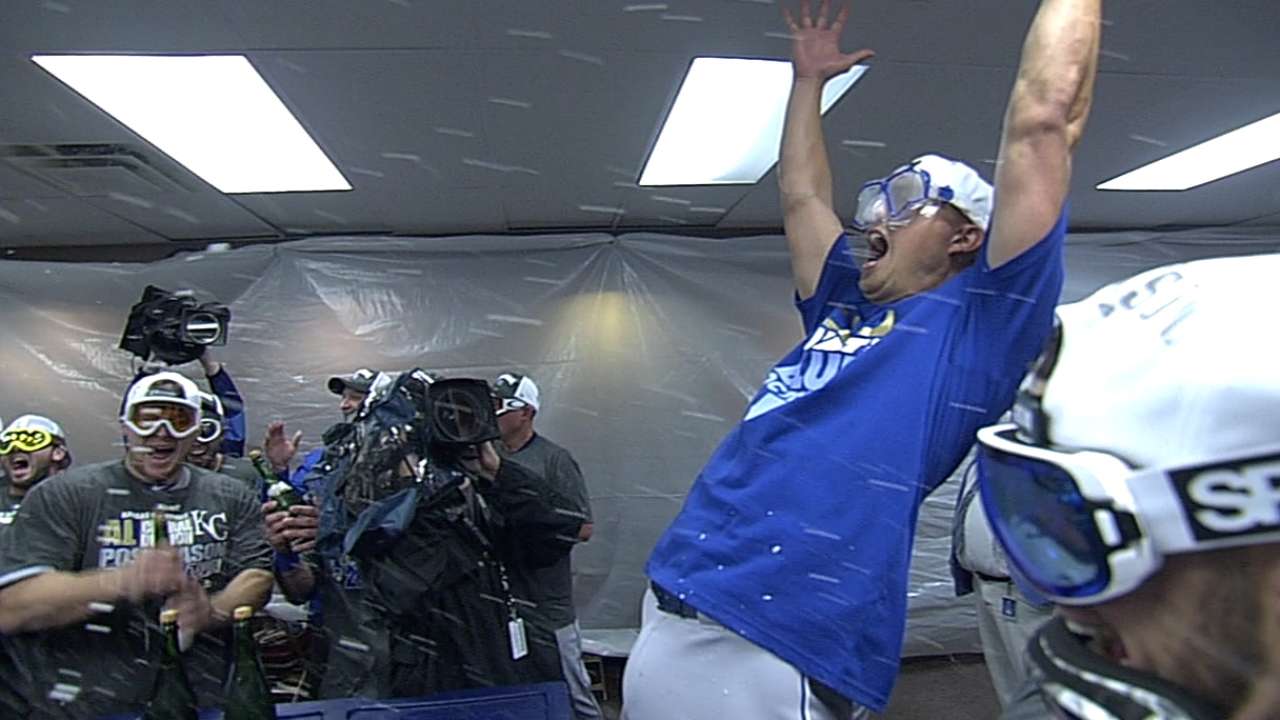 CHICAGO -- The party was on but there was still work to be done, so the Royals approached their postseason clinching celebration of Friday night and Saturday morning in moderation, according to manager Ned Yost.
"They knew before the game yesterday what they had before them. They knew they were going to have fun, but they weren't going to take it deep into the night like you would normally do if you had a couple days off or if the rookies would be playing," Yost said.
"I've gone through those celebrations where you don't sleep, it's so much fun. But it broke up relatively early and everybody got out of there at a decent hour and everybody had a good night's sleep."
True, said third baseman Mike Moustakas.
"We knew that there's business to be done still -- we've still got to conduct business. Go out and win tonight and win tomorrow and put ourselves in a good position," Moustakas said before Saturday night's game against the White Sox.
"I'm not saying we didn't enjoy ourselves last night with the celebration, but everybody in this clubhouse knows that we're still battling and we're still in this thing."
Going into Saturday's play, the Royals still had a chance to win the American League Central title with just one game separating them from the Tigers for first place with two to play.
The Royals' staff held a celebration downtown at Mike Ditka's restaurant, Yost said. Even after the party broke up, the skipper had trouble sleeping.
"It was quite late. I tried to sleep but couldn't sleep," Yost said. "You can sleep in the winter, no time for sleeping now."
Dick Kaegel is a reporter for MLB.com. This story was not subject to the approval of Major League Baseball or its clubs.