Carrasco strong, Brantley gets milestone in loss
Righty cements case for 2015 staff, fanning 10 Rays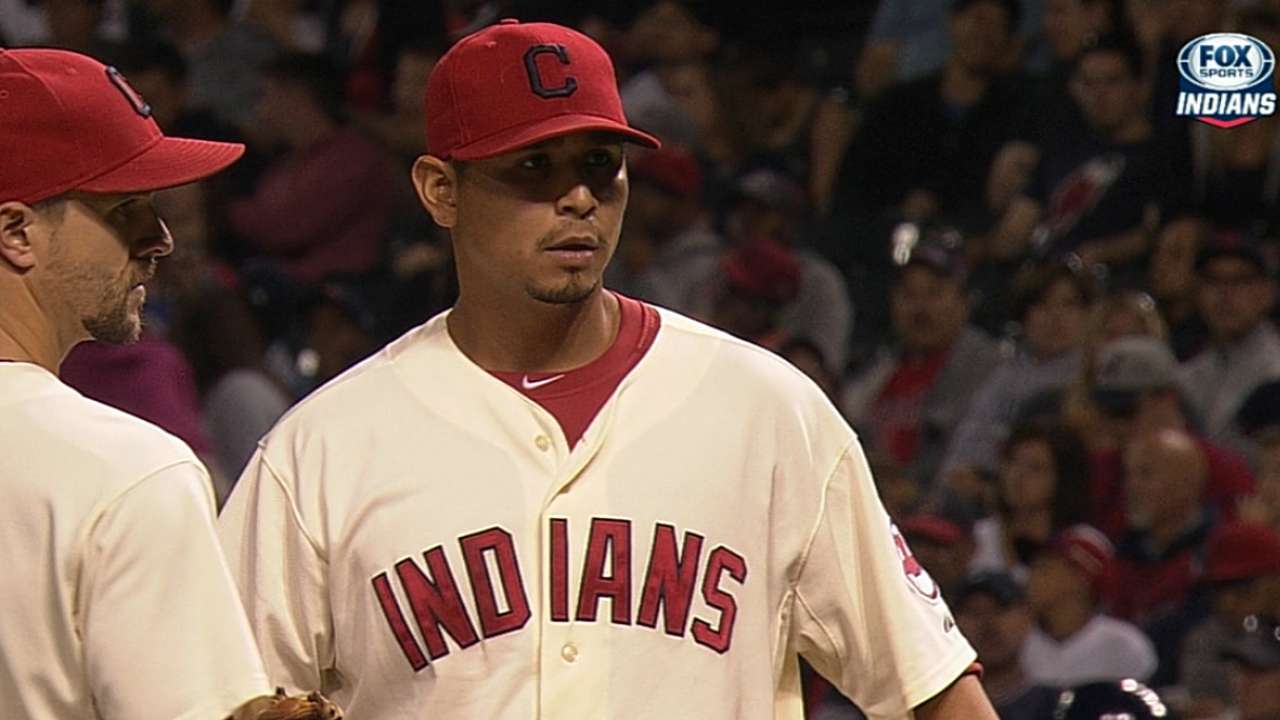 CLEVELAND -- The Indians held out faith that Carlos Carrasco's right arm could turn him into a rotation cornerstone. For the final two months of this season, the pitcher finally seized the opportunity in overpowering fashion.
On Saturday night, the Indians took the field for the first time this year without October baseball as a possibility and dropped a 2-0 decision to the Rays. A silver lining came in the form of Carrasco, who turned in another strong performance to end his season, giving the Tribe reason to be optimistic about the front end of its starting staff for the 2015.
"I would say it flew past encouraging," Indians manager Terry Francona said of Carrasco's finish this season. "He's got so much to be excited about going into the offseason and into next year."
Corey Kluber and Carrasco gave Cleveland one of the American League's top one-two punches in this season's second half, and both are under contract for multiple years going forward. Combined with young starters such as Danny Salazar, Trevor Bauer and T.J. House, the Indians are positioned to have a solid rotation foundation for next year.
It took Carrasco until August to regain the trust required to be inserted back into the starting staff.
Following a rough April, Carrasco was pulled out of the Opening Day rotation and sent to the bullpen for three-plus months. It was not until Aug. 10, when the rotation was going through some issues, that the club opted to give the hard-throwing righty another shot. Carrasco returned to that role with a more aggressive approach and altered mindset, and hitters paid the price down the stretch.
Francona noted that pitching coach Mickey Callaway and bullpen coach Kevin Cash convinced the manager to put Carrasco back in the rotation.
"They really deserve a lot of credit," Francona said. "I was so comfortable with where he was in the bullpen and thought that he was really going to grow, as he was. For them to push that hard, that shows how much faith."
Carrasco was grateful for the support.
"Those two guys trusted me," Carrasco said. "And now I trust myself, too."
In his final outing of the season, Carrasco was charged with two runs (one earned) in 7 2/3 innings against the Rays. A fourth-inning throwing error by third baseman Lonnie Chisenhall paved the way for the first run and an infield, RBI single from James Loney in the eighth led to the second.
What Carrasco could not control was the fact that Cleveland's offense could not get anything going against Tampa Bay's pitching staff. Righty Alex Colome logged 6 1/3 shutout innings and the bullpen took care of the rest, hanging Carrasco with a hard-luck loss.
The lone positive from the lineup on this night was a fourth-inning single from Michael Brantley, who chopped a pitch from Colome up the middle for his 200th hit of the season. Brantley became the first Cleveland batter to have at least 200 hits in a season since 1996 (Kenny Lofton, 210) and he is the first Indians batter in history to have at least 20 steals, 20 homers, 40 doubles and 200 hits in one year.
"It's going to mean a lot on Monday," Brantley said of the milestone, "when I sit back and reflect on kind of what went on. I'll digest it all."
Francona was thrilled to see Brantley reach the 200-hit plateau.
"You could see the way our dugout reacted, how pleased everybody was," Francona said. "It's a pretty big milestone. Guys show up every day, and to get that number -- it wouldn't have mattered one bit in our opinion [of him] -- but it's very nice that he's able to get the recognition for all that work.
"What's probably the topper is, as good of a player as he is, I don't think it touches the kid he is. That makes it even more special."
With the loss, Carrasco dropped to 8-7 on the season, but he the right-hander lowered his ERA to 2.55 on the year. Carrasco struck out 10 and walked three in his 10th start since rejoining the rotation in August. During that 10-start span, Carrasco turned in a 1.30 ERA with 78 strikeouts, 11 walks, a 0.81 WHIP and a .179 opponents' average across 69 innings.
"I was still hungry to pitch in the rotation," Carrasco said. "Now I just believe in myself and my stuff and everything."
Carrasco also believes Cleveland's rotation can be special come 2015.
"I think we're going to be great," he said. "We showed this year we can do this."
Jordan Bastian is a reporter for MLB.com. Read his blog, Major League Bastian, and follow him on Twitter @MLBastian. This story was not subject to the approval of Major League Baseball or its clubs.