Moore dissects moves carrying KC to postseason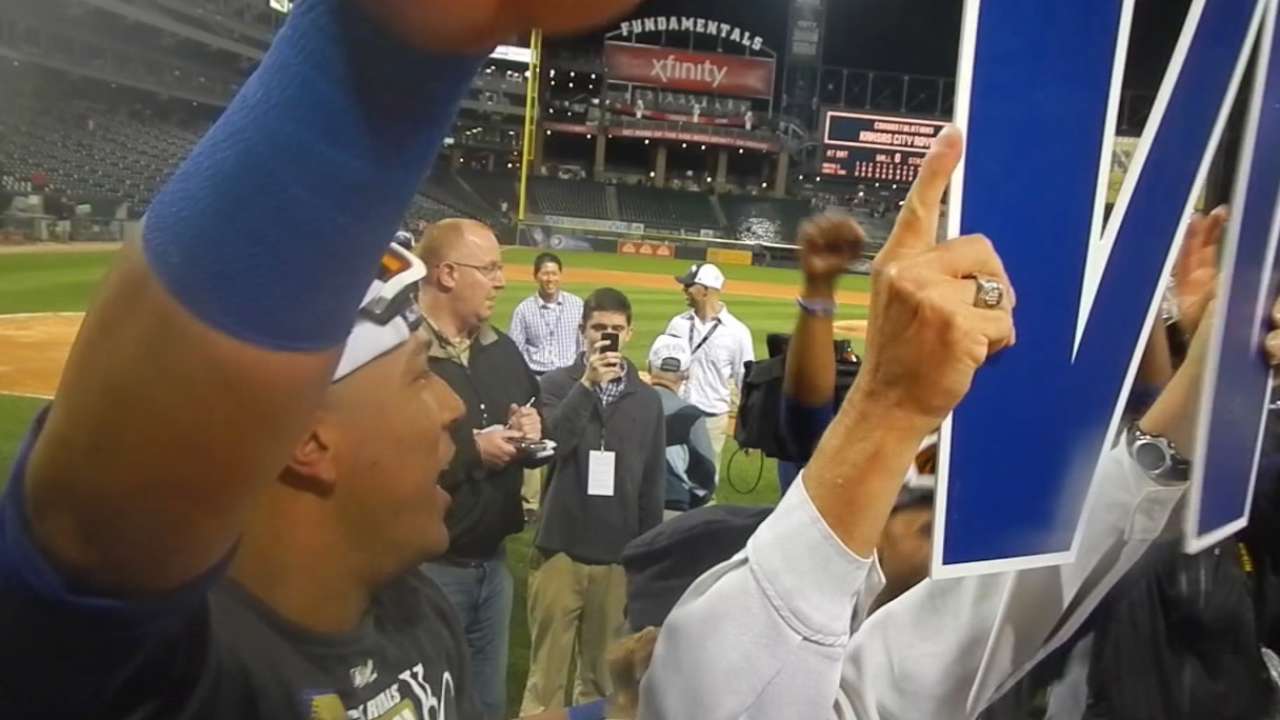 After the Royals clinched their first postseason berth in 29 years, MLB.com talked with general manager Dayton Moore.
MLB.com: What's your level of excitement with the team's level of success?
Moore: I'm very proud of what we've been able to build here. We're not where we want to be, but I believe we're in a position to have some sustained success going forward.
MLB.com: What were the moves that you made just recently that helped the team down the stretch?
Moore: It started with bringing Jason Frasor in the bullpen. We added him when we were a little tired and worn down in some areas of the bullpen. Jason brought a veteran presence and just a security that was important for our bullpen at the time. Scott Downs did the same thing. And of course, Raul Ibanez and Josh Willingham I think, along the same lines, created some confidence and stability within our clubhouse and on the field.
MLB.com: On a longer term, how satisfied are you now with the way the trade for James Shields and Wade Davis turned out?
Moore: It's everything that we hoped it would be. When you make deals, you hope and expect them to work for both organizations. I think it's turned out that way. It strengthened our pitching to a point where we were able to play competitive baseball from the first day to the last.
MLB.com: How much credit for the success of this team goes to the Glass family?
Moore: Mr. (David) Glass and Dan (Glass) have supported everything that we've set out to do. They've been very patient with our baseball operations, and I'm hoping that we can pull this off and make them proud.
MLB.com: How pleased are you with the way the Minor League system has developed and produced for you?
Moore: Our folks have done a great job. Everybody in scouting and player development should feel really good about what we've been able to build here. Of course, we have to do it from within as we all know, as do most organizations, but there's more of an urgency for us being the market that we're in. But our people have done a terrific job.
MLB.com: What do you think Ned Yost's biggest contribution has been to this team?
Moore: Ned has been a very consistent leader, a great competitor, and I think he and the coaches have provided an atmosphere where players can go out and play fearless and aggressive. He's done a magnificent job of creating a culture in the clubhouse and on the field.
MLB.com: What are the long-term implications of the Royals' success for the team?
Moore: Last year, I said I felt we were in the beginning stages of a window that was going to give this group of players a chance to win for a period of time. It's always going to be centered about pitching and defense and speed. We've got to do better job of getting on base and being selective as an offensive unit, which we're in the process of trying to do. But the players are in place, it's a great core group of talent that we've got to continue to build around. The truth is, this is all very fragile in Major League Baseball, and you've got to commit and work hard every single day to make sure you put the best team that you can on the field.
Dick Kaegel is a reporter for MLB.com. This story was not subject to the approval of Major League Baseball or its clubs.