Happ stymies O's to cap strong second half
Veteran finishes with an 11-11 record after overcoming early adversity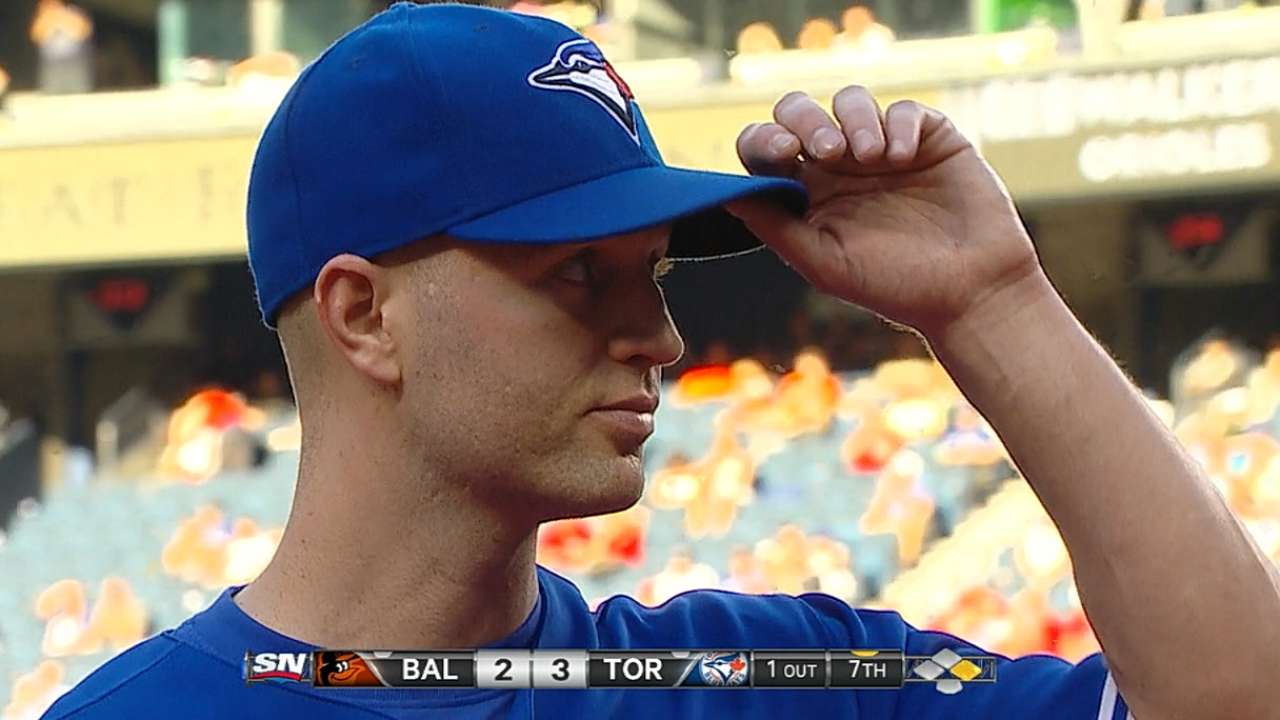 TORONTO -- J.A. Happ's season may have started on a sour note, but it ended on a positive one on Saturday against the Orioles.
Happ pitched at least six innings for the seventh straight game, holding the Orioles to a pair of runs on four hits over 6 1/3 frames, as the Blue Jays topped Baltimore, 4-2, at Rogers Centre.
In doing so, he closed out a season that began for him under tenuous circumstances -- one that gradually grew into a successful campaign for the veteran left-hander. Happ's second-half numbers stood in stark contrast to his performance prior to the All-Star break.
"Sometimes, it's tough to see the light at the end of the tunnel," said Happ, who threw 158 innings for the season, the most he's managed since 2009.
"... You kind of have to keep having faith and keep working and it pays off. It felt good to walk off the mound today with the fans cheering."
Happ did what he's done repeatedly over his past dozen or so starts: deliver a solid six innings that gives his team the opportunity to win.
Despite Delmon Young's RBI single in the second and a solo shot to Adam Jones in the sixth, Happ mostly held Baltimore at bay to even his record at 11-11 for the season.
While he's been a dependable starter for the Blue Jays for most of the 2014 campaign, Happ's spot in Toronto's rotation was thrown into question back in Spring Training, before he went on the disabled list with a back injury. Upon his return, the southpaw had to bide his time in the bullpen.
"He didn't wanna do that. We didn't want him to have to do that," Blue Jays manager John Gibbons said. "That's really not what he is."
Happ finally got his chance when Brandon Morrow went down with a torn tendon sheath in his right index finger that led to a long stay on the DL in early May. But isn't wasn't until the second half of the season that Happ really found his form.
Despite a losing record during the second half, Happ's numbers after the All-Star break were a marked improvement over his first-half stats, which included a 4.91 ERA and 33 walks over 17 games (13 starts).
He turned the corner in late July, recording respectable numbers -- despite posting a 4-6 mark over 13 second-half starts.
Happ's second-half ERA (3.56) was more than a full point lower than during the first half, as he walked half as many batters. His strikeout-to-walk ratio (69-18 vs. 64-33) was significantly better, as well.
"He was really good today," Gibbons said. "But he's been really good all year. I think he's really kicked it [up a notch] after the All-Star break and been very consistent. He's proven he's a pitcher that can go deep into games."
Happ, who turns 32 in October, enters the offseason with a one-year option on his contract worth $6.7 million for 2015. Asked whether the club would pick up that option, Gibbons directed questions to general manager Alex Anthopoulos. But in his own opinion, Gibbons said Happ has made a strong case for himself.
"I like everything about him," said Gibbons. "I think he's really come into his own. He's not a young kid, but you see a more consistent pitcher."
Happ, who had the lowest run-support average among Blue Jays starters this season (3.8 runs per game), got just enough from Toronto's offence on Saturday.
The Blue Jays took the lead in the third, as they chipped away at Orioles starter Wei-Yin Chen with three straight hits that led to a pair of runs. Kevin Pillar had a one-out single before Steve Tolleson plated him with a double down the left-field line. Tolleson scored on Jose Reyes' double, as the Blue Jays took a 2-1 lead.
Toronto added another run in the fifth on a Baltimore error to grab a 3-1 advantage, then got some additional insurance after a crew-chief review in the seventh. Pillar attempted to score from third base on a fly ball by Reyes to Jones. But Baltimore's centre fielder made an almost perfect throw to the plate and home-plate umpire Jim Wolf called Pillar out after a head-first slide.
Gibbons came out of the dugout to ask the umpiring crew to take a closer look at the play. It wasn't a team challenge, because Gibbons felt there was a possible violation of Rule 7.13, which states the catcher must provide a clear basepath for the runner.
When umpires take a look at whether the catcher blocked the plate, they also are permitted to examine whether the original call on the field was correct. In this particular case, replays showed that Pillar avoided the tag from catcher Caleb Joseph for long enough to touch a piece of the plate with his left hand.
Following a review of 3 minutes and 17 seconds, the call on the field was overturned and Toronto was awarded an extra run. That gave the Blue Jays a 4-2 lead and allowed the seventh inning to continue. Jose Bautista then came to the plate and flied out to left field. But, by then, the damage had already been done.
After Happ exited, relievers Aaron Sanchez and Casey Janssen managed to lock things down the rest of the way.
"He's always tough, he's a good pitcher," Baltimore right fielder Steve Pearce said of Happ. "He has been around for a while. He was mixing his pitches and located. He's a good pitcher and he has some good stuff."
Jamie Ross is an associate reporter for MLB.com. This story was not subject to the approval of Major League Baseball or its clubs.