MLB.com Columnist
Bill Ladson
Zimmerman ready to contribute in postseason
Recovering from hamstring strain, left fielder says four off-days will be helpful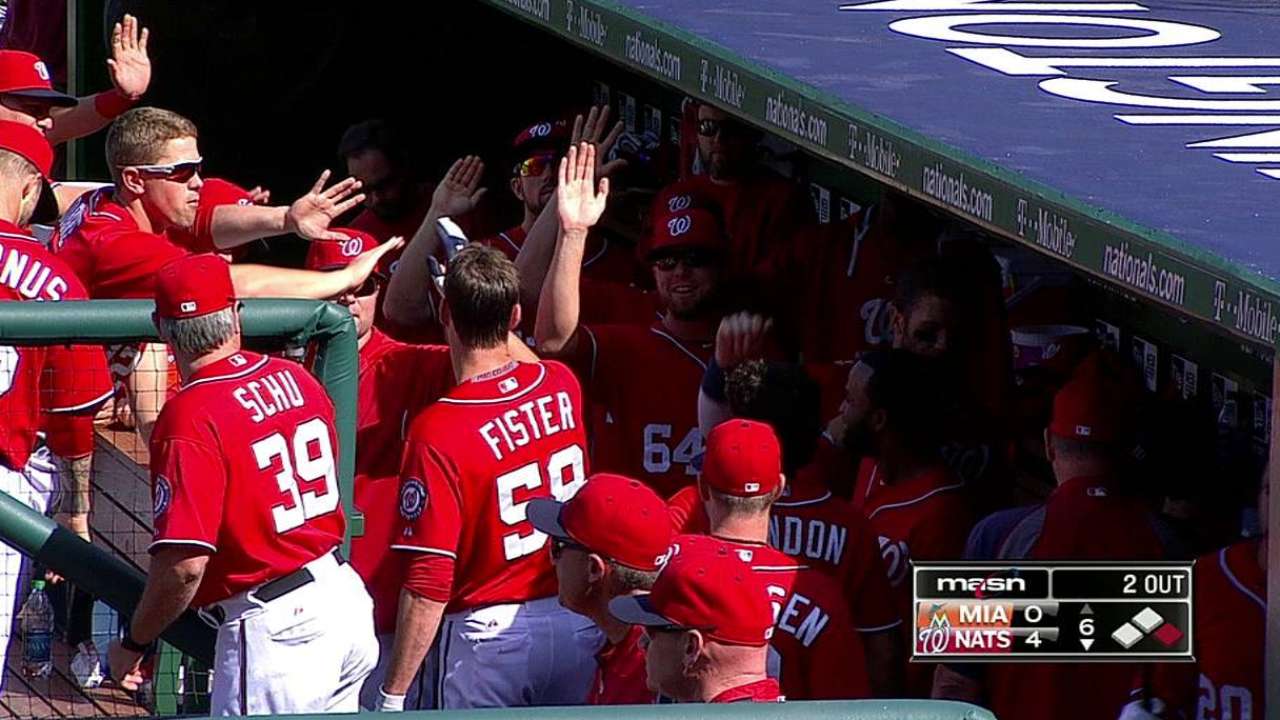 WASHINGTON -- Nationals slugger Ryan Zimmerman was not in Saturday's starting lineup in the Nationals 5-1 win over the Marlins, but he came in off the bench.
Zimmerman, who sustained a Grade 3 strain of his right hamstring in July, still doesn't know what his role will be during the National League Division Series, which starts Friday on FOX Sports 1. At this point in the year, Zimmerman said he can't only think about himself; he has to think about the team.
"I have no problems with it. The goal is to have as many people ready to play as we can. Hopefully, we can achieve a goal -- win a lot of games in the postseason," Zimmerman said.
Since he was activated off the disabled list on Sept. 20, Zimmerman has played left field, first base and has come off the bench as a pinch-hitter. Saturday was the first time he played first since being activated from the DL, and he made an error off the bat of Enrique Hernandez and that allowed the Marlins to load the bases in the ninth inning.
Manager Matt Williams did not seem concerned about the error.
"It was a funky spin," Williams said. "You have that all the time in the world, and it's bouncing all over the place and jumping all over the place. It's not easy. I've seen a lot of those from the other side at third. It's not fun, because you don't know which direction it's going to go."
The team is still looking for Zimmerman to play third, but Williams gave every indication that he will be on the roster in the first round of the playoffs.
"Unless something happens," Williams said."I think his timing is good at the plate. I think he is capable of playing where we want him to play and certainly swing it. I think he is good. He feels good about it, too."
Zimmerman cautions that he has to be careful when he is on the field, because he doesn't want to tweak the hamstring.
Since his return to action, Zimmerman is 5-for-15 (.333) with a two RBIs, but he has yet to drive the ball all over the place. That will come, Zimmerman said.
"The timing is OK. My strike/ball recognition is pretty good. I'm not swinging at a lot of balls, which is good. ... I've been really happy with the at-bats that I've had," Zimmerman said. "I'm drawing a walk, going the other way."
There is one game left during the regular season and four off-days before the postseason starts. During the off-days, Zimmerman may participate in simulated games. On a scale of 1 to 10, Zimmerman said the hamstring is between a 7 and an 8.
"We have played a lot of baseball the last couple of days," Zimmerman said. "It's just one of those things where we've come this far -- we didn't know if I was going to come back and contribute at all. It's come this far to the point where I could be of help in some way. The hope is, we'll have [almost ] a week off; we have another four or five days for it to get better. Then we can reevaluate it from there."
Zimmerman will actually be celebrating his 30th birthday on Sunday, the final day of the regular season. He jokingly said he feels old, "a lot older [than] when I talked to you when I was 20."
Zimmerman said he has a lot of great memories since the joined the big league club on Sept. 1, 2005.
"I feel very lucky to be where I'm at now, to go through what I've gone through, given the opportunities I've been given. It's been a really fun 10 years. Hopefully, I'll have five to 10 more. Definitely five more. Hopefully, closer to 10."
Bill Ladson is a reporter for MLB.com and writes an MLBlog, All Nats All the Time. He can also be found on Twitter @WashingNats. This story was not subject to the approval of Major League Baseball or its clubs.