Jeter tweaks hamstring, plans to play today
Yankees captain receives Fenway ovation, finishes 1-for-2 with infield hit as DH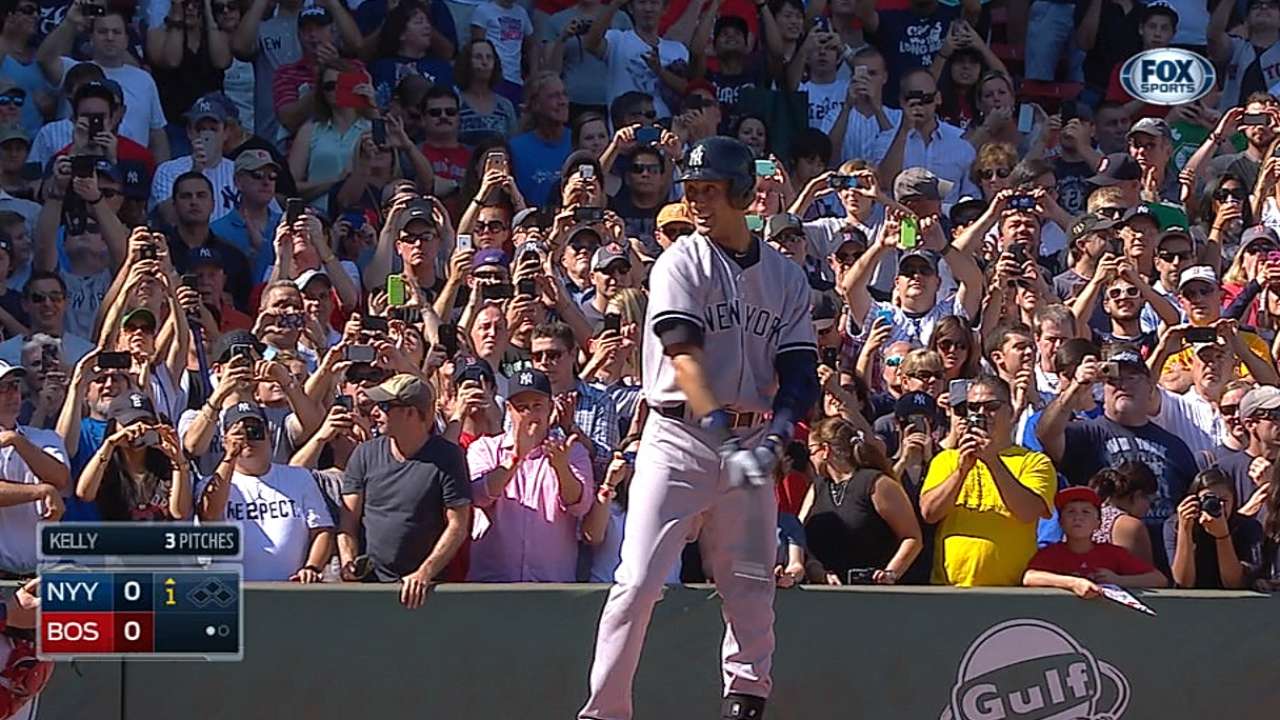 BOSTON -- Yankees captain Derek Jeter went 1-for-2 with an infield single, the 3,464th hit of his career, on Saturday afternoon at Fenway Park before exiting for a pinch-hitter in the fifth inning. The Red Sox won, 10-4.
Batting second as the Yankees' designated hitter, Jeter struck out swinging against Red Sox starter Joe Kelly in the first inning. He chopped a ground ball to third baseman Garin Cecchini in the third, beating it out without a throw.
On the infield hit, Jeter apparently tweaked a hamstring, but manager Joe Girardi said after the game that he didn't think it was anything that would keep Jeter out of the final game of his career.
"I think he had run extremely hard; he had to stretch," Girardi said. "He probably felt it a little bit in his hamstring. He didn't say that he was injured, but we'll see."
Jeter appeared to be walking with a slight limp as he passed through the clubhouse. When asked if he planned to play on Sunday afternoon, Jeter replied, "Yup," before exiting down the stairway that leads to the playing field.
Girardi said that he will agree with whatever Jeter wants to do Sunday, which would be his 2,747th and final regular-season game. It would also be his 153rd game at Fenway Park (regular season and postseason), surpassing Lou Gehrig and Mickey Mantle for most games played in Boston as a Yankee.
"I'll leave it up to him, like I have yesterday and today," Girardi said. "I'll text him in the morning and see what he wants to do."
Girardi said that even before the tweaked hamstring, it had been Jeter's plan to only bat twice Saturday.
"He told me two at-bats today, so that's what I did," Girardi said.
Francisco Cervelli pinch-hit for Jeter when the DH spot came back around in the fifth, and was greeted by loud boos from the Fenway crowd. Cervelli hit into an inning-ending double play.
Jeter requested the day off Friday following his emotional and thrilling farewell to Yankee Stadium on Thursday night. Jeter said after his walk-off single that night that he would not play shortstop again, but he wanted to DH against against the Red Sox out of respect for their fans and their rivalry with the Yankees.
"I'm not sure what I would've done if I was him," Girardi said. "I'm not so sure I wouldn't have let that be my last moment, and I think he's a guy that feels a real responsibility to the game and that's part of his reason for playing today. He respects the fans and what they've done."
The fans in Boston apparently wanted to see Jeter all weekend, as the crowd cheered and attempted to urge Jeter to pinch-hit Friday night, to no avail.
Jeter received a warm ovation before Saturday's game as he ran sprints in the outfield, and then again before his first at-bat.
"As anticipated," Red Sox manager John Farrell said. "Our fans are great baseball fans, and they recognize a guy they've seen for 20 years here. To acknowledge the career he's had, not surprising in any way."
The game quickly turned Boston's way, with the Red Sox plating eight in the second inning to take a 9-0 lead and knock New York starter Masahiro Tanaka from the game before he could record a sixth out.
Bryan Hoch is a reporter for MLB.com. Follow him on Twitter @bryanhoch and read his MLBlog, Bombers Beat. This story was not subject to the approval of Major League Baseball or its clubs.