Reds walk off behind Santiago's grand slam
Axelrod fires scoreless 10th to give 'pen first win since All-Star break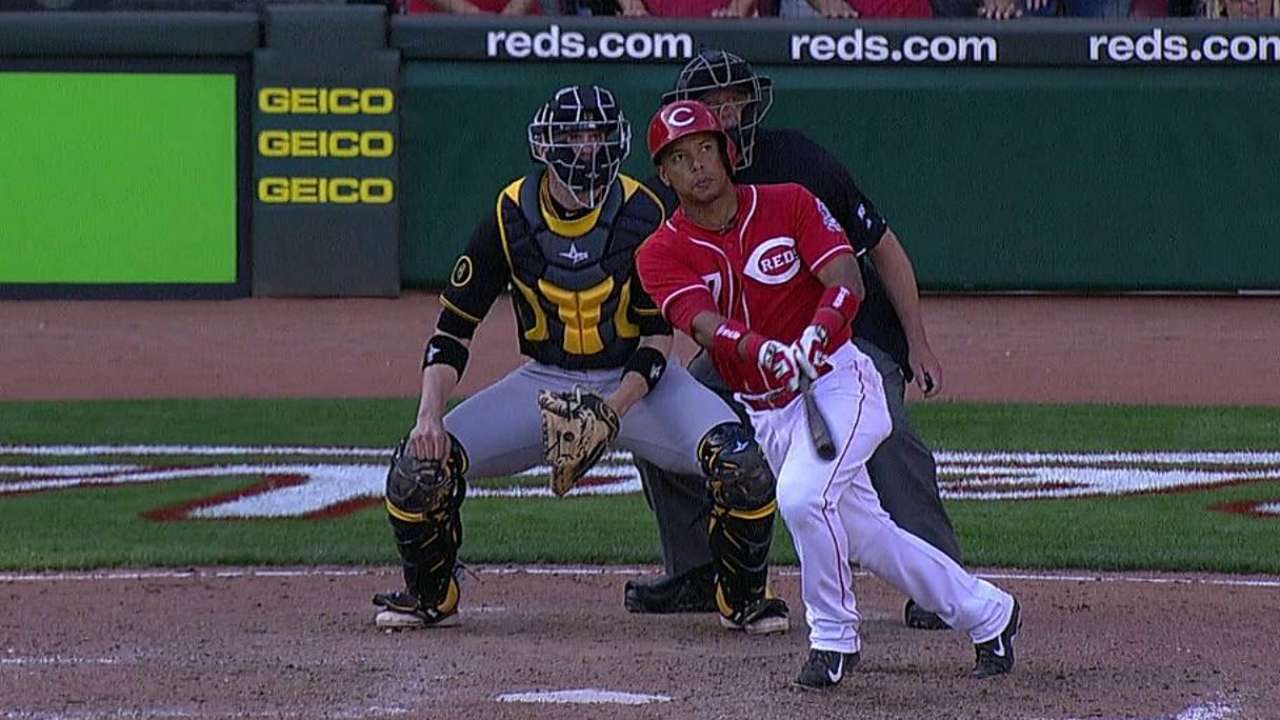 CINCINNATI -- It took 78 days, but the Reds' bullpen got its first win of the season's second half on Saturday afternoon in unlikely fashion.
Entering the game 0-17 since the All-Star break, Cincinnati's relief corps was far from perfect, but it got the job done in a 10-6 walk-off win over the Pirates on a 10th-inning grand slam by Ramon Santiago. A Reds reliever last won a game, ironically, also against the Pirates back on July 11.
Santiago, who entered the game with one home run on the season, belted his first career grand slam off reliever Bobby LaFromboise with two outs in the 10th, giving Dylan Axelrod the win and putting a dent in Pittsburgh's hopes for a division title. Axelrod hadn't pitched since an oblique strain forced him out of the starting rotation on Sept. 8.
"I hit it pretty good," Santiago said of his second career walk-off homer and Cincinnati's first walk-off grand slam since Joey Votto hit one against the Nationals on Aug. 13, 2012. "It was a fastball, middle in. He threw the first pitch in. The first couple of at-bats they busted me inside, so I was looking middle-in and looking to put a good swing on it. I got the pitch I wanted and hit it out."
Axelrod's appearance was very meaningful for the right-hander.
"It was just a big boost going into the offseason," Axelrod said. "It was a great way to have some time off and, you know, you finish on an injury and it's kind of disheartening and I didn't want that to happen. I did everything they asked me to in the training room and more. I just wanted to be out there really bad. I'm happy I got the chance."
Axelrod had been ready for that opportunity for a few days.
"I was out there [in the bullpen] on Thursday," he said. "I was looking at today as a day I could get in there; we've got [Johnny] Cueto tomorrow -- that's about eight or nine innings right there. I was prepared today and I was ready when they called down."
"He could not have come back at a better time, [because] we were down to two options in our bullpen," manager Bryan Price said. "And we really needed that length; that's what gave us the opportunity to go out there and think that if we had to win it in 13 or 14 innings we could do it, because we had him."
Axelrod wasn't aware that he was the first Reds reliever -- albeit a starter who came in for a rare relief appearance -- to earn a win in nearly three months.
"I'll take it," Axelrod said.
As will the Reds, who are trying to end the 2014 campaign on a positive note.
For much of Saturday's affair, it looked as though Cincinnati would have to wait until Sunday's season finale for that positive note to materialize.
With the game tied at 4 and two out in the seventh, Reds reliever Sam LeCure hit Travis Snider. Gregory Polanco pinch-ran for Snider, promptly stealing second base. The next batter, Andrew McCutchen, singled to left to put Pittsburgh ahead, 5-4.
Neil Walker followed with a triple to bring in McCutchen and extend the Pirates' advantage to two runs.
The Reds stormed back to tie the game on a two-run homer by Todd Frazier in the seventh, his team-leading 29th of the season.
Cincinnati starter Alfredo Simon allowed one hit through four innings before a three-run Pirates fifth ended his afternoon.
Leading, 3-1, in the fifth, Simon surrendered a Jordy Mercer homer to lead off the frame. One out later, Pirates starter Francisco Liriano singled to right. He moved to third when the following batter, Josh Harrison, doubled off the wall in right field.
Following a Snider lineout to right and a walk by McCutchen, Simon gave up a two-run single to Walker that put Pittsburgh in front, 4-3.
Overall, Simon allowed four runs on five hits, walking two and striking out four in five innings.
The victory for the Reds was their first in the last 46 games in which they allowed six or more runs, a club record dating back to Aug. 23, 2013.
Manny Randhawa is an associate reporter for MLB.com. This story was not subject to the approval of Major League Baseball or its clubs.