Loss ensures Giants will play Wild Card on road
Padres tag Vogelsong for three runs in sixth inning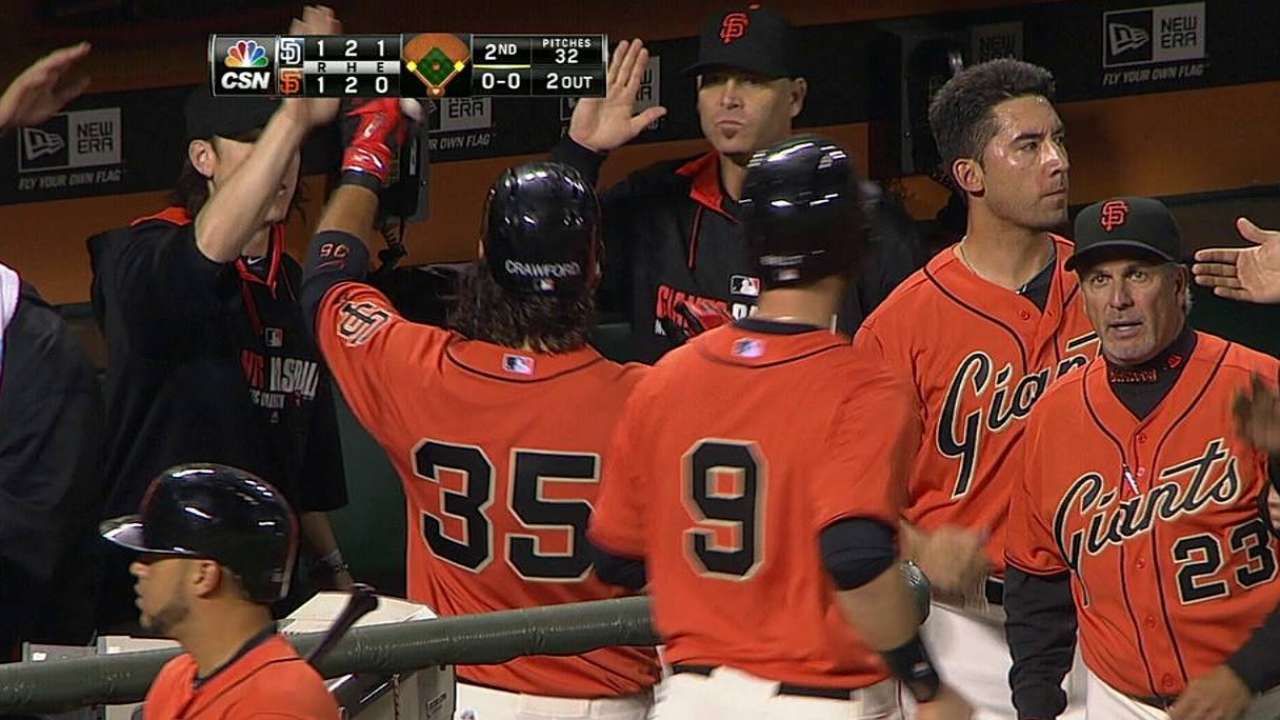 SAN FRANCISCO -- The Giants posted a 43-38 road record this season, third-best in the National League. They'll need to summon all of their aptitude as travelers to advance past the postseason's introduction.
The Giants' 4-1 loss Friday night to the San Diego Padres guaranteed that they'll play Wednesday's Wild Card showdown away from home. San Francisco likely is headed for an encounter with Pittsburgh, which clinched the No. 1 Wild Card spot, at PNC Park. But since the Pirates remain mathematically alive in their NL Central race with first-place St. Louis, a Giants-Cardinals matchup at Busch Stadium also is possible.
"We don't know exactly where we're going, but we know we're going somewhere and we'll be prepared for it," said left-hander Madison Bumgarner, who'll start Wednesday for the Giants.
Bumgarner actually has performed better this season on the road (11-4, 2.22 ERA in 18 starts) than at home (7-6, 4.03 in 15 starts). But he downplayed that factor.
"I don't think about it a whole lot," he said. "I try to treat them all the same no matter where we are. Obviously we'd like to [play] in front of the fans here. Hopefully there are a few more series to come after that one-game playoff."
Regardless of which opponent they'll face, the Giants appear destined to stagger, not swagger, into the postseason. They've lost six of their last eight games, scoring two or fewer runs in six of them while receiving one quality start.
The Giants' latest setback fit this pattern of mediocrity. Performing without .310-hitting Buster Posey, who rested a sore back, they mustered four hits in seven innings off San Diego starter Ian Kennedy (13-13), who toughened at the right times.
San Francisco settled for Brandon Crawford's sacrifice fly after loading the bases with one out in the second inning. The Giants had runners on first and second with one out in the fourth and sixth innings, but Kennedy met both challenges. Andrew Susac lined out and Crawford grounded out to end the fourth before Kennedy escaped the sixth by retiring Travis Ishikawa and Susac on called third strikes.
Giants starter Ryan Vogelsong dropped his fourth consecutive decision, yielding four runs (three earned) and six hits in 5 1/3 innings. The right-hander's season-long pattern of bad luck continued as he surrendered three runs on a pair of broken-bat hits: Yasmani Grandal's first-inning RBI single and Rene Rivera's two-run single in a three-run sixth inning that broke a 1-1 tie.
Despite his 8-13 record, Vogelsong trimmed his ERA from 5.73 to 4.00. More importantly, he made each of his 32 starts. He was the only member of San Francisco's rotation to accomplish that other than Bumgarner.
"It's pretty gratifying to be able to do that," Vogelsong said. "On the other hand, I still didn't throw the ball the way I wanted to all year."
Vogelsong, who cherishes being a Giant, will be eligible for free agency and thus will enter another offseason uncertain of his immediate future. The Giants probably will need starting pitching, since Matt Cain's returning from elbow surgery, Tim Hudson and Jake Peavy are relying on savvy as much as stuff and Tim Lincecum's fate remains unknown. But that doesn't assure Vogelsong of re-signing with San Francisco. His return was in some doubt last offseason.
"That's what makes this game tonight even tougher to take, because you never know where you're going to be year to year when you're a one-year free agent," Vogelsong said.
Criticizing himself for pitches he made that didn't break bats, he added, "I wanted to end on a good one here with [this being] possibly my last home game, depending on what happens in the playoffs. I wanted to have a really good one and I blew it."
Chris Haft is a reporter for MLB.com. Read his blog, Haft-Baked Ideas, and follow him on Twitter at @sfgiantsbeat. This story was not subject to the approval of Major League Baseball or its clubs.