MLB.com Columnist
Phil Rogers
Royals celebrate, but remain focused on AL Central title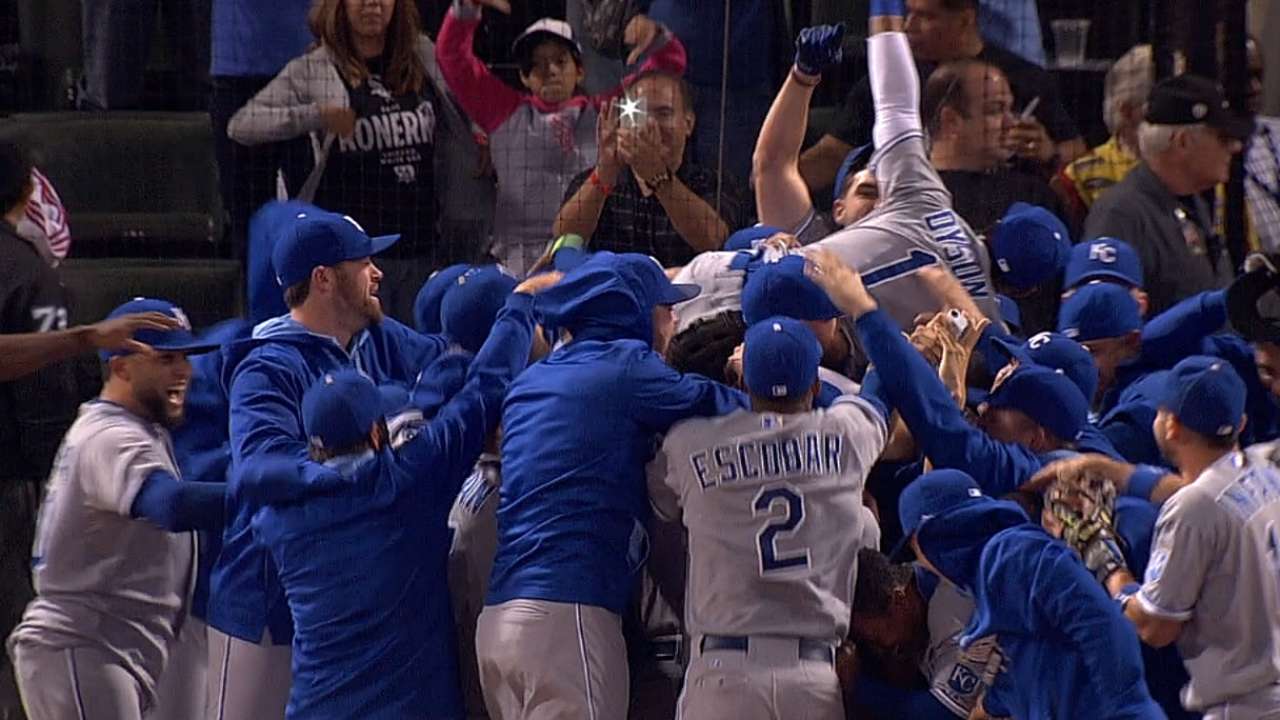 CHICAGO -- Lorde, the Grammy Award-winning singer, wasn't that far away from U.S. Cellular Field on Friday night. She was playing Milwaukee, and here's hoping that at some point in her concert she paused to send some love to George Brett's old team.
It's the least she could do.
The team that inspired a teenage girl from New Zealand to write an international hit is going back to the playoffs for the first time in 29 years.
And you never know, they just might do something for her next album. Resiliency is a trait that songwriters have been known to explore. Ditto persistence and the long, uphill climb.
Brett himself is struck by the doggedness of the team that nailed down a Wild Card spot with a 3-1 victory over the White Sox, ending a post-season drought that dates to the World Series victory over St. Louis in 1985.
"I got tired of people criticizing the players on this team because they hadn't won a World Series since 1985,'' Brett, now the Royals' Vice President of Baseball Operations, said. "Ninety-five percent of these guys weren't even born in '85. It wasn't their fault. These guys played their butts off. Eight games out, seven games out, took the lead, blew that, got seven games down again, came back, got the lead again and battled and stayed with a [Tigers] team that's supposed to win the division by a lot. They're in a dogfight right now. There's no reason you shouldn't be proud of all these guys right now.''
With a 40-22 record since July 22, the Royals have a team built around pitching, defense and speed. "They got hot,'' manager Ned Yost said. "I don't know [why]. It's a good club. We've had ups and downs. They just kind of got it together and took off.''
Kansas City players celebrated wildly in the U.S. Cellular Field clubhouse and by making an encore trip back onto the infield, to the delight of thousands of fans who had made the trip to Chicago. But their eye remains focused on winning the AL Central title -- they're only one game back of the Tigers -- and going deep into the playoffs.
"Where we're at right now is a good place,'' said left-hander Danny Duffy, who will start on Saturday. "It's a very secure spot in the postseason but there's more to be had. What we're trying to do is get the most out of these last two (games). I'm going to go home tonight and be in bed by 11.''
Sure, the next two games are important. Along with ones in Detroit, Seattle and Arlington, they'll determine what happens after Sunday. The intrigue remains palpable.
But when it's been this long since you've been to the playoffs, those are story lines that'll wait a few hours, anyway. Let's pause to say how great the Kansas City players looked in their postseason gear and do a quick roll call on some others who contributed to them wearing it.
You've got to be happy for the long-time Royals, especially Alex Gordon and Billy Butler, who are in their eighth seasons in Kansas City. Ditto guys like Greg Holland, Eric Hosmer and Mike Moustakas, who were part of the farm system arms race that was supposed to yield big league fruit before now.
"It's been 10 years for me working toward this process,'' Butler said. "It's a great thing. I'm proud to bring this organization something we envisioned when they drafted me.''
Owner David Glass was unusually patient with his management team, and his faith in general manager Dayton Moore (hired away from the Braves May 30, 2006) and Yost, the fifth-year manager, has finally been rewarded. Glass' widely debated trade of Wil Myers for James Shields and Wade Davis comes in as a winner, even if Shields leaves via free agency this winter.
"I'm really proud for Dayton who put this team together, drafted these players and developed these players, put this team together, lived and died with these players,'' Yost said. "It's just a testament to his vision. And Mr. Glass supporting us and letting us do what we needed to do to be winners.''
But these are hardly the only good guys around the Royals who deserved a shout out after Sal Perez cradled Michael Taylor's mile-high foul pop for the final out Friday.
Art Stewart, now a senior advisor to Moore, drafted over 70 Major Leaguers as a Royals' scout, including Bo Jackson, Carlos Beltran and Johnny Damon. Third-base coach Mike Jirschele, who had spent the last 36 years in the minor leagues as a player and coach, most of them in the Kansas City system, joined Yost's coaching staff this year.
Then there are guys who have only been around for the blink of an eye, like pinch-running phenomenon Terrance Gore (five stolen bases, five runs, one at-bat in nine games) and left-hander Brandon Finnegan, who was attending classes at TCU as late as May.
If there was a moment that epitomizes this team, it was center fielder Jarrod Dyson's back flip after a catch that ended a victory over Oakland on Aug. 11, giving Kansas City one of the momentary leads it held over the Tigers. This was joy in its purest form.
With their growing collection of low-run victories, nailed down by power relievers like Holland, Davis and Kelvin Herrera, the Royals inspire that.
"They didn't care [that it had been so long since the franchise won],'' Yost said. "That wasn't what was important to them. It didn't matter. They didn't go to bed saying, 'It's been 28 years since we've been to the playoffs, let's go to the playoffs.' They're a group that has won championships together in the minor leagues and they wanted to come up here and win a championship in the big leagues.''
They're on their way.
Not very many people are going to pick them to win it all. But their chances are a lot better than that of a teenage girl from New Zealand winning a Grammy with a song she wrote about a baseball player from Kansas City.
Phil Rogers is a columnist for MLB.com. This story was not subject to the approval of Major League Baseball or its clubs.