Donaldson plans to play despite ailing left knee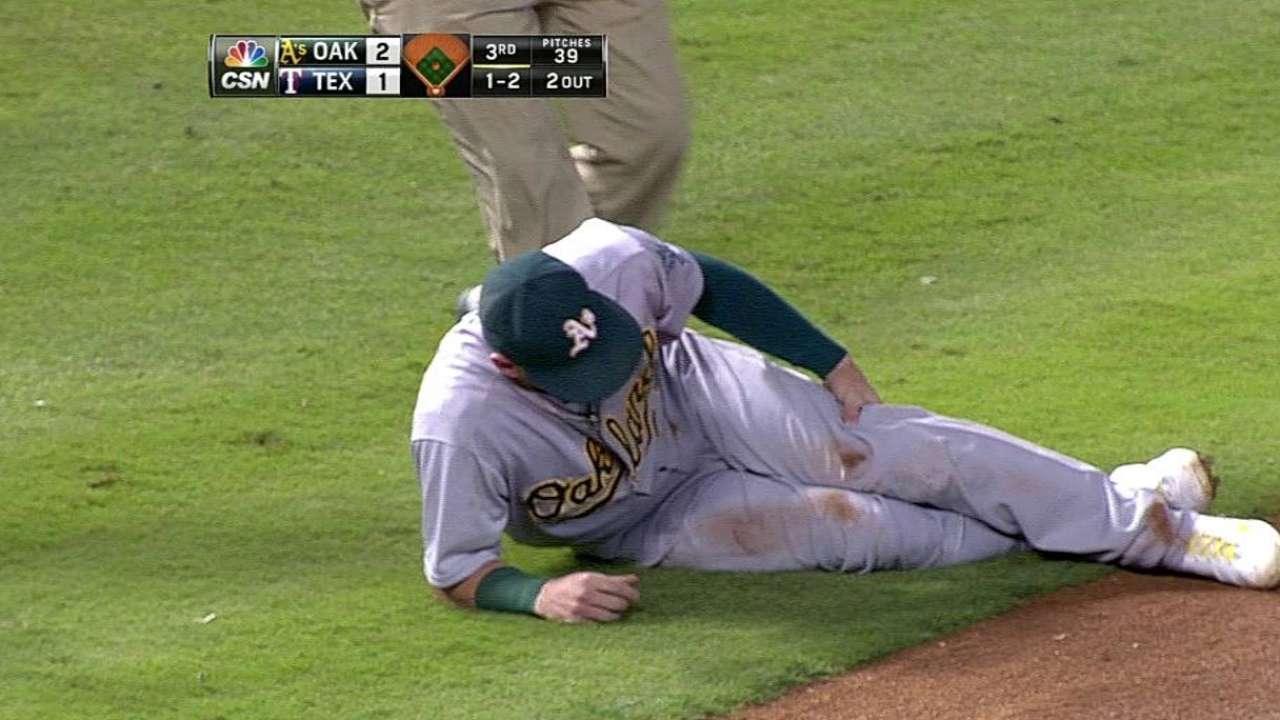 ARLINGTON -- Not playing is not an option right now for A's third baseman Josh Donaldson, who refused to exit Friday night's 6-2 victory over the Rangers despite suffering what appeared to be an alarming left knee injury. Donaldson was examined after the game and deemed his prognosis "OK," saying, "We'll play it by ear tomorrow."
"It's just going to be how I feel," he continued. "Obviously they're going to look at it, but how I felt at the end of the game, it didn't get any worse, which was good. So hopefully I'll be in there tomorrow."
The All-Star third baseman, who has already played banged up for much of the second half with a left hamstring issue, injured the knee on an attempt at a foul-ball grounder in the third inning and looked to be in serious pain, bringing out manager Bob Melvin and the club's head trainer, Nick Paparesta, while leaving his teammates greatly concerned.
Donaldson opted to stay in the game -- "I was just like, 'Let's go,' he said -- and singled in his next at-bat, scoring a run in the same inning despite hobbling around the bases, helping the A's inch even closer to their third consecutive playoff berth.
"It wasn't fun," Donaldson admitted. "That's just with the hamstring thing, too. The hardest part is trying to push off that leg. My left leg wasn't really working."
"He wasn't going to push it as far as running," said Melvin, "but he obviously means a lot to us and he stayed in the game."
Added closer Sean Doolittle: "It was very scary, but the kind of guy that Donaldson is, he's tough as nails. He's an absolute gamer. His legs are gonna have to be off his body for him not to stay in the game. We all breathed a huge sigh of relief when he got up, and then next at-bat got a knock, scored a run. That's the kind of player that he is."
Donaldson has played in a team-high 156 games, and it's unlikely he sits out while the A's postseason picture is still being painted.
"I want to be out there for my team," he said. "This is the most important time of the year and if I can move I'm going to try to be out there."
"I didn't even think he'd come back and do what he did," said Josh Reddick. "It just shows how tough he really is and shows how important these games really are. To stay in was really big and to even come up with a big base hit like he did and get that rally going. Hopefully he's all right because without him it's going to be a tough task."
Jane Lee is a reporter for MLB.com. This story was not subject to the approval of Major League Baseball or its clubs.