Cleveland's improbable postseason run ends with A's win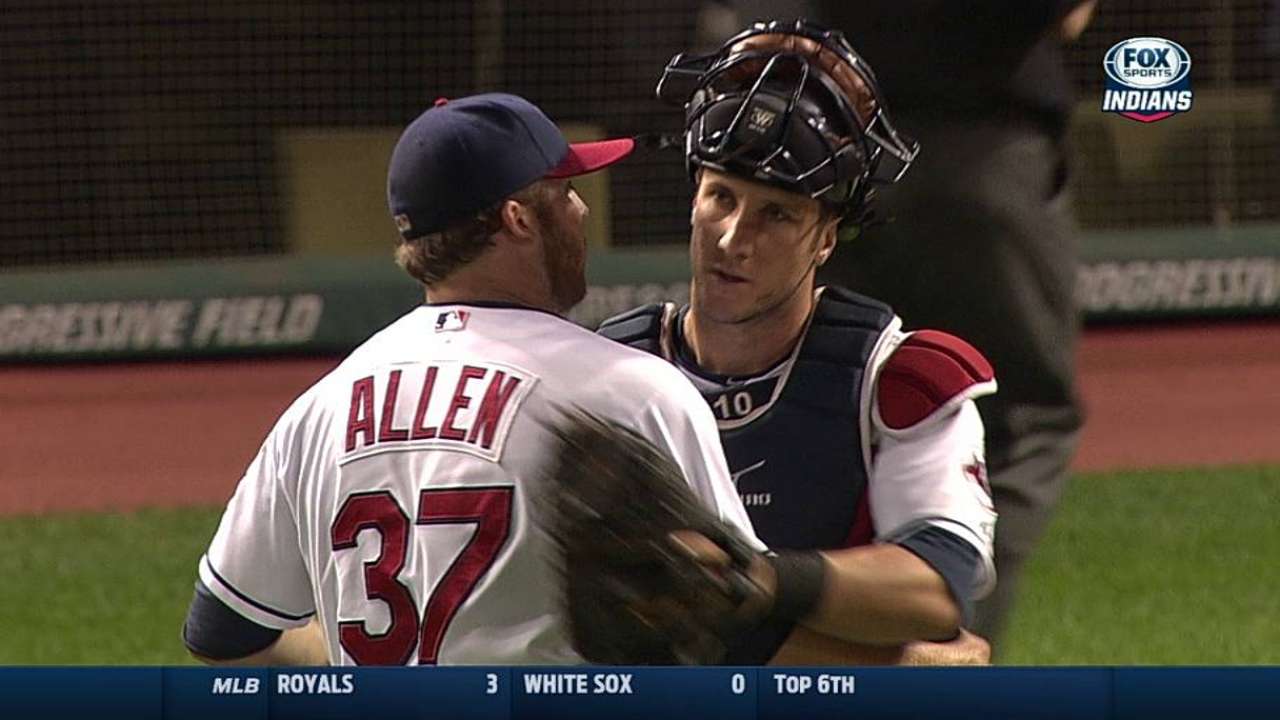 CLEVELAND -- The Indians enjoyed only a brief taste of the postseason a year ago, playing in front of a packed Progressive Field in the American League Wild Card Game. It was an electric evening for the city, but one that served as an October tease when the Tribe lost to the Rays.
On Friday night, the Indians picked up a 1-0 win over Tampa Bay behind a strong performance from Corey Kluber, but this was hardly a case of payback. This was a win built on desperation, and it still led to another night of deflation as Cleveland saw its improbable road to the postseason officially end.
Oakland's win over the Rangers kept the Indians three games back of the second Wild Card spot with only two games to go. That knocked Cleveland out of the mix.
"Yes, after the last year, we would've liked to be right back in the playoffs," second baseman Jason Kipnis said last week. "But, you can tell there is a reason guys bought in here."
Kipnis referred to the fact that he, along with players such as Michael Brantley, Yan Gomes and Carlos Santana, signed a long-term extension with the idea of bringing a winning culture back to Cleveland. To that end, the Indians will finish this season above the break-even mark, giving the organization consecutive winning seasons for the first time since 2000-01.
There were a pile of unpredicted injuries and issues this season, but Cleveland found a way -- amidst a mid-season youth movement -- to remain in the running for a Wild Card spot until Game 160. Key players such as Nick Swisher, Michael Bourn and Kipnis dealt with injuries at various points, while Opening Day starter Justin Masterson and shortstop Asdrubal Cabrera were traded away in July.
Still, the Indians stayed in the hunt until the season's final series.
"That says a lot for the character of the team," said Kluber, who went 18-9 with a 2.44 ERA and 269 strikeouts this season. "We've had a lot of change in certain areas throughout the year. At times, we didn't play up to our capabilities, but the fact that [we were] still grinding and [were] still in it, I think that says a lot about the character."
If Cleveland wins one of its final two games, it will mark the first time since 1997 that the club has pieced together five straight months with at least a .500 record. Where the Indians went awry this season was April, posting an 11-17 record to get off on the wrong foot. They posted winning records in May and July and went 18-9 in August to pull close to the Wild Card race by the start of September.
That made things interesting, but the Tribe could not make up the ground lost early in the year.
"I hear people say that all the time, that, 'Well, you have to play well in September,'" Bourn said. "Yeah, you do, but the whole season counts. You don't want to put your back against the wall, especially with the kind of team we have. We have a young team, so you don't want to put your back against the wall late."
There are still reasons to believe Cleveland can bounce back in '15. First and foremost, its rotation -- led by Kluber and Carlos Carrasco -- developed into one of the best staffs in baseball in the second half. The Indians will also have key members of the offense looking to turn in strong comeback campaigns.
"We have a great group of guys in this locker room," Brantley said. "We have great core guys and guys that are coming in here, having fun, playing the game hard and playing the game the right way. We did a lot of great things this year. ... It's been an exciting year. A lot of challenges, but we're going to grow stronger from it."
Jordan Bastian is a reporter for MLB.com. Read his blog, Major League Bastian, and follow him on Twitter @MLBastian. This story was not subject to the approval of Major League Baseball or its clubs.