Renteria ejected after confusion over balk call
Brewers' Gomez reaches on single as Rizzo doesn't cover first base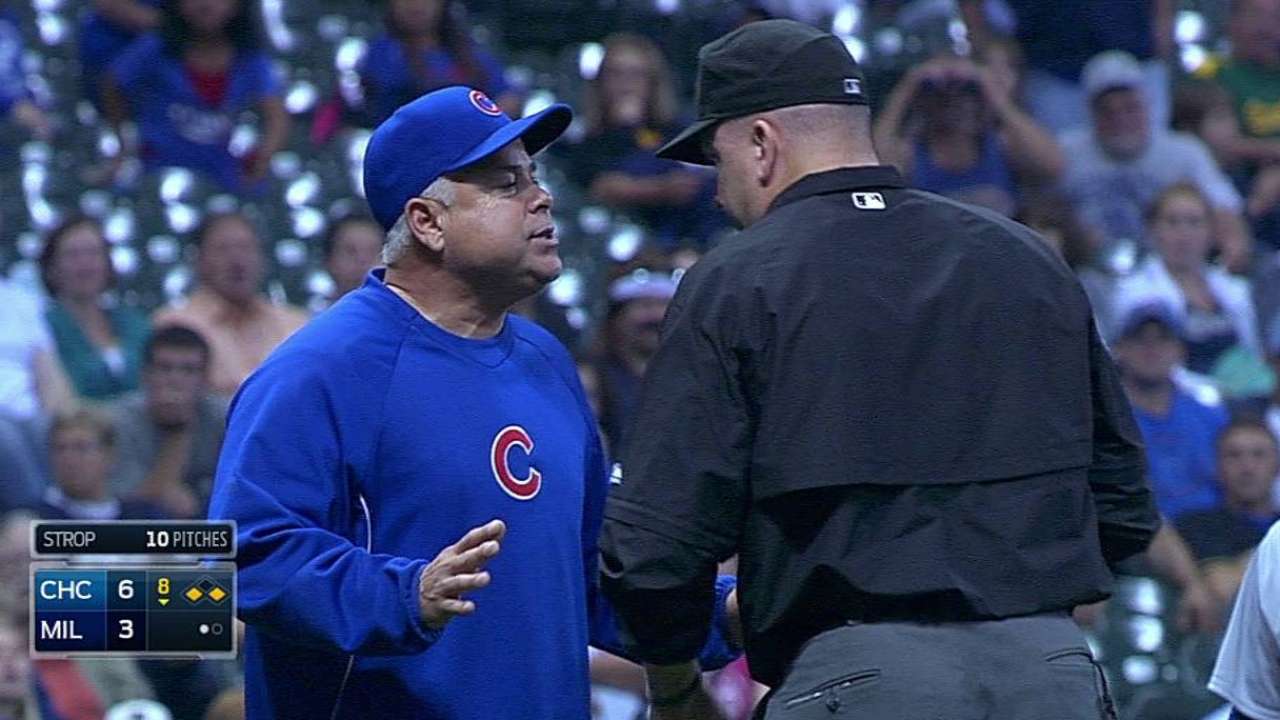 MILWAUKEE -- Cubs reliever Pedro Strop heard second-base umpire Jeff Nelson call a balk against him, but there was some confusion over the play. Manager Rick Renteria disagreed with the call and was ejected Friday night during Chicago's 6-4 win against the Brewers.
The Brewers had a runner at second and one out in the eighth with Strop on the mound when Carlos Gomez hit the ball to third baseman Luis Valbuena. Nelson called a balk before Gomez hit, and Chicago first baseman Anthony Rizzo thought the play was dead and didn't cover first.
But a balk call isn't a dead-ball play according to Rule 8.05 (m), and the Brewers had runners at first and third. A run then scored on Rickie Weeks' groundout.
"[Nelson] called it loud, really loud," Strop said of the umpire. "Everybody heard it. They just got confused."
Rizzo admitted he thought the play was dead.
"The rule is, the umpire calls balk, and the pitcher throws, it's a free swing," Rizzo said. "You learn something new every day. I thought it was dead. Thankfully, it didn't cost us a game."
The rule states the ball is dead when a balk is called "unless the batter reaches first on a hit, an error, a base on balls, a hit batter, or otherwise, and all other runners advance at least one base, in which case the play proceeds without reference to the balk."
The Cubs held on for a win over the Brewers, but Renteria was tossed for the sixth time this season.
"He called a balk," Renteria said. "I said enough to get tossed, and that was it."
Renteria didn't want to go into details of his conversation with Nelson.
"I thought he called a balk and I was perplexed," Renteria said. "I didn't necessarily agree, obviously. Then the conversation ensued."
And he was ejected.
"You can't argue a balk," Milwaukee manager Ron Roenicke said. "I'm surprised [Renteria] lasted that long. All you can do is go out and ask what he did. But if you argue a balk, you're gone automatically. I was surprised [the argument] lasted that long."
Carrie Muskat is a reporter for MLB.com. She writes a blog, Muskat Ramblings, and you can follow her on Twitter @CarrieMuskat. This story was not subject to the approval of Major League Baseball or its clubs.