MLB.com Columnist
Anthony Castrovince
D-backs need new leadership that can retain talent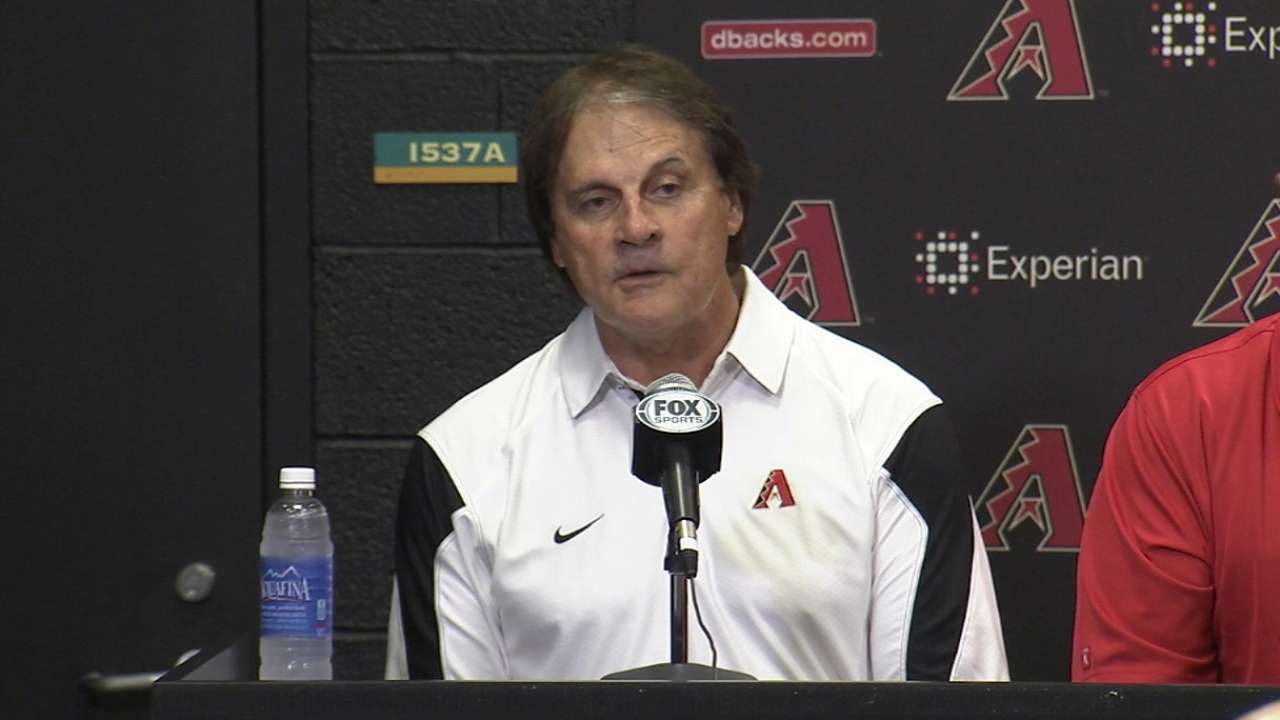 This is a new version of limping off for Kirk Gibson. This is not 1988, when he perfectly followed the formula laid out by advance scout Mel Didier, ignored the pain in the hammy and knee and hit quite possibly the most memorable of World Series home runs.
This is 2014. And no matter how much appreciation we might have for Gibson as a lifetime baseball guy with a lengthy list of achievements and earnest old-school intentions, the emphasis on grit, the barbaric "eye for an eye" mindset and, most of all, the pileup of losses made him undoubtedly expendable for a D-backs club in transition.
The D-backs, under recently installed chief baseball officer Tony La Russa, named Dave Stewart their general manager on Thursday, and Stewart named Gibson his ex-manager on Friday. Gibson and bench coach Alan Trammell -- two guys who very well might have been in your 1980s Starting Lineup figurine collection -- were dismissed at the tail end of a season in which Arizona never spent a single day above .500.
This is how it goes, of course. New guy, new regime, new tactics. No surprise. Particularly for a club that lost 22 of 30 out the gate this season and has continued its spiral as we near the finish line.
The D-backs are going to fall just short of 100 losses this season, on the heels of consecutive .500 seasons (after 2011's National League West title). Not many skippers could be expected to survive such a track record with a new boss installed above them. The only surprise here is that Trammell, strangely, is staying on board to manage this final weekend set against the Cardinals.
Certainly, people will joke that this is a long-awaited way for La Russa and Stewart -- members of that '88 A's club burned by Gibson's homer heroics -- to get revenge on Gibby. But really, one hopes the overarching lesson here, now that both Gibson and former general manager Kevin Towers have been yanked out of their roles, is that prioritizing intangibles over pure talent is dangerous business in modern ball.
The D-backs, under Towers and Gibson, famously did just that, running the talented likes of Trevor Bauer and Justin Upton off the roster in favor of an emphasis on some vague notion of intestinal fortitude that didn't really manifest itself in the win total. One oft-stated indictment of the Towers and Gibson regime was that guys like Bauer, Upton, Ian Kennedy, Tyler Skaggs (before he got hurt) and Brandon McCarthy seemed to be cast off at pennies on the dollar, while the likes of Trevor Cahill, Randall Delgado and Addison Reed went backward upon their arrival.
These changes were about that, certainly. More than anything, though, they are about a fresh start for a franchise that has never received less in the realm of return on investment. The D-backs had a team-record payroll at the outset of 2014, only to be all but mathematically eliminated by the end of April.
Certainly, I'd be inclined to blame 2014's frustrations on injuries (the loss of Patrick Corbin during Spring Training was a mojo killer if ever there was one) and on some of Towers' roster machinations before blaming it on Gibby. It's a standard caveat in any dissection of any skipper dismissal that the manager only controls so much.
That said, at a time when professional baseball is and ought to be pushing forward in terms of strategy and sophistication, Gibson was a throwback in some negative ways.
What happened in mid-June, when Gibson orchestrated an intentional plunking of Ryan Braun for long-since-past grievances against the game was simply bizarre, given the game situation, and Gibson's fist-bump of pitcher Evan Marshall after the plunking was embarrassing. The karma police took care of matters from there, with the very next pitch of the game getting crushed by Jonathan Lucroy for a game-changing grand slam.
But that point was evidently not hammered home, because, less than two months later, Randall Delgado intentionally plunked would-be MVP Andrew McCutchen in retaliation of a clearly accidental (and season-ending) Pirates plunking of Paul Goldschmidt. This, too, was embarrassing -- a dumbing-down of a game that ought to be above such barbaric measures. The fact that Gibson not only encouraged these HBPs but celebrated them was a turn-off even to those of us who appreciate his past as a player and his passion for his profession.
Indeed, you can respect Gibson as a gamer and nonetheless be totally on board with his dismissal. The 6-17 September record under Gibson might be cited as an indication that he lost this clubhouse, but I think that record -- like the overall 2014 record -- is more an indictment of the pieces in place than anything else.
The takeaway here is that the D-backs are looking for a new voice in the dugout, and one can hardly blame them. But what remains to be seen is whether La Russa and Stewart -- two guys who seemingly fall within the "old school" classification -- continue to glorify grit with their new hire or take a more nuanced and tactical approach.
Ultimately, though, player talent is what wins out in this game. And no matter who steps in as the next manager, the D-backs need to do a better job of identifying -- and keeping -- that talent.
Anthony Castrovince is a reporter for MLB.com. Read his columns and follow him on Twitter at @Castrovince. This story was not subject to the approval of Major League Baseball or its clubs.