Brewers' bats unable to pick up Nelson
Rookie righty allows five runs; offense goes 2-for-18 with RISP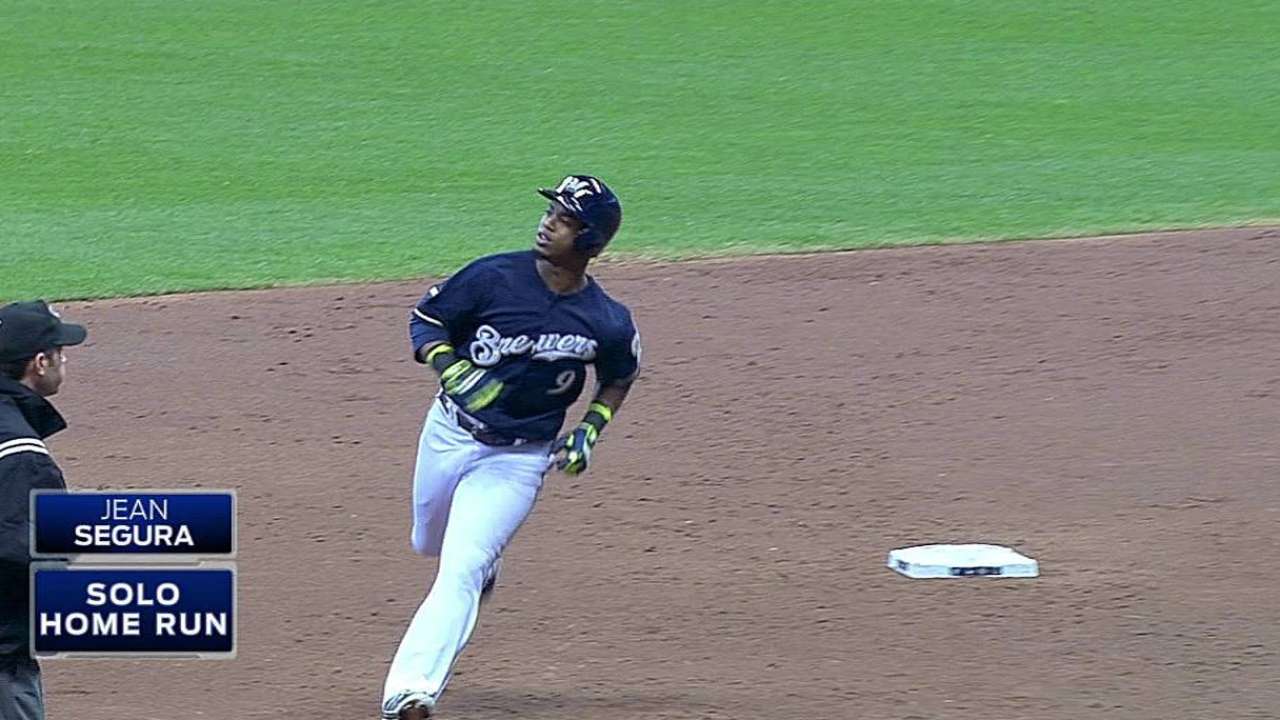 MILWAUKEE -- Before he was the ninth Commissioner of Major League Baseball, Allan H. "Bud" Selig ran the Brewers, so he was uniquely positioned to understand how current owner Mark Attanasio felt as his team's six-week slide stretched to Friday's 6-4 loss to the Cubs.
"My friend Bart Giamatti had it right when he wrote that brilliant ode on baseball: 'It breaks your heart. It is designed to,'" Selig told a gathering before the game, with Attanasio sitting at his side. "You have to understand when you get into this sport that you're going to have years like that. You learn to adjust to that."
Attanasio smiled and subtly nodded. Eventually the men parted ways, and Attanasio took his usual seats next to the dugout to watch the Brewers' first game since they were mathematically eliminated from postseason contention. It became Milwaukee's 21st loss in 29 games.
The Cubs beat rookie right-hander Jimmy Nelson with equal parts broken bats, bloops and blasts, while the Brewers' offense remained in its late-summer slumber. Brewers batters went hitless in their first 13 at-bats with runners in scoring position and finished the game 2-for-18 in the clutch. They stranded eight men in scoring position.
At 81-79, the Brewers are back to within two games of .500 for the first time since they were 4-2, and they must win one of their remaining two games to finish with a winning record. It is a stunning conclusion for a club that was 19 games over .500 on June 28.
Selig remembered a comparable collapse.
"It's a somewhat similar situation to 1983," he said. "We had won [the American League pennant] in '82, and I think we led most of the summer, and we thought we were well on the way. We had a wonderful club; [Paul] Molitor, [Robin] Yount, [Cecil] Cooper and so on.
"And we had a very bad September. I still remember in New York, we were there and had to listen to George Steinbrenner. My mother-in-law tried to talk me into getting out of it right then. She thought it was a horrible business. But you know … Bart also convinced me that baseball is a metaphor for life. That means you have your ups and your downs, you have your happy moments and you have the others. You have to adjust."
Nelson was forced to adjust quickly after he was named to start Friday in place of Matt Garza, who has a stiff shoulder. Nelson finished his rookie season by allowing five runs on six hits in 4 1/3 innings, with one walk, four strikeouts, two wild pitches and a Chris Coghlan home run that put the Brewers in a 1-0 hole before Nelson record his first out.
The Cubs tacked on two runs with a flurry of hits off shattered bats in the third inning, and two more runs in the fifth, one of which scored after long man Marco Estrada took over for Nelson.
"Obviously, it's a tale of two seasons for me," said Nelson, who was 10-2 with a 1.46 ERA in the first half at Triple-A Nashville, and 2-9 with a 4.93 ERA for the Brewers. "I had a great first half, I know what I'm doing mechanically, physically, mentally, and that's something I'm going to get back to. I've had the most frustrating and disappointing second half of the season I've ever had."
Unable to cobble together any significant rallies against Cubs rookie left-hander Eric Jokisch and the relievers who followed, the Brewers scored a run apiece in four different innings beginning with shortstop Jean Segura's home run in the second. It was Segura's first home run since he belted two on June 20 at Colorado, snapping a homerless drought that spanned 255 plate appearances.
Since the start of July, the Brewers are batting .238 overall, 26th of the 30 Major League teams, and .240 with runners in scoring position, good for 25th. Only the Braves and Reds have scored fewer runs per game.
"Can't answer it," Brewers manager Ron Roenicke said. "We watch it and keep hoping they're going to bust out. Just, I don't know."
Adam McCalvy is a reporter for MLB.com. Read his blog, Brew Beat, and follow him on Twitter at @AdamMcCalvy. This story was not subject to the approval of Major League Baseball or its clubs.