Jokisch battles through first start in Cubs' win
Rookie lefty struggles with control; Baez, Soler each drive in two runs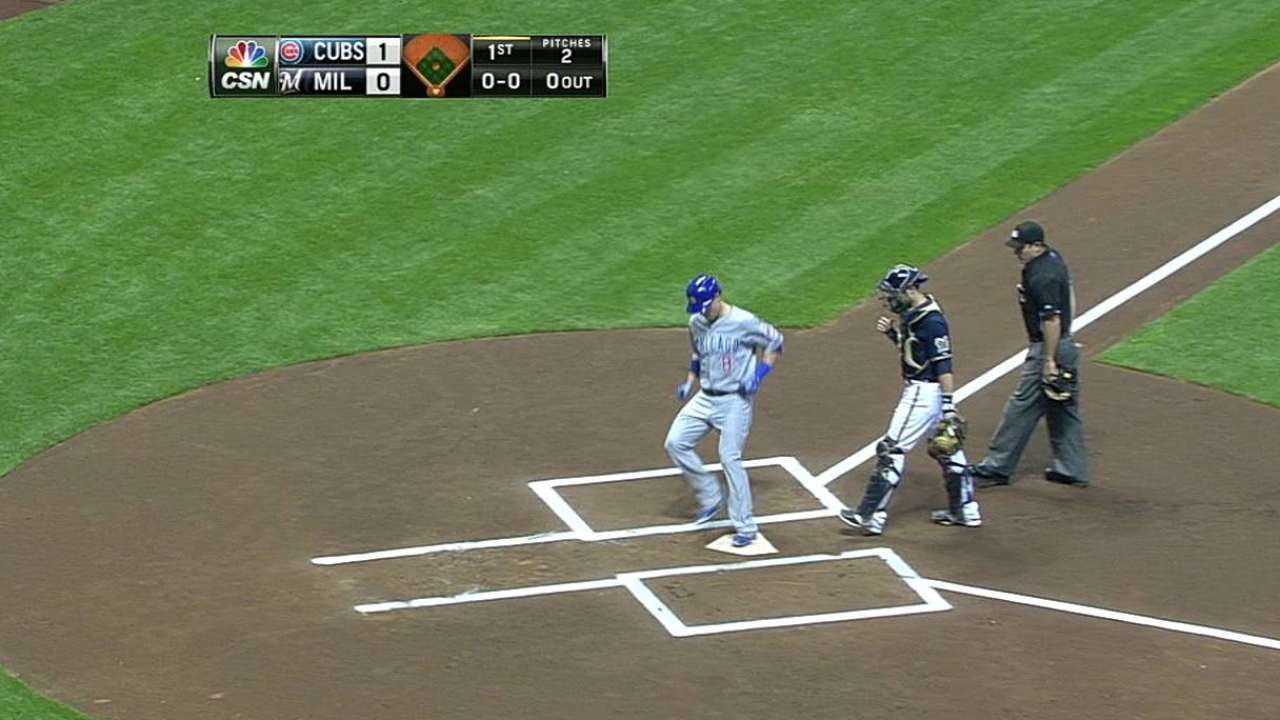 MILWAUKEE -- Triple-A Iowa pitching coach Bruce Walton told Eric Jokisch to make sure to breathe when he was called up to the big leagues. The lefty had to remind himself about that on Friday night.
Jokisch didn't last long enough for a decision in his first big league start, but the Cubs did hold on for a 6-4 win over the Brewers in front of 39,880 at Miller Park.
Javier Baez, who had four hits in his last 10 games, collected three hits and two RBIs, Jorge Soler drove in two runs and Chris Coghlan smacked a leadoff home run to spark the Cubs.
Jokisch learned a lesson: Throw strikes. Making his first big league start and fourth appearance, Jokisch gave up two runs -- one earned -- on three hits and four walks over four innings. He threw first-pitch strikes to just three of the 20 batters he faced, and threw more balls (45) than strikes (41).
"It was a tough one," Jokisch said. "I'm a command guy, and a strike thrower and that just wasn't happening today. I battled through it and made pitches when I needed to and gave us a chance to win."
Was he nervous?
"I was a lot more nervous than I thought I would be," Jokisch said. "I was actually pretty calm in the relief appearances. I think sitting around and having it in my mind got to me a little bit. I was definitely nervous, I'm not going to lie about that. Hopefully, there are a lot more better ones to come. I'll take it, and it's good to win."
Did he remember to breathe?
"I had to tell myself that a few times," Jokisch said. "I got going too fast, and you have to step back and breathe a little bit. I didn't catch myself soon enough and it just snowballed a little. I was still making pitches and getting outs when needed, and that was good."
Coghlan put the Cubs on the board quickly, launching the second pitch from Brewers starter Jimmy Nelson into the right-field seats for his ninth home run. It's his second blast to lead off the first inning this month; he also did so Sept. 20 against the Dodgers' Roberto Hernandez.
But Jean Segura tied the game with a home run with two outs in the second off Jokisch.
Coghlan doubled to open the third and scored on Baez's single. Baez then stole second, and he scored one out later on Soler's groundout to go ahead, 3-1. Baez had a slight edge. He'd faced Nelson in the Minor Leagues this year.
"I'm trying to make my adjustments in-game," Baez said. "I faced Nelson in Triple-A a lot and I knew how he was going to pitch to me, and I was being patient."
Jokisch walked Carlos Gomez to start the third, and he moved up on a fielding error by Baez. Two outs later, Gomez scored on an error by third baseman Luis Valbuena, who bobbled Jonathan Lucroy's ball.
The Brewers were 2-for-18 with runners in scoring position and stranded 11. Since the start of July, Milwaukee has hit .238, 26th of the 30 Major League teams, and .240 with runners in scoring position. Only the Braves and Reds have scored fewer runs per game.
"Can't answer it," Brewers manager Ron Roenicke said of the lack of offense. "We watch it and keep hoping they're going to bust out. Just, I don't know."
Baez, who is batting .172 overall, added an RBI single in the fifth, and Soler drove in a run with a single in the seventh. Getting more familiar with pitchers will definitely help Baez next year. The infielder is expected to be the Cubs' Opening Day second baseman.
"I'm going to come next year and work hard and just try to get better," Baez said.
Which is all Jokisch wants to do, too.
"It was a big year for me to go to Triple-A to start out and make adjustments there that helped play up here when I did get my chance to come up here," Jokisch said. "There are things to work on. I'll address that in the offseason and hopefully come back and earn a spot next year."
Carrie Muskat is a reporter for MLB.com. She writes a blog, Muskat Ramblings, and you can follow her on Twitter @CarrieMuskat. This story was not subject to the approval of Major League Baseball or its clubs.